Nan Mulder is a Dutch painter and printmaker whose work is truly a reflection of her many travelling experiences. She has spent her career visiting some of the most captivating and spiritual places in the world, from the temples of India to the highlands of Scotland, absorbing the culture of everywhere she goes. The resulting artwork is beautiful and thoroughly engrossing.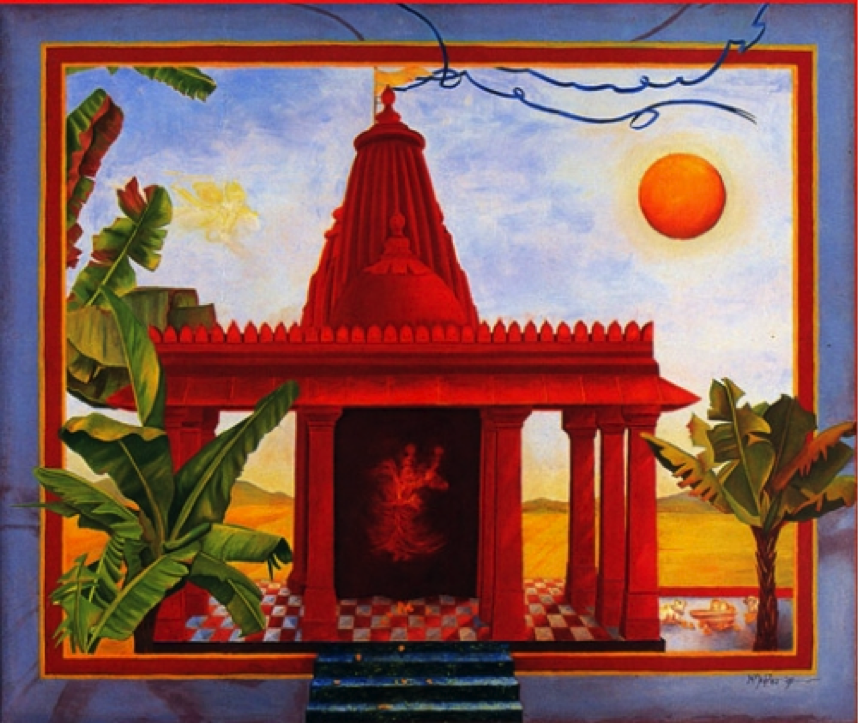 The Red Temple, Oil on canvas 1998, 86x100cm
Why do you find so much inspiration in foreign cultures?
We live in two worlds: the external and the internal world. In my work I want to tell about the hidden, inner world. This asks for an indirect approach or language, as nothing is black or white.
Other cultures, and particularly Asia, offer a rich visual kaleidoscope, which, because the local symbolic meaning is not obviously revealed to an outsider like me, can become a source of transferable imagery. I use these, combined with my own dreams, impressions and memories, to create a visual language, which can communicate that which is hidden or hard to express. For example, the lotus flowers, which grew bountiful on the lakes of Siem Raap in Cambodia, became long after my visit there, a personal symbol of going through a dark period and coming out of it stronger. Just as these flowers are used as a symbol in Hinduism and Buddhism because they grow out of the mud and dark depths into the light, they became a personal symbol for me.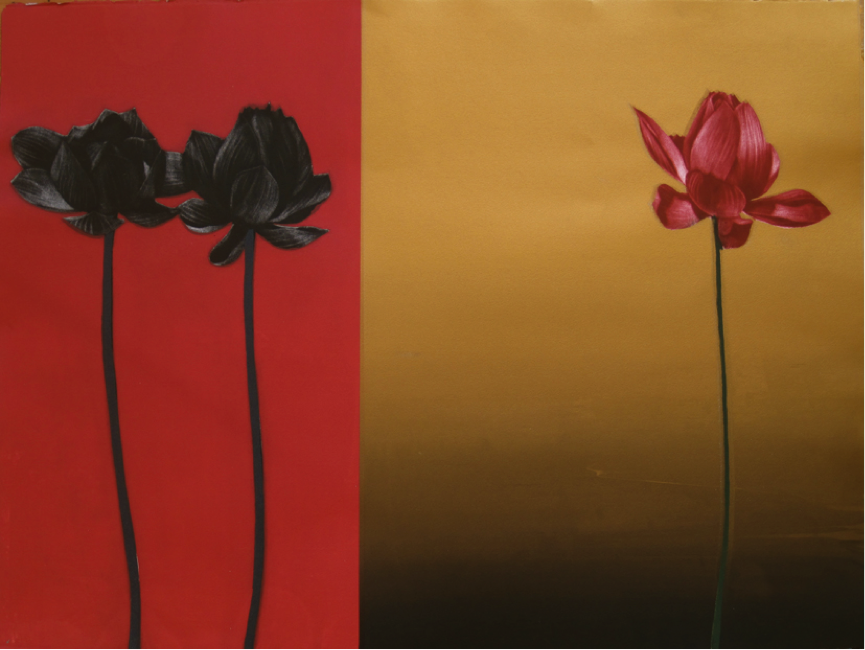 Starting the Journey, Mezzotint and screenprint 2011, 56x76cm
Working from such a starting point makes travelling an essential part of one's inspiration. Not only did I live in a number of countries (the Netherlands, Poland, Ireland and Scotland) I also visit New Zealand yearly where my daughter and her family live and since 1991 I have been travelling with the Dutch printmaker Gea Karhof to Mexico, Guatemala, Belize, Honduras, India, Thailand, Cambodia, Nepal and Bhutan.
When we are travelling we keep a diary. I also make sketches, write down ideas, make small watercolours and take a lot of photos. But it isn't until I am home, that I start to put things together for a painting or print. I always think for a long time before I start work, and over weeks or months images transform and combine until they form a complete picture. Sometimes they surface in my work many years after the original trip. The final works are thus always made back home in the studio, and not while travelling.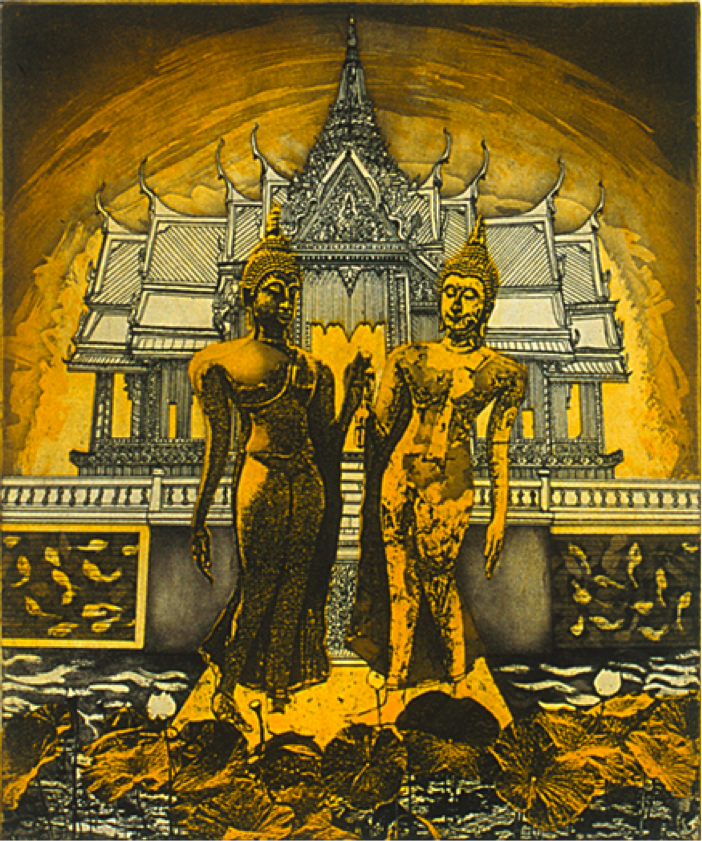 The Walking Buddhas of Sukhothai, Etching 2002, 30x25cm
Much of your work features aspects of religions from around the world. What is it that draws you to these themes?
I am particularly interested in temples, like those of the Mayas in Middle America and the strange world you encounter in the Hindu temples of Varanasi and Madurai in India and Svayambhunath in Kathmandu. I grew up in Overveen, near the Dutch coast and the sea, as one of six children. We were a religious family and would all go to church on Sunday. We knew nearly everybody there and called most people uncle or aunt. I would sit close to my mother, father, or a favourite aunt, and draw on their hand and dream. I also loved the magic and rituals, like that of the red wine that the minister poured from quite high out of a silver decanter into a cup, which stood on a white table-cloth: he never lost a drop (I transformed this into a red ribbon on some of my paintings, such as 'La Reina de Mexico').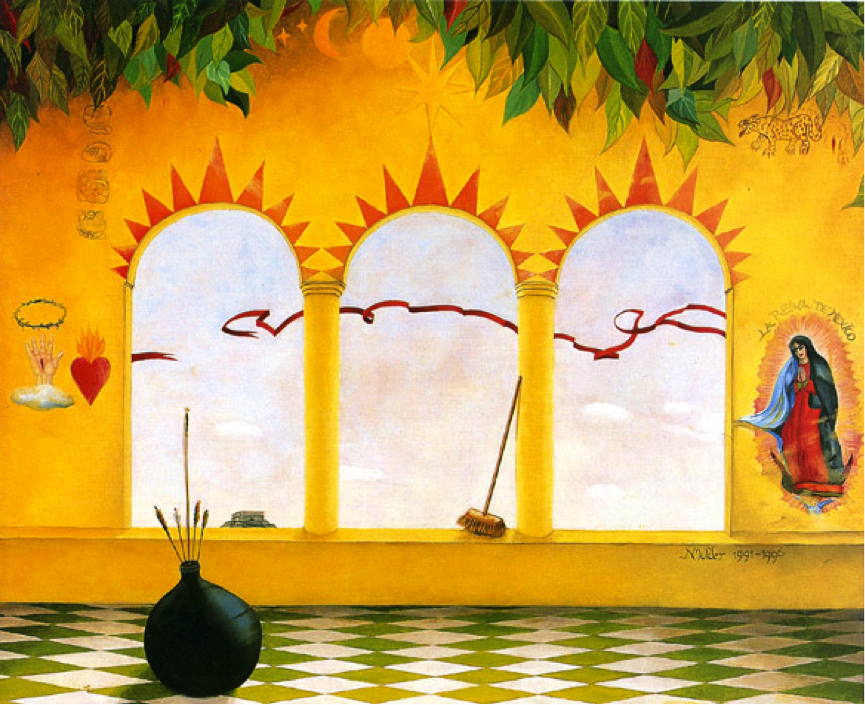 La Reina de Mexico, Oil on canvas 1991-1994, 60x75cm
Maybe it has been this childhood experience of security and mystery that has given me a fascination with all things religious. Often trips are organised to coincide with religious festivals, such as the Hindu festival of Shivarati and Losar at the Tibetan Buddhist temple in Boudhnath, both in Kathmandu, Nepal.
Offerings, particularly those wrapped up in banana-leaf (see "It happened in that room in Panajachel'), where you have no idea what's inside, fascinate me. Maybe those strange parcels have the same function as the dark entrances of small temple buildings: they hide something deeply secret and magic, just like we do ourselves. I have often used 'rooms' to represent those personal hidden places, and the things that are happening outside the windows are a connection between the inside and outside world.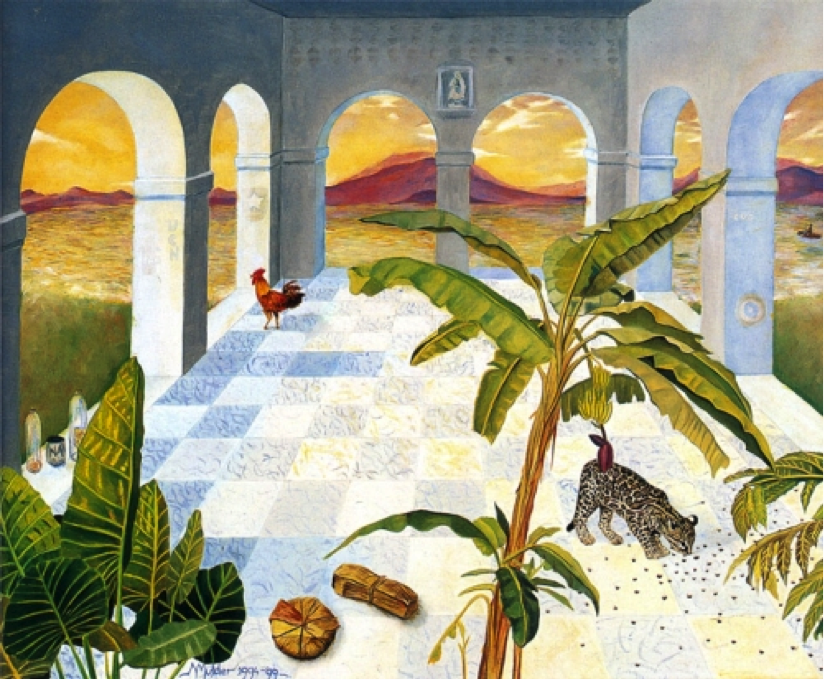 It happened in that room in Panajachel, Oil on canvas 1994-1999, 50x60cm
Tell us a bit about the techniques you use. Do you feel that some techniques are better suited to certain landscapes and cultures?
I was trained as a printmaker and painter. I make relatively few paintings, maybe one or two a year, and also the number of prints is not large. The reason is my method of working. In my paintings I build up the colour in many layers and in my prints I work mainly in mezzotint, a rare and highly labour-intensive technique.
Here one works from dark to light: the surface of a copperplate is roughened with a tool called a rocker, which would print a velvety black. The light is then scraped and burnished into the black. This technique suited me when I lived in the dark countries like Holland, Poland and Scotland. However inspired by the flatness of Indian miniature, I have been able to use the mezzotint also for prints about Nepal and New Zealand and have brought colour into them.
Second side of Suishnish II, Mezzotint 1976, 15x20cm
How you do you think travelling has helped your career as an artist?
Over the years collaborations with artists abroad have become more and more important to me.
I am a member of artist organisations in Scotland, the Netherlands and New Zealand. The exchange of cultures and knowledge is so enriching. It was during our first trip to Nepal in 2004 that Karhof and I came in contact with two Nepalese printmakers. The country was going through a difficult phase. The Maoist regularly instigated strikes, forbidding even cars and buses on the streets. Travel was difficult and we spent much longer in Kathmandu than planned. We decided to use this time to explore the contemporary art world and out of the subsequent contact the group Double Vision originated. Originally with two Dutch and two Nepalese printmakers it now also includes two Pakistani printmakers and together we have exhibited in Scotland, the Netherlands, Nepal, Belgium and Pakistan. As a result of these international cooperations I was included in the book 'Printmaking off the Beaten Track' by Richard Noyce, published in 2013 by Bloomsbury.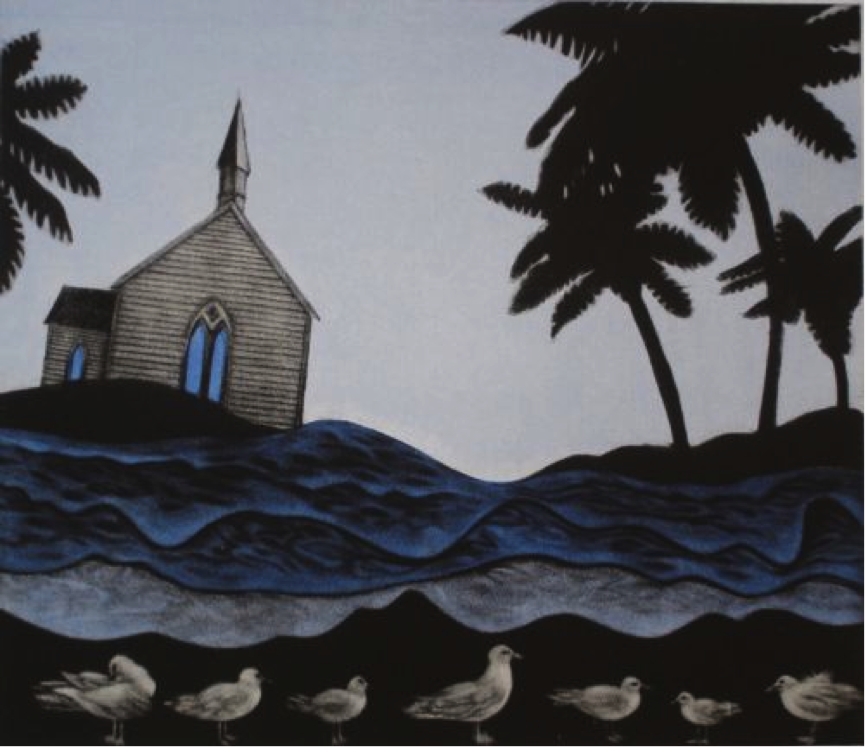 The colour blue, Mezzotint 2008, 30x35cm
Do you have any advice for readers who might be interested in trying to capture the places they travel to?
Well, read about the place you are visiting before you go. Keep an open mind and open eyes and of course keep a diary. If possible, travel independently. Speak to the local people, and while there might be long days of travelling, take your time when you've reached your destination. Groups of tourists would spend one hour in the Meenaksi Temple in Madurai (India), while we sat quietly on the floor for two days to absorb everything that was happening around us.
In Siem Reap in Cambodia we hired two boys with motorbikes to drive us for 5 days to the temples we wanted to visit and they happily waited all day while we took our time to look, draw and photograph. In Tikal in Guatemala we stayed not in the village where all the tourists were, one hour away from the site, but in a guesthouse next to the entrance to the Mayan temples. When it opened at 6 o'clock in the morning we were there with the monkeys and toucans. We went our own separate ways and spotted each other from the top of different temples above the canopy of the jungle. By 9 am the buses with tourists arrived and we went for breakfast.
I hope to continue to travel for many years to come. My next trip is in Europe: in July I exhibit with the Society of Scottish Artists in the Nitra State Gallery in Slovakia.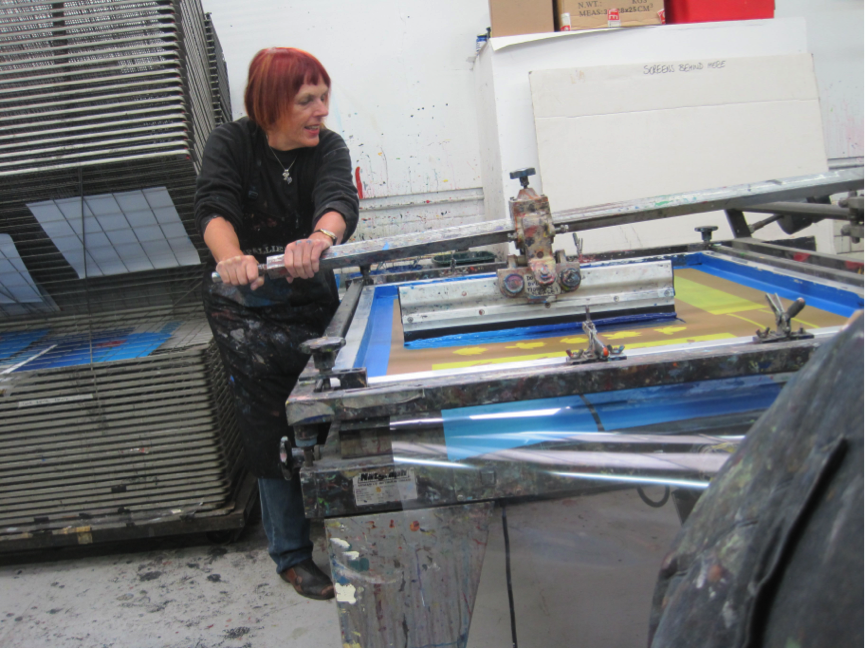 Nan at work
Nan is currently exhibiting at the Gallery Epreuve d'Artiste in Antwerp and Exp.23 in Edam. You can find out more and see her other works at her website www.nanmulder.com.
What do you like about Nan's work? Let us know in the comments below!
Finally… Musement, a site offering museum tickets, art tours, and cultural activities has kindly let Wanderarti readers get €5 off purchases up until the 31st July. Just use the code WANDERARTI and you can get discounted offers all over Europe!