We're back to regular scheduling after a few weeks off – who knew moving country would be so time-consuming?! Anyway, today I'm sharing the work of Julian Sutherland-Beatson with you. Julian is a Sussex-based artist (close to my hometown, in fact!) who creates fantastic atmospheric images of European cities and destinations. I actually spent a good hour scrolling through his art on his Facebook page, and could have easily spent much longer there!
Your paintings of Europe are lovely and atmospheric, how did this style develop?
Thank you. I've been creating a daily painting (over and above larger pieces) since 2008 after seeing a number of artists embrace the concept around the world. My first year culminated with an exhibition of 200 paintings at Glyndebourne Opera House near Lewes in Sussex.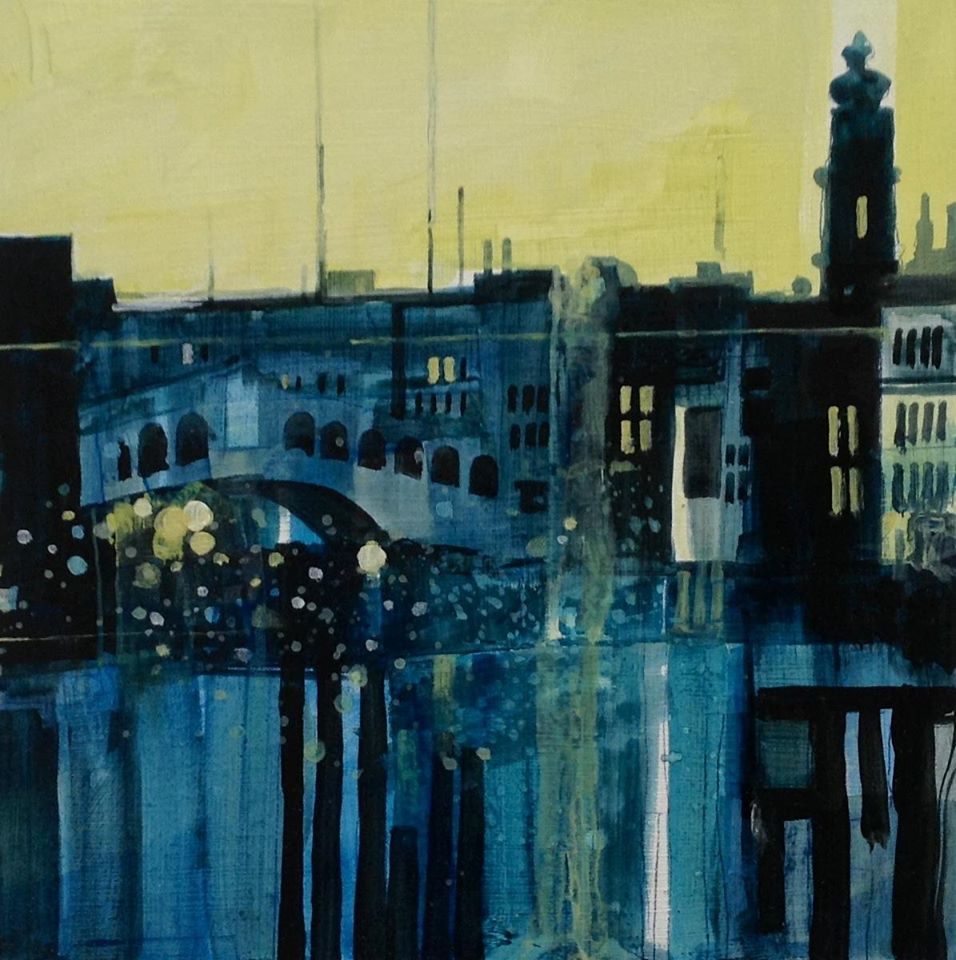 Rialto Bridge, Venice
Malcolm Gladwell, in his book 'Outliers' talks about the 10,000 hours that it takes to achieve a specific level of expertise and excellence. This is my way of 'doing the hours' and I have found that the more I do, the looser and more natural the work becomes. Increasingly I am receiving an emotional response about particular pieces which is something that I welcome. So it has developed through continued practice combined with a love of shape and colour and the desire to create something.
Let's talk about process. What steps do you take when creating each piece?
With much of my work I seek to achieve a kind of loose photo realism so use photography as a base. I still keep a sketchbook which comprises mainly loose layouts and ideas for future paintings.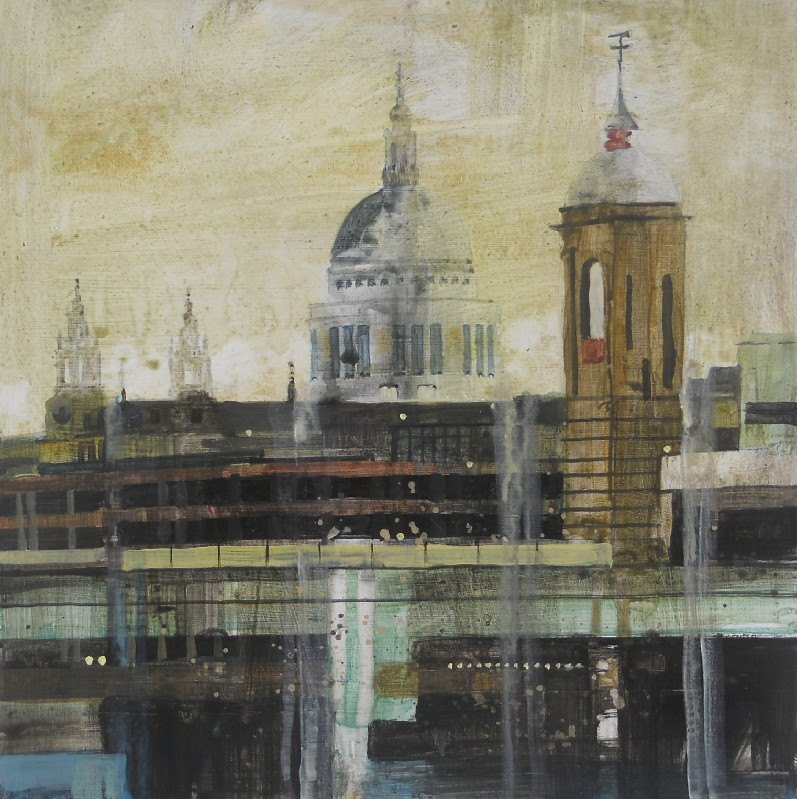 View across the Thames, London
The process really begins when I am framing within the camera viewfinder. I am particularly interested in the graphic composition of a painting, and once I have described the basic layout, the rest is largely intuitive. I just keep working and see what develops. I have found that when this is done with an air of confidence and expectation, the resulting work is better and less contrived. I also welcome the 'happy accidents' that occur whilst painting and am pleased to have developed the ability to 'leave things alone'. I also always know when a painting is complete.
I tend to be very 'project based' and give myself specific tasks within each project. I always love the early stage of a project where I may visit a particular city purely with a view to make photographic records and plans for future paintings.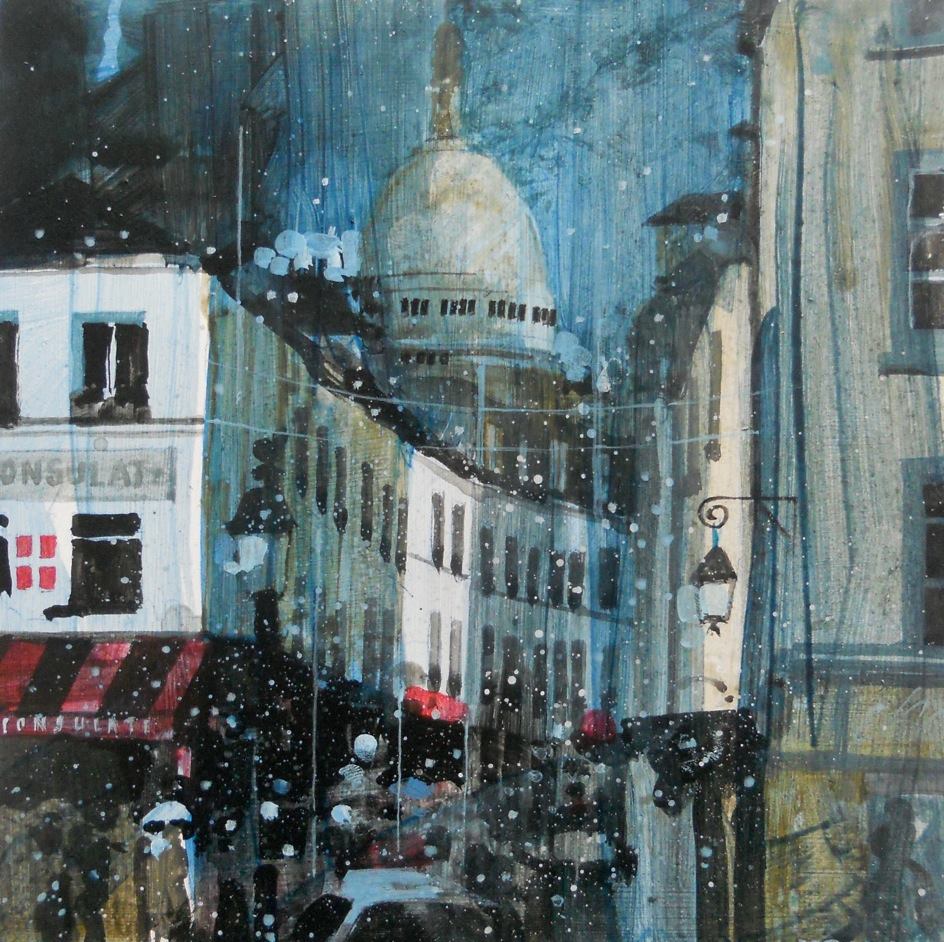 Montmartre, Paris
What do you hope your paintings tell viewers about the places they depict?
There is a saying I like – "Though we travel the world to find the beautiful, we must carry it with us or we find it not". I hope that people see something in my paintings that resonates with them emotionally. It can be a memory of the past or a hope for the future.
I've found that paintings of places can evoke memories even if you haven't actually visited the place.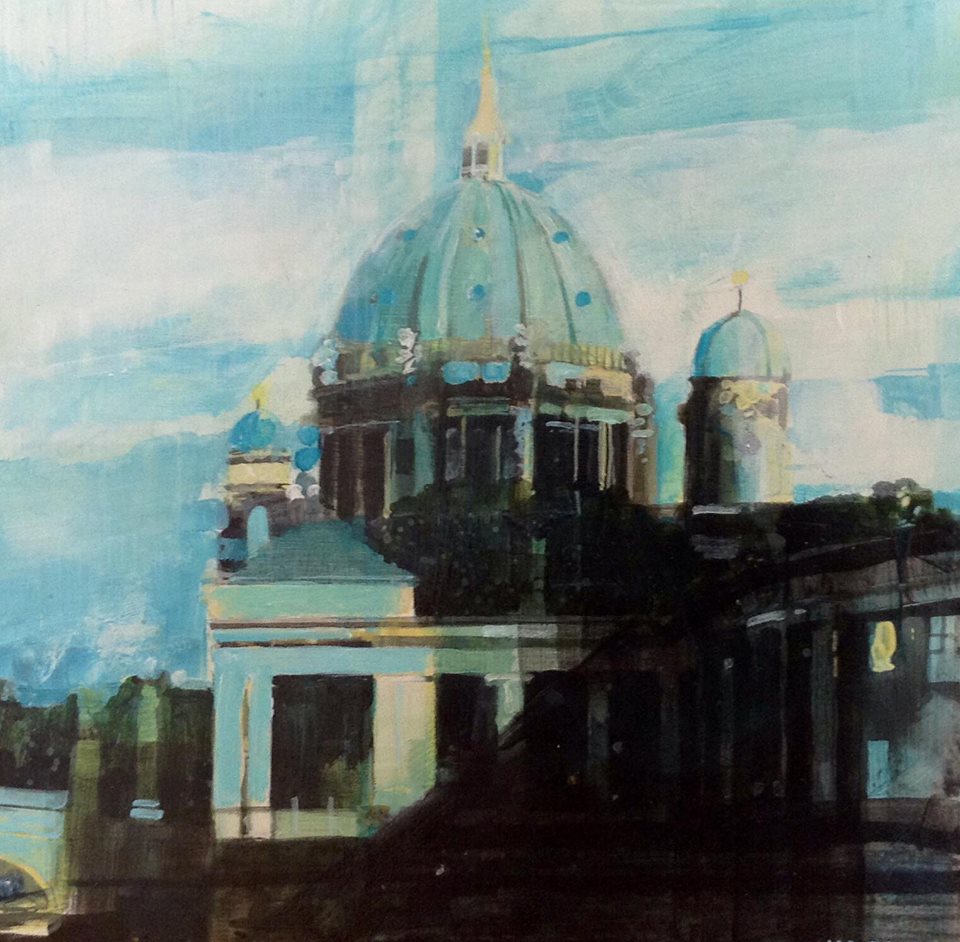 Museum Island, Berlin
My first trip to Cuba was nowhere near as exciting as the Cuba in my mind! The same was true of Monterey in California. I had wanted to visit the area since reading the Steinbeck books set around Cannery Row. What I found were trinket shops and fast food outlets. Luckily the original still remains in my mind.
Where or what has been your favourite place or thing to paint and why?
I have to say it was Venice. I have only been once (for 24 hours) and it rained almost all the time but (as those that have visited) there is really something special about the place. I think the proximity to water has a lot to do with it. That, combined with the majesty of the buildings and the lack of cars!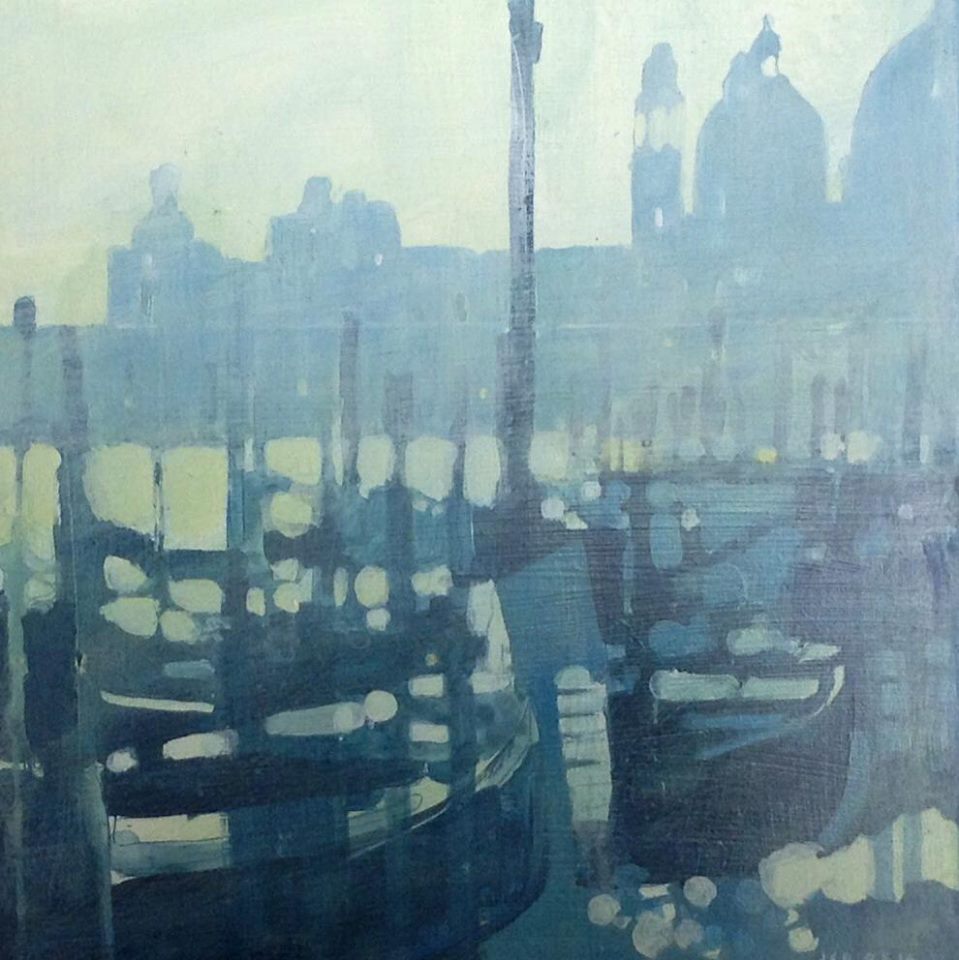 Venice
What do you love most about Europe and why are you inspired to paint it?
I think it has to be the differences between each town, city and country. Though we now live in a global village and evidence of that is in every high street and shopping area, look a little below the surface and the differences start to become evident.
I recently pondered the difference in feel between the major European cities. Take the following: Paris, London, Barcelona, Rome, Berlin, Amsterdam and Dublin. All major metropolitan areas but SO DIFFERENT to each other. Just saying the names evokes a different emotion.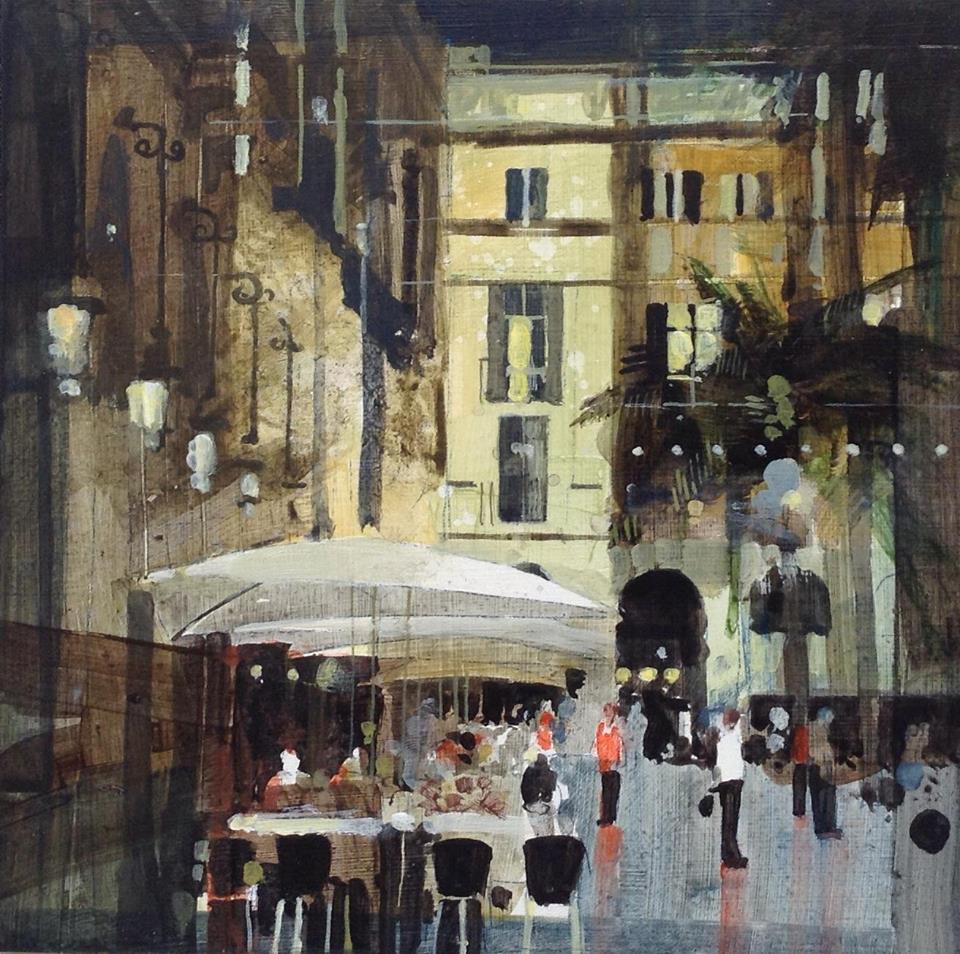 Plaza de Reial, Barcelona
If you could paint any place or thing in the world where or what would it be and why?
I would love to paint more in the States, particularly New York.
What inspires your work?
Just living in the world we all share really and marvelling in the amazing things and spaces we have created. The more I create, the more I want to create and the more I travel, the more I want to travel. I guess it's a nice problem to have!
I think Pinterest is what the internet was designed for. I just love it and can spend hours there. I find the work of others inspiring or course, particularly the cityscapes of American Jeremy Mann, Lars Lerin from Sweden and the atmospheric paintings of Anne Magill from the UK.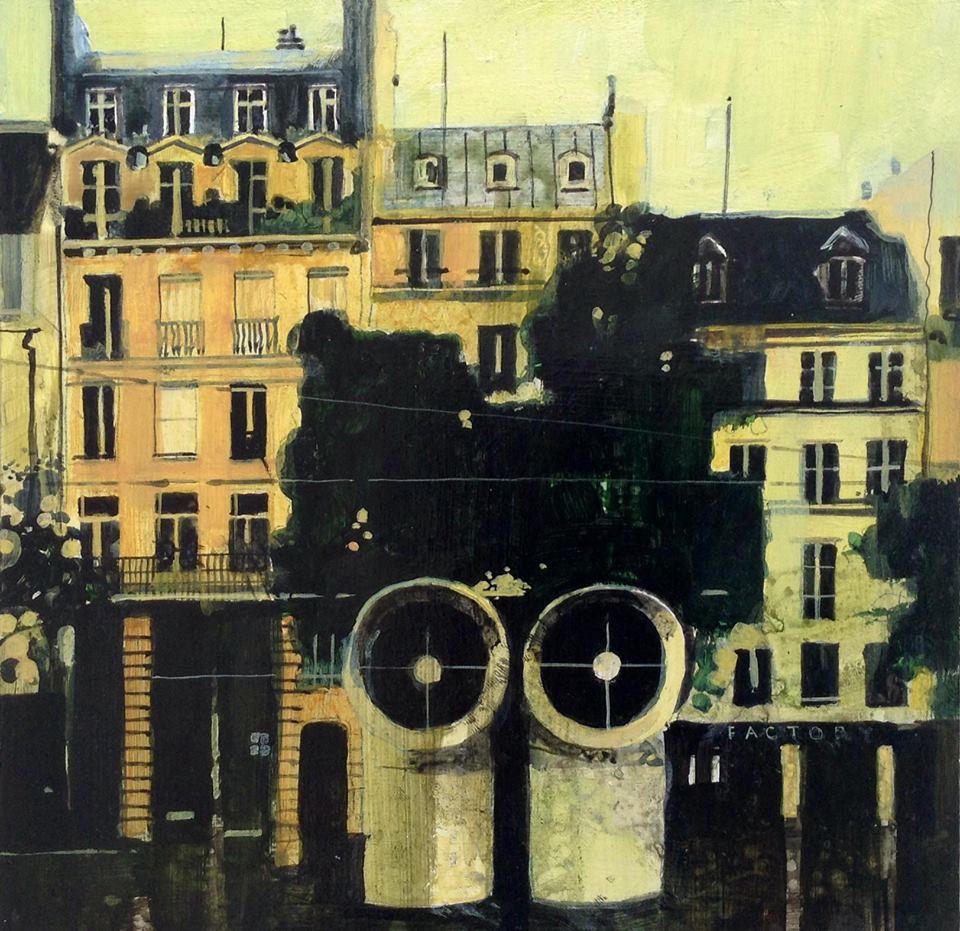 Outside the Pompidou Centre, Paris
Finally, where has been your favorite place to visit and why? Any tips for readers who are planning on going there?
That's really hard! Though I'm very fond of Paris, I live in what has to be one of the most beautiful places on earth, East Sussex. Driving from Rye in the East of the county to Brighton in the West you will discover beautiful and majestic rolling downland, pretty little villages and hamlets, historic castles and houses, winding rivers and an amazing coastline. Visitors must take in Beachy Head, near Eastbourne, Lewes, Rye, Hastings, De La Warr pavilion in Bexhill and Cuckmere River near Seaford. I love to travel but I also love to come home!
You can see more of Julian's work on his site.