As you may have noticed, in the Wanderarti interviews with travelling artists there are a few questions that remain the same every time. One of these asks where you would love to create art if you could go anywhere in the world. The responses are incredibly varied – from the skyscrapers of New York, to the plateaus of Tibet, to the beaches of Bali, these artists want to visit every corner of the earth, and can we blame them?
I've collected all their answers together in one place to create the Ultimate Travelling Artist's Bucketlist. Add yours in the comments below!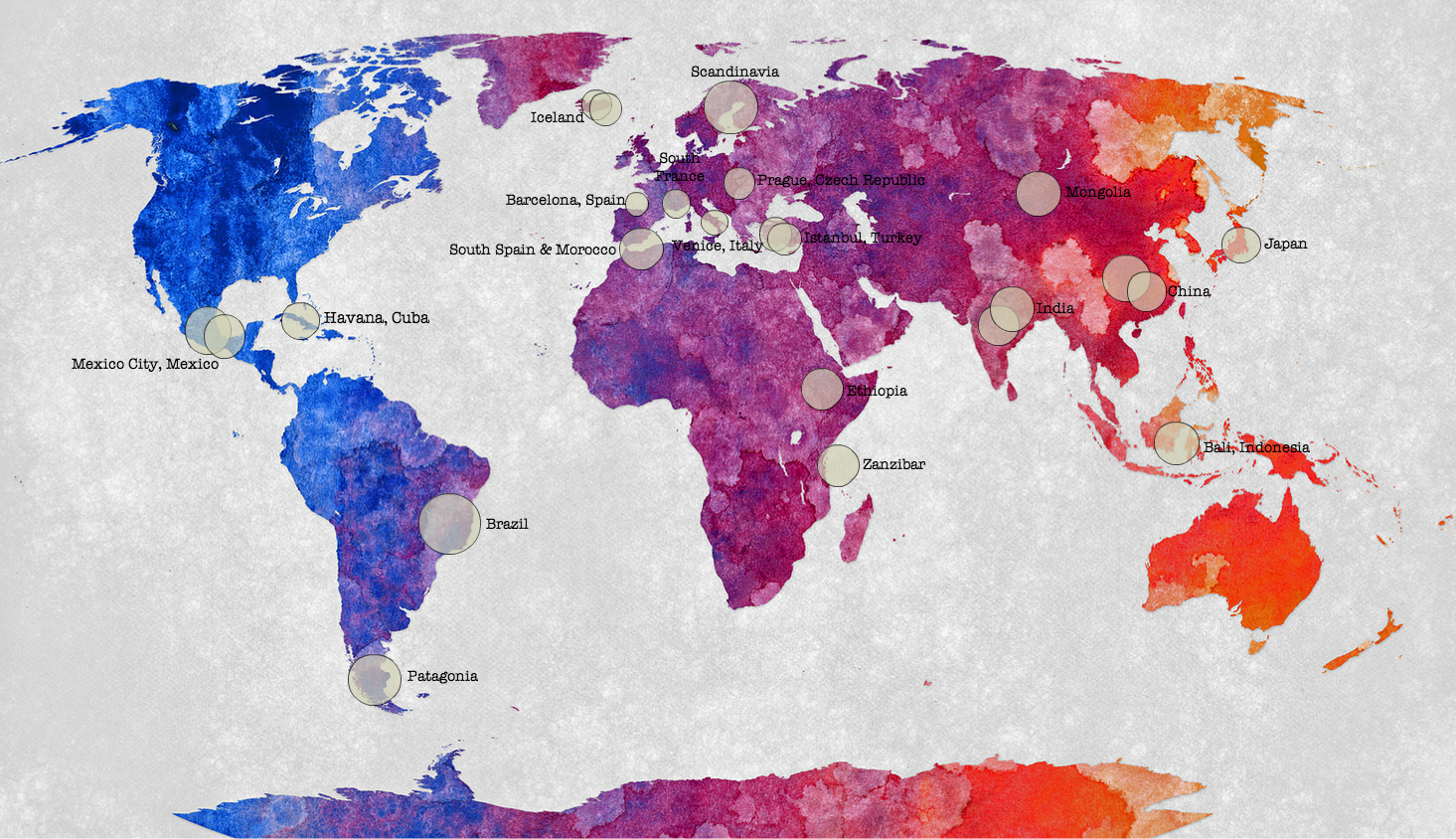 Let's begin!
"This is a really difficult one. Well, I know it would be somewhere in Asia, it is a fascinating continent in every single way. I'm passionate about drawing places with a lot of movement, colors and life. I guess India and China will always be a dream to draw."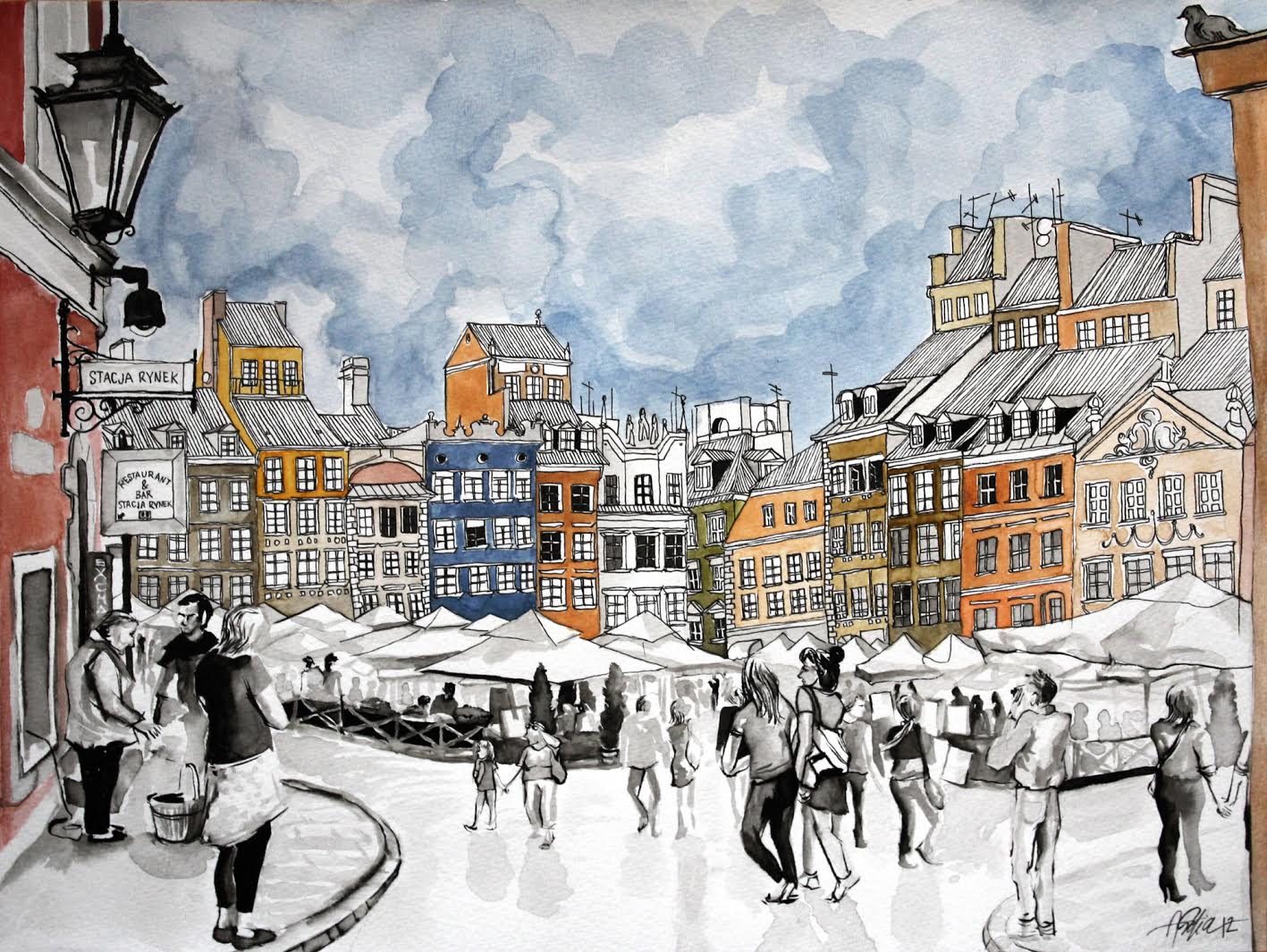 Tom Radclyffe – New York and the South of France
"What always appealed to me about becoming an illustrator was this idea that I could work from anywhere. I would love to go and draw in New York, however, despite the focus on Metropoles within my work I would rather be somewhere more relaxed – like a café somewhere in the south of France. Though I'm not sure how much work I would get done!"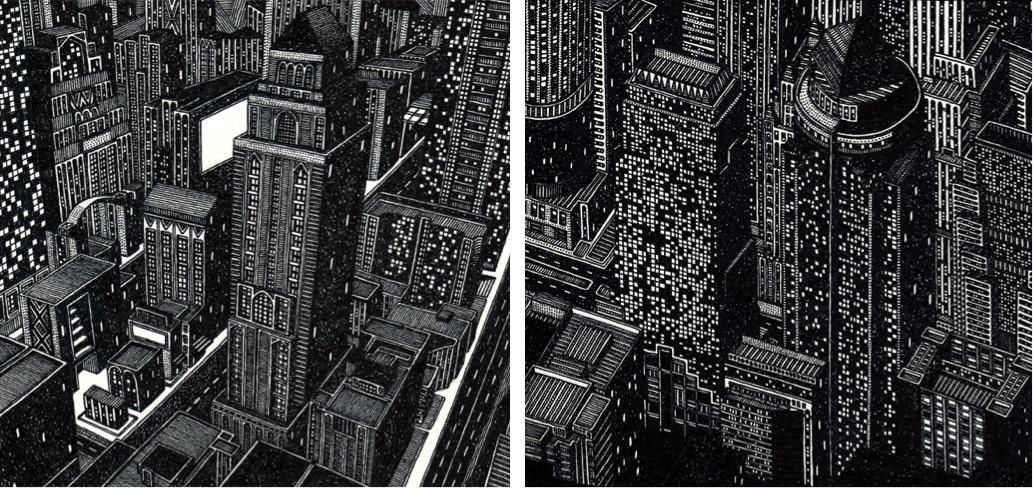 Faustine Clavert – Everywhere! Including Mongolia, Nepal, and Iceland
"I work hard now to save money, and then to spend it to travel longer and further. I don't have one dream destination, but a lot, and my dreams will be true one after the other. I'm preparing now my next big trip: Mongolia next summer! I can't wait to be there, and I already bought my tools and paper. Before that I think I will find time to go in one or 2 european cities. And after, I have in mind Iceland, Patagonia and Nepal. Let's see what will be the opportunities…"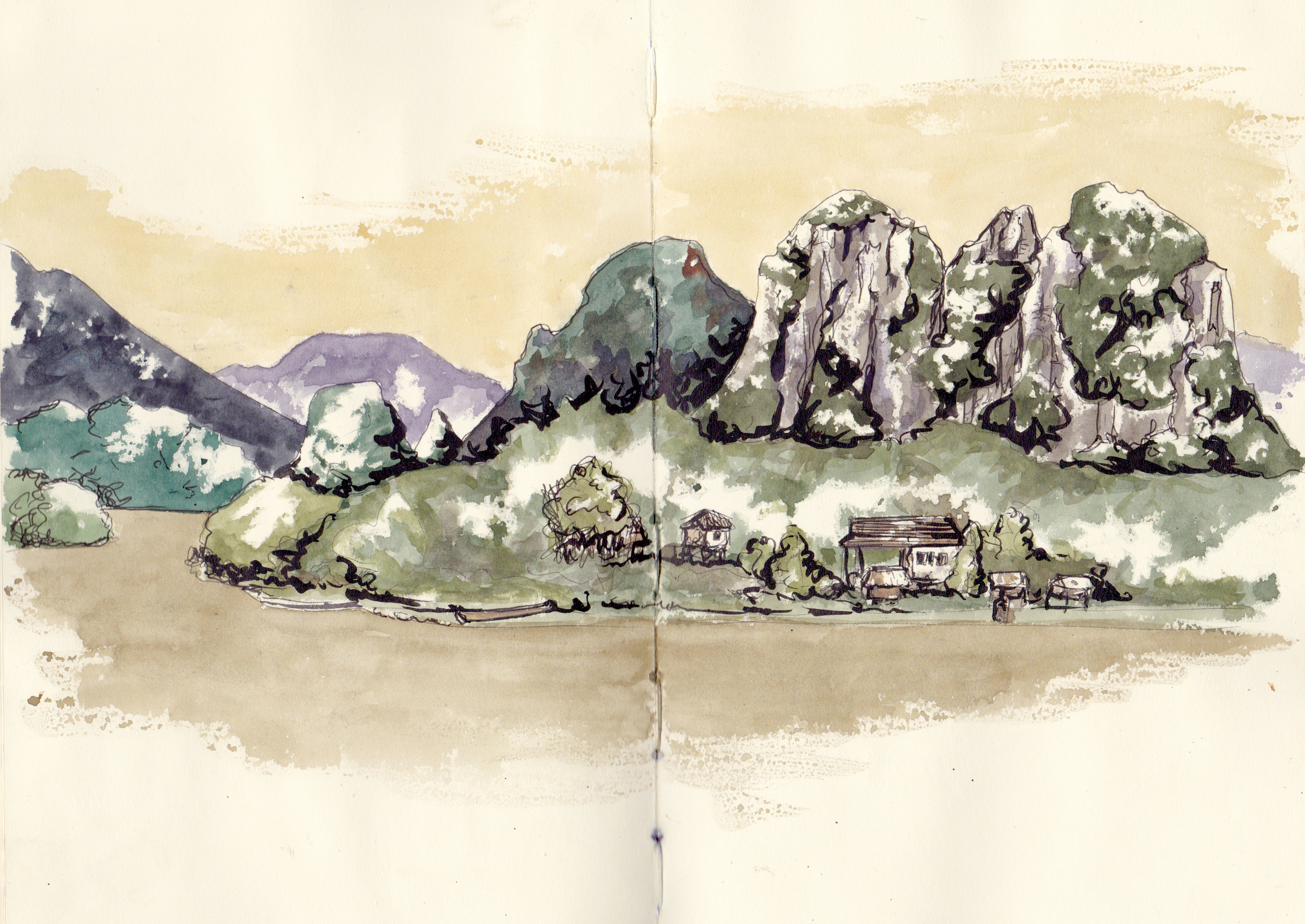 "Italy off the top of my head, especially Venice. I love Sargent's watercolor sketches of Venice… would love to paint Venice. Plus, I guess Italy is a dream destination for artists. Besides Italy, I would love to visit Tibet, Japan, Gulin China etc… too many places to list."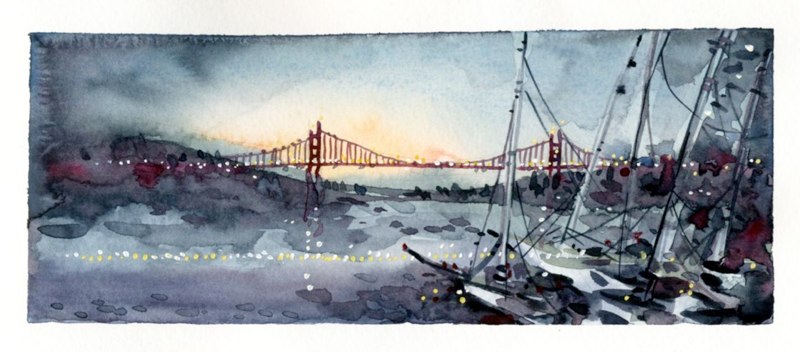 Stephanie Jung – China, Hong Kong, and Istanbul
"I would love to photograph in China, especially Hong Kong, I think it would be perfect to transport my idea, there are so many people living there, it must be full of life. Another city would be Istanbul, a friend showed me pictures of the cityscape with charming, incline houses everywhere and little cozy streets. I think this city has it's very own charm and I would love to capture it."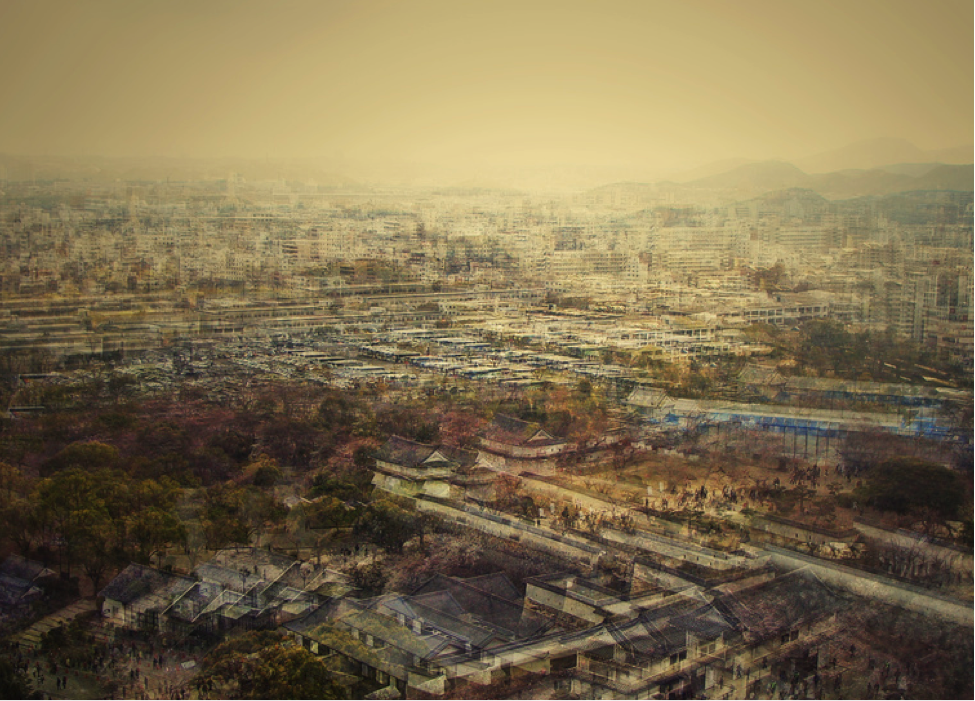 "It would however be lovely to be able to set up my little studio in other locations that I have visited too such as Prague, Reykjavik, Istanbul… One day I'd love to go to Tokyo to see what direction that would take my work in."

"This is a hard one, but I am going to have to choose Bali. One of the artists who inspires me most, Flora Bowley, does a workshop in Bali and whenever she does, I stalk the photos relentlessly. To be able to create art outdoors, in the middle of lush forests, waterfalls, vibrant flowers, sandy beaches, the turquoise ocean… I'd probably never sleep."
Xenia – Holland and Scandinavia
"I am totally fond of Holland and Scandinavian countries. I wish I could travel more to make more illustrations of the places that are not so well-known as the capitals. Some northern seaside views, small villages etc. I love sea, water, stones, old paved streets. I live in Saint-Petersburg, it's really inspiring – may be too inspiring to leave me a bit paralyzed by its beauty!"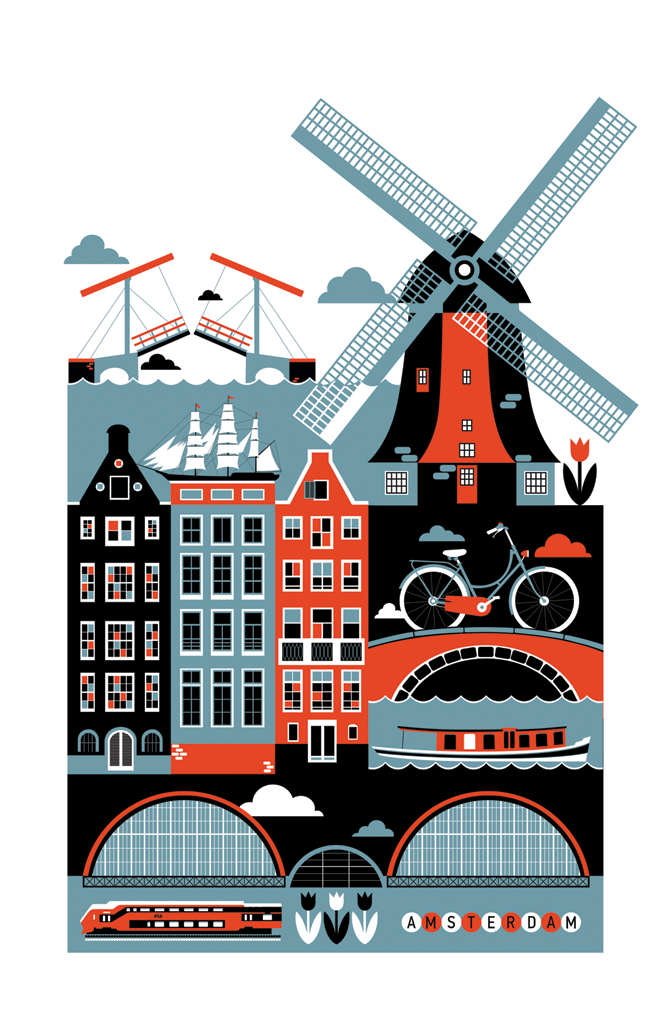 Suhita – Mexico, New Mexico, and Barcelona
That's a hard one. On my list just now, for places to paint and visit:
Oaxaca,Mexico ( I started sketching there years ago, but I lost my sketchbook: which means I just HAVE to go back to paint it again.. it is an incredible feast of color and texture for me)
New Mexico: I would love to paint in the land Georgia O'Keeffe painted.
Most places in Asia: I love the color.
Barcelona, where I painted for a couple of days this year: not enough, I would have to live there for years to just look at all the incredible architecture and art!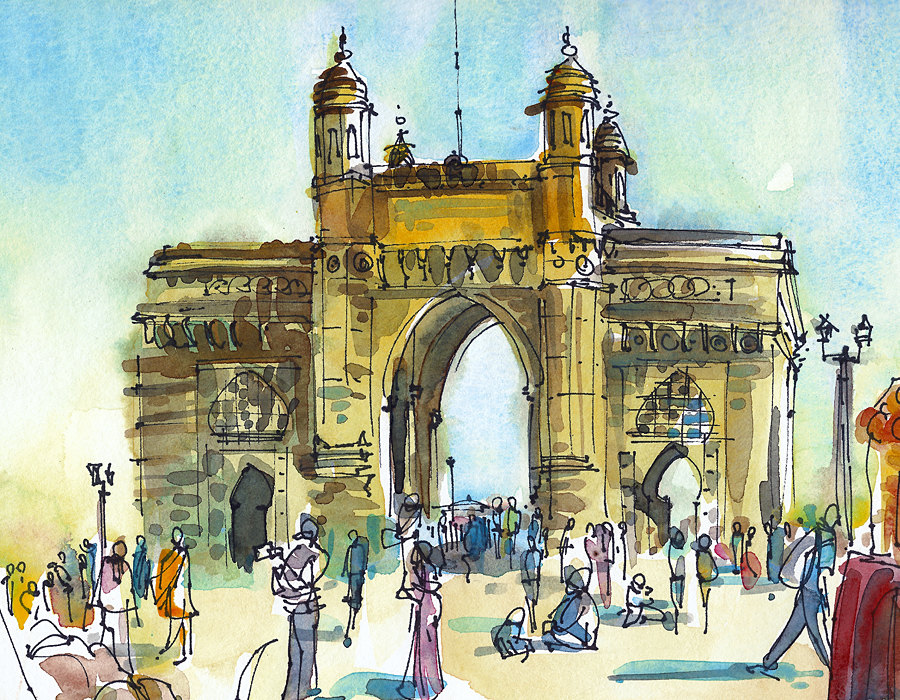 "I would love to have a mobile studio, a pop up studio, that I could set up in the back streets of any sunny city (preferably the older, dustier ones such as Bombay, Rio, Havana) hidden slightly, in a shop or house. It would be equipped with all my papers, glue and scissors, shaded from the sun and rain. I would love to be sent on assignments to document and record the flavour of a country – and be paid!"
"Gah, there are SO many places I have on my list to see, so I can't answer that. However, my next planned trip is to Mexico City. My resolution this year is to buy fewer "things" and travel more; I feel like I'm always planning my next adventure… or trying to, anyway."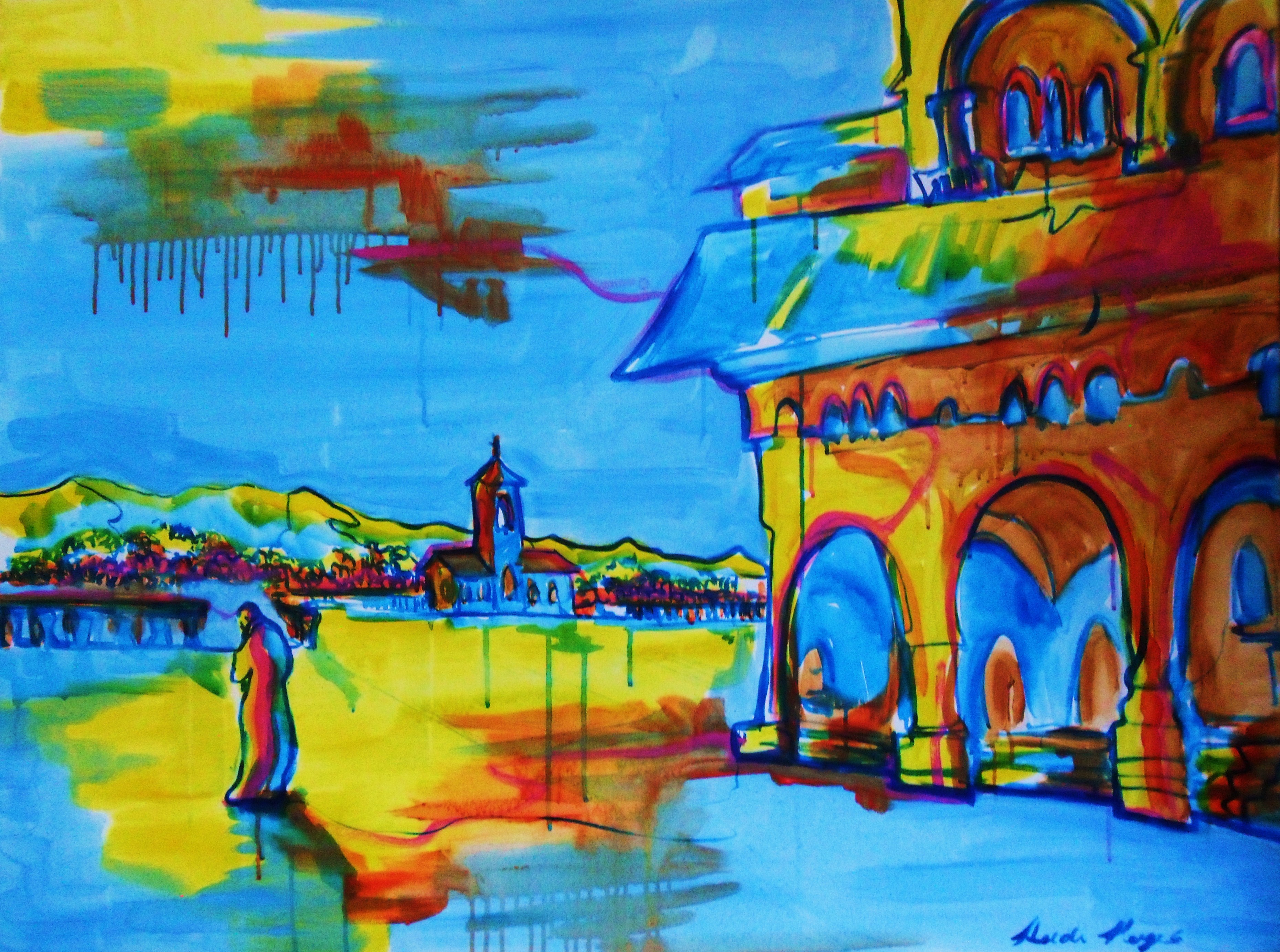 Naomi Leeman – Every country in the world!
"Oh wow, now that's a hard question! One of my goals in life is to visit every country in the world (they say to dream big, right?), so I would have trouble narrowing it down to one specific place. What I love most about travel is the opportunity to discover something new and unexpected. One of the next places I'd really like to go is India. I think the intricacies of the art and architecture there will be very inspiring."
Candace Rardon – Ethiopia, Zanzibar, Brazil, and Panama
"I don't really have a bucket list of places to sketch, but I do have my sights set on South America and Africa, and I'm hoping this year takes me to places like Ethiopia, Zanzibar, Brazil, and Panama in particular. The awesome thing about sketching is that when you pull out your sketchbook, any place becomes interesting – even a scene we might not normally deem "beautiful" – so I'm not too picky about where my sketchbook takes me."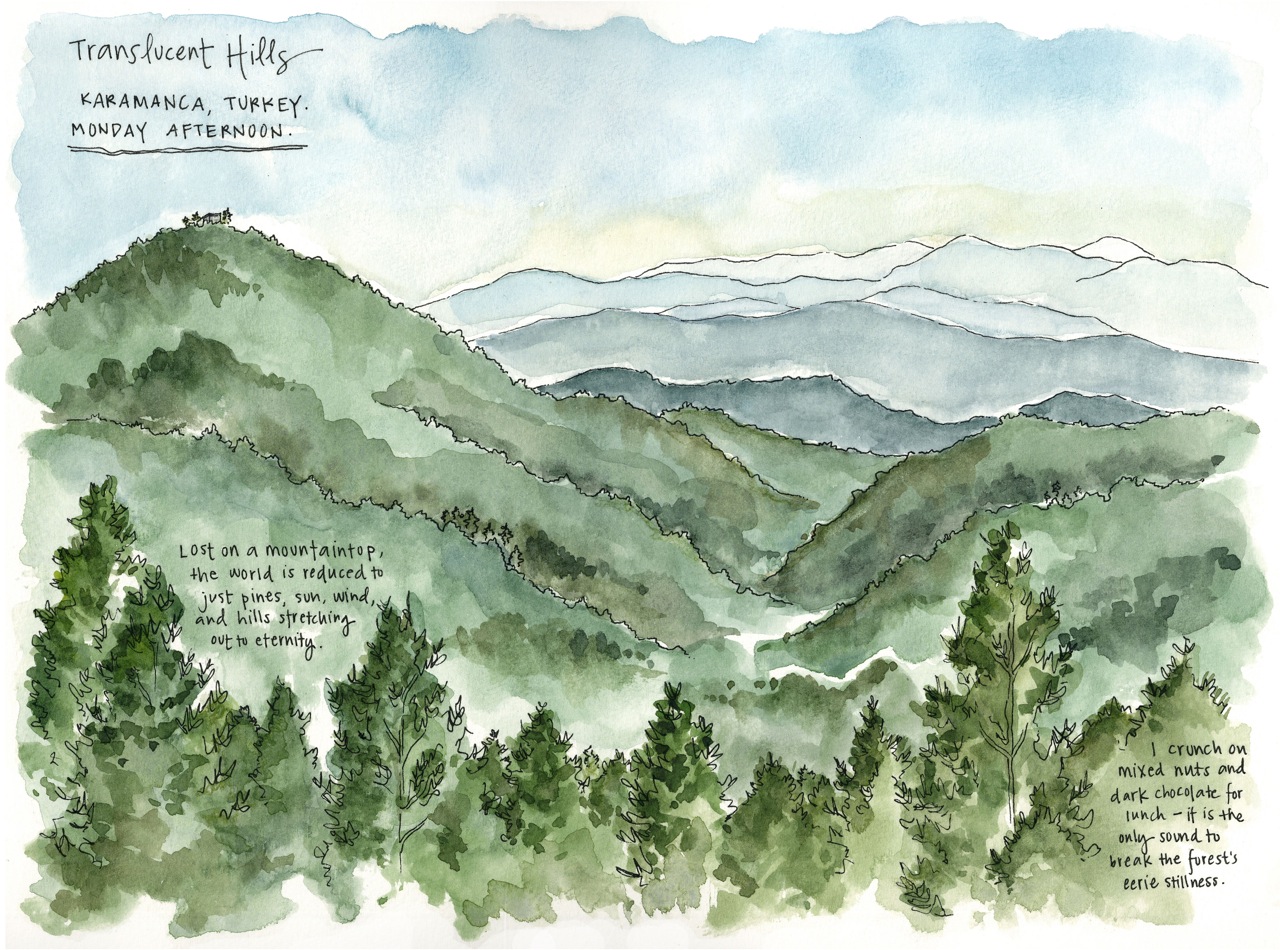 "I'd like to take a road trip in Japan and go through side roads and old cities and towns. I got intrigued by the culture of Japan from reading Haruki Murakami's books."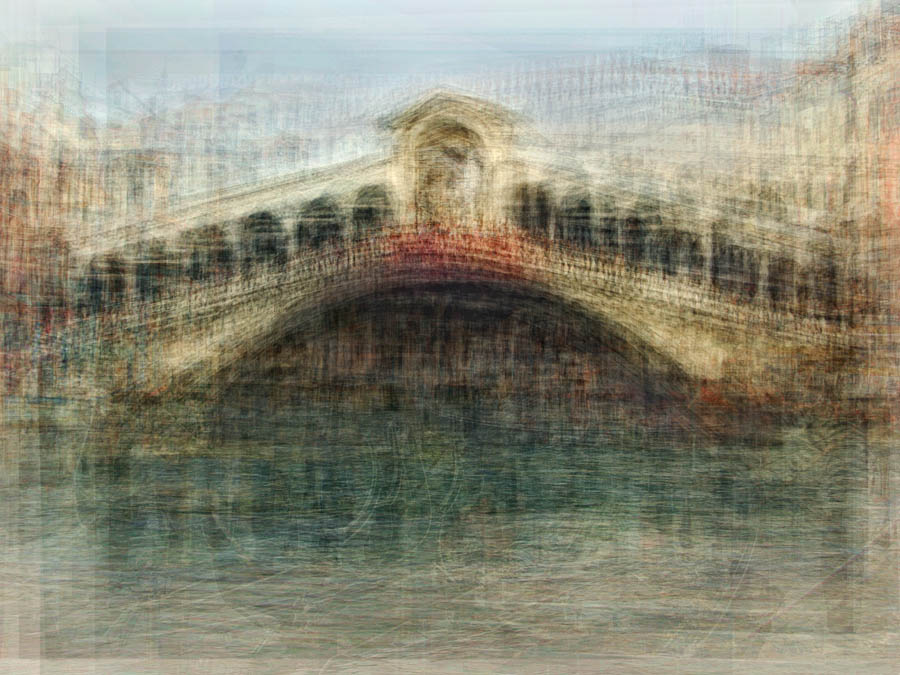 So, after reading about these travelling artist's bucketlist destination, share yours with us in the comments below!