Japan is a country that has fascinated me for a while – all that colour, all that food, all that culture! So when I came across Cathy McAuliffe's sketches from a trip there, I had to share them. I think you'll all love them just as much as I do (and if you didn't want to go to Japan beforehand, you certainly will do after reading this!).
Can you tell us a bit about your trip to Kyoto?
I had visited Kyoto 20 years ago (as a non-sketcher) and had been wanting to return. My trip to Kyoto this spring was a 10 day watercolor workshop with Keiko Tanabe. It was a great workshop, she is an excellent painter and instructor and a Kyoto native who now lives in California. It was a good group of people in the workshop. And it was cherry blossom time so even more beautiful. It was perfect timing!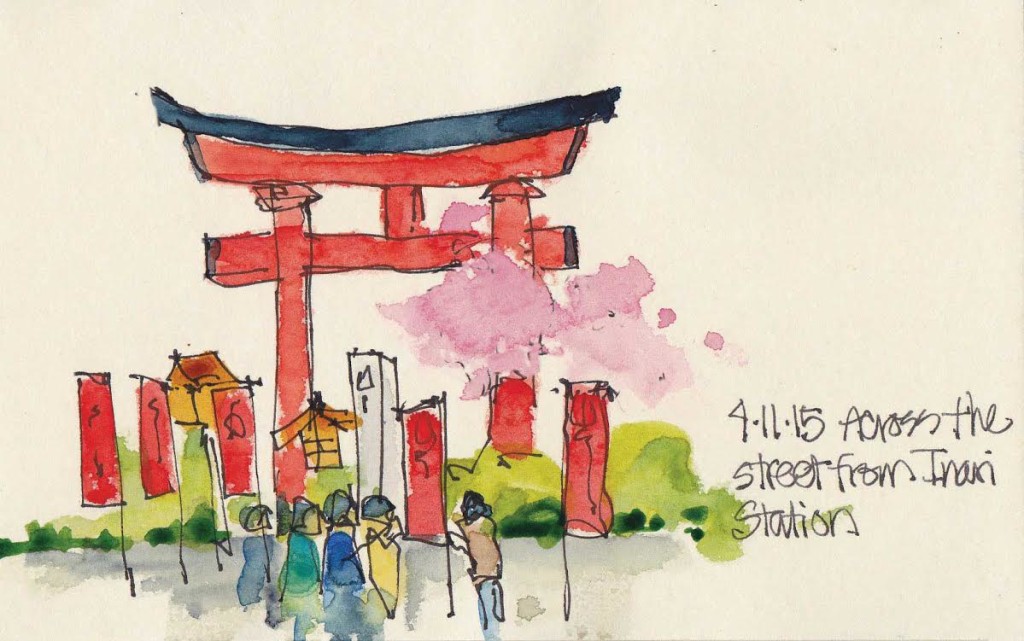 Your sketches have a unique, fresh style to them. How did this develop?
I have changed my painting style over the years and now only work in sketchbooks. I like being more mobile and to be able to capture many views/subjects instead of spending the same amount of time on one painting. I also like the freedom of movement allowed by having a very small light weight sketch kit.
Sketching allows me to be more a part of the surroundings or event. By paying real attention, and really looking at a subject I feel that I "belong" to the place if only for a short time. It is the difference between taking the time and interest to sketch something and taking a photo of it.
I try to sketch everyday and travel gives me "permission" to do that even more.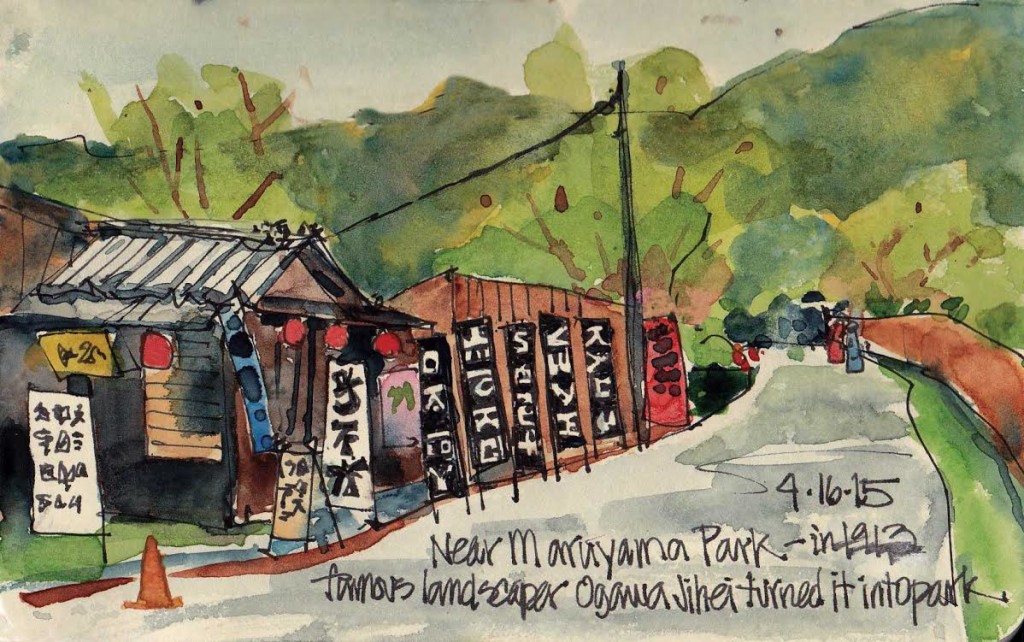 Let's talk about process. What steps do you take when creating each piece?
I always carry a small Moleskine sketchbook, a small Strathmore Drawing pad, a Lamy fountain pen and a Pitt Fine point and a Brush pen. If I know that it will be a sketching outing I will also take a small watercolor palette and a larger sketchbook.
I always find subjects: interesting buildings, odd looking things and events, people's activities or even fellow commuters. I usually talk to people about what I am drawing so I can add a few notes and background information about the event. It is a great way to start a conversation. My sketchbooks are filled with thngs I want to remember, things that I liked. So a sketchbook of a trip is a real record of MY trip.
I draw in Ink before adding color. I never use pencil first. I just go with the immediacy and permanence of the ink line. If possible I will add color on the spot. If not, I often take a photo for color reference and paint it later. I find the sooner I add the color the better, while it is still fresh in my mind.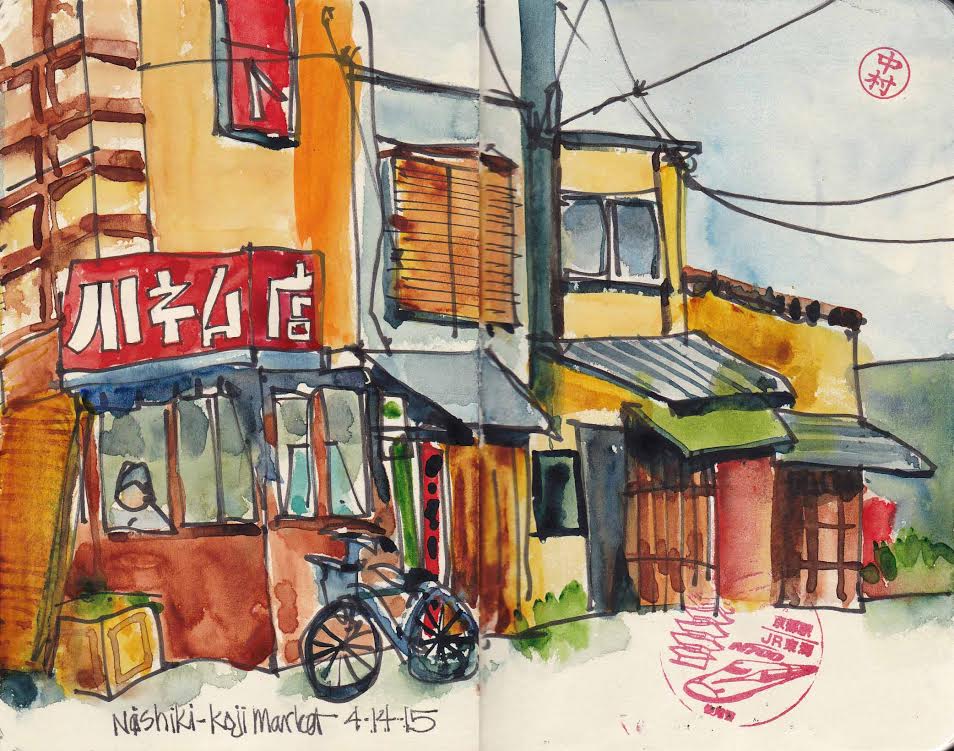 What inspires your work?
Curiosity. There is so much to see and find out about everywhere. Traveling or in familiar places. As our surroundings, cities and wilderness are changing faster and faster I try to capture a record of what is here now and how I see and react to it. And the more you look at things the more you see them. And sharing these sketches/observations is a great way to show others things they have never stopped to see before.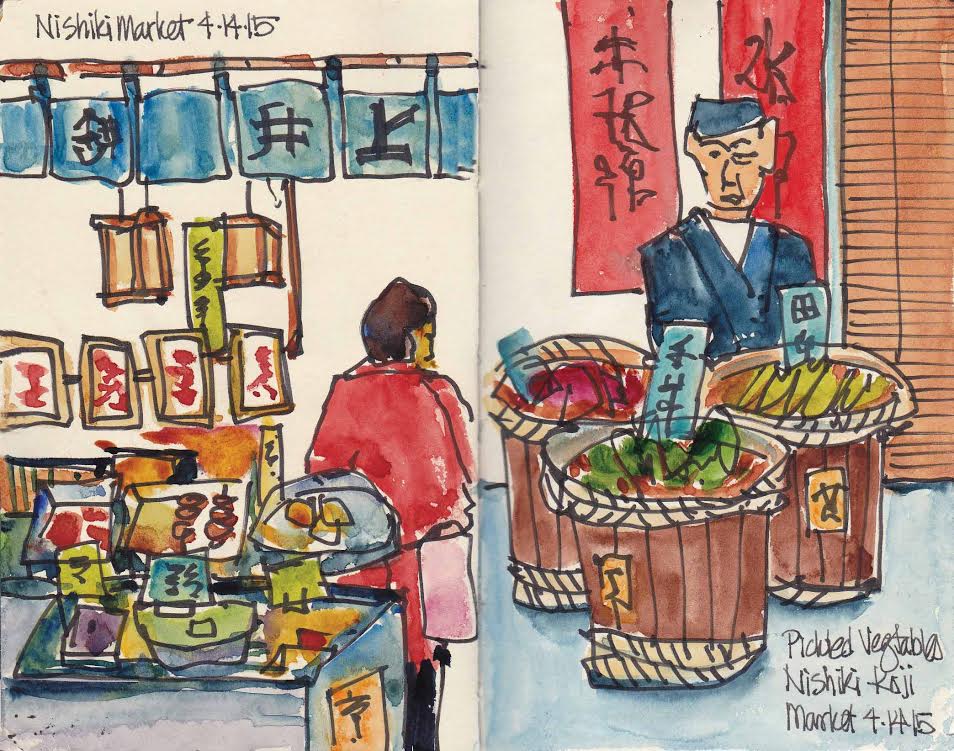 What do you hope your sketches tell viewers about Kyoto?
That this is what my trip to to Kyoto looked like. These are the things that interested me and I want to share them. And that you can see wonderful things if you look for them. And looking for things to sketch really opens your eyes. Don't be limited to the "10 must see sites". By looking at how people dress, what the reaturants serve, what is in the vending machines you will see and get to know much more of Kyoto or anywhere. And a way to really see thes things is to take the time to sketch them. and I find that people are much more interested in looking at your sketches of a trip that your photos of a trip.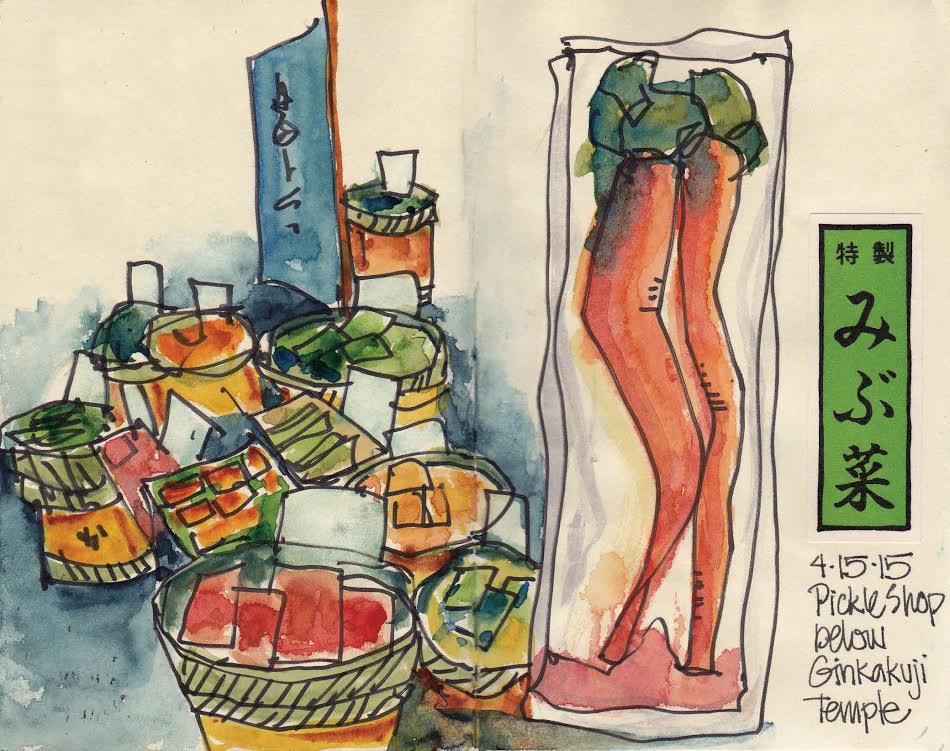 If you could sketch anywhere or anything in the world, where or what would it be and why?
I would like to sketch in Amsterdam. The canals and the houses. And the flowers and markets. I would also like to sketch from a river cruise in Europe, sitting on the deck letting the changing subjects slide by.
What's the best thing you did in Kyoto? Any tips for readers who might be thinking of going there?
I found it very easy to use public transportation and just wander through neighborhoods. Even though most of the signs were unreadable to me there was enough English so you could find your way. The city is very used to foreign visitors and people went out of their way to be helpful. We stayed near the Kyoto station that was centrally located to all kinds of transportation.
The best day was a walk fro the Gion District to Kiyomizu Temple. We passed though a series of Temples and parks that were quite beautiful. And it felt like something you would be doing if you lived there.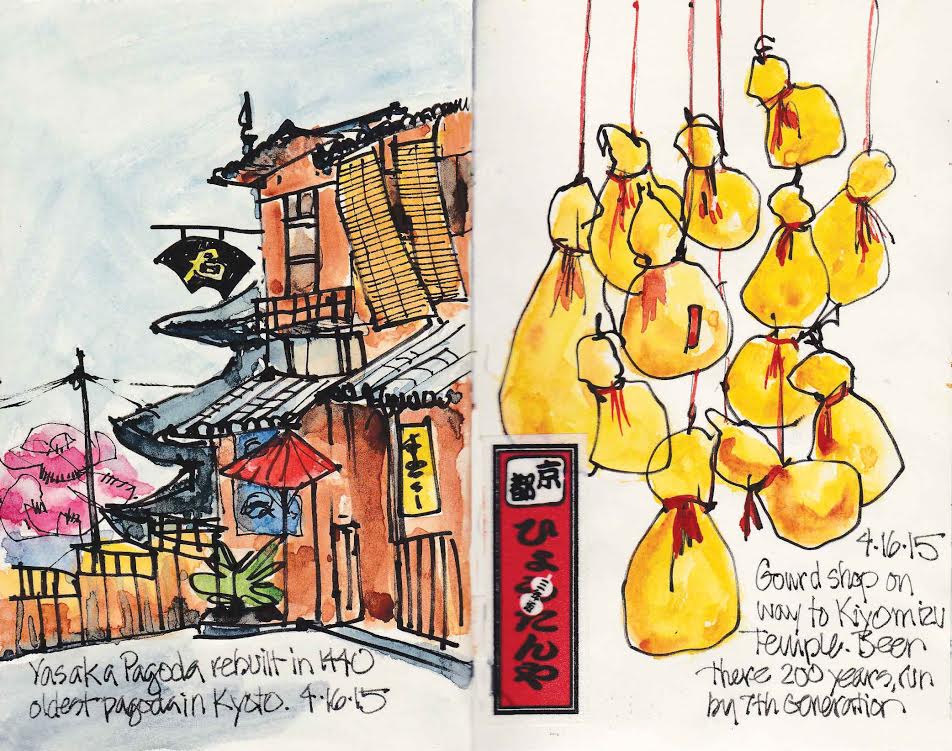 A great thing to add to your sketchbook are Memory Stamps. Stores, airports, railroad stations, tourist offices, hotels even rest stops usually have a special rubber stamp that you can stamp in your book. People collect these stamps, so ask places if they have one. (You can see the bullet train stamp in one of my sketches.) I also took some stickers shaped like California to give or trade with shopkeepers for one of their store stickers they use to wrap purchases. Also a great addition to your sketchbook.
Finally, do you have any advice to offer readers who want to sketch whilst they travel?
I find that I am picking destinations that I want to sketch, making that a major part of the planning. Travel light, don't take a lot of materials or equipment. Talk to the people you meet while sketching. A sketchbook is a great ice breaker and the people you meet will be some of the best parts of your trip.
See more of Cathy's work on Flickr and on the SF Bay Urban Sketchers site.