Today, I'm speaking with Jan D'Sa about her art show that's currently taking place in Abu Dhabi. The exhibition showcases her abstract paintings that were inspired by a trip to Taiwan… Enjoy!
Can you tell us a bit about the exhibition?
The Exhibition is titled 'Memories of Taiwan.' It's happening at the Space Lounge, Two Four 54, Abu Dhabi, United Arab Emirates. The inauguration took place on Sunday, the 31st of May, 2015 by Mr. Omar Chen, Consul, Commercial Office of Republic of China (Taiwan), Dubai. The art exhibition showcases four United Arab Emirates based artists who have experienced Taiwan and have been inspired by its beauty. I am proud to be selected as one of the artists to showcase my work.
The exhibition was organised by The Henosis Events (THE) and the theme is about being global citizens with "an undying spirit of exploration to connect with fellow humans and learn their cultures." It was the ideal platform to showcase my mixed media work on a bigger scale than I've ever done in the ten years that I've been taking part in exhibitions.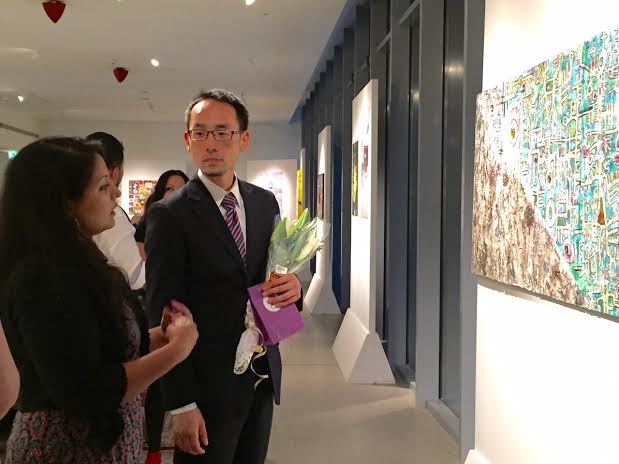 Photo courtesy of Paola Trejo
Taiwan touched me in a way that no other country has to date. Its beauty was felt in my soul and it is the first country that I have visited that has inspired me to create big pieces of art and write poetry as an ode to the country that has so much brilliance to offer.
Can you tell us a bit about your trip to Taiwan?
I had the opportunity to visit Taiwan twice last year, sponsored by the Taiwan Tourism Board. On the first trip, we explored the eastern part of Taiwan (Yi-Lan and Hualein counties) and on the second trip, we explored the western part of Taiwan (Tainan and Kaoshiung counties). On both occasions we visited Taipei and Sun Moon Lake that is situated in the Nantou county.
Although these were press trips, I enjoyed them immensely. It brought out creativity and artistry in my heart that I connected with whether we were standing on top of Taipei 101 (which remains the world's highest environment friendly building), or on an eco-leisure farm such as Shangri-La or watching the rives rages across the huge rocks at Taroko Gorge.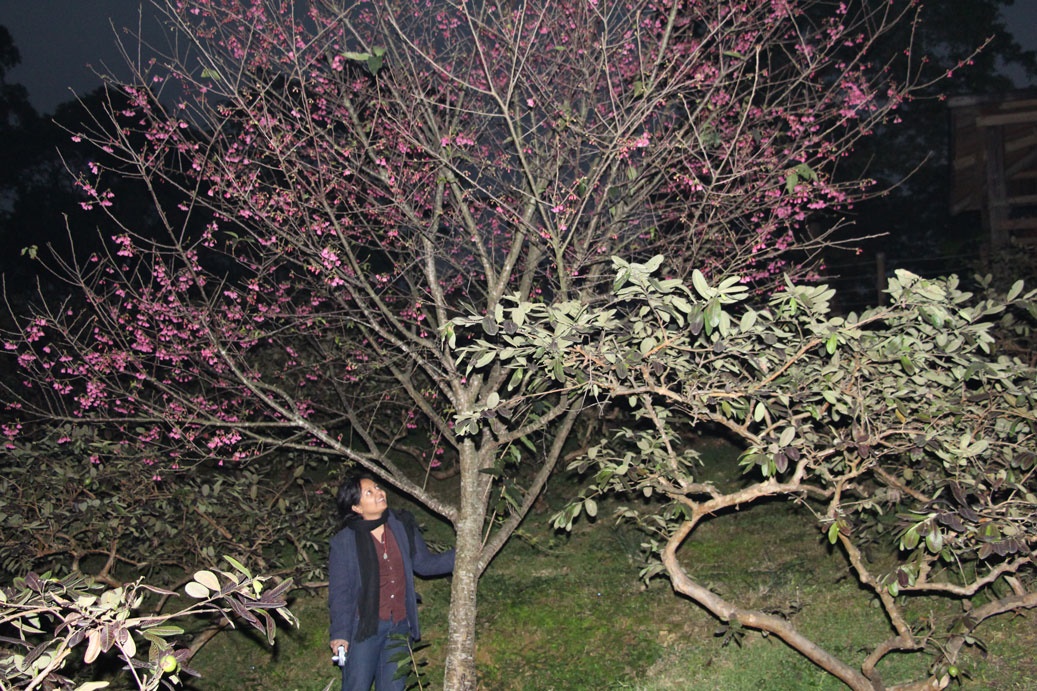 Image courtesy of the Taiwan Tourism Board
What aspects of Taiwan inspired your paintings?
I would like to say the depth, breadth and height of Taiwan. This applies to the diverse flora and fauna; the cultural and heritage aspect of their aborigine tribes (which are around 12 of them across the country); the cleanliness and the emphasis on environmental issues.
With my background in science and medicine, naturally, I'm also interested in what the country has to offer from a wellness and medical tourism perspective. Their hot springs such as at Beitou, north of Taipei, and concept of hotel-hospitals was another factor.
To be honest, I wouldn't know where to begin with which aspect of Taiwan inspired me for my paintings. I have fallen in love with a country so deep and I tried to capture various elements of it through it all, and still don't feel I've done justice to it. It is perhaps because there are more paintings waiting to be made.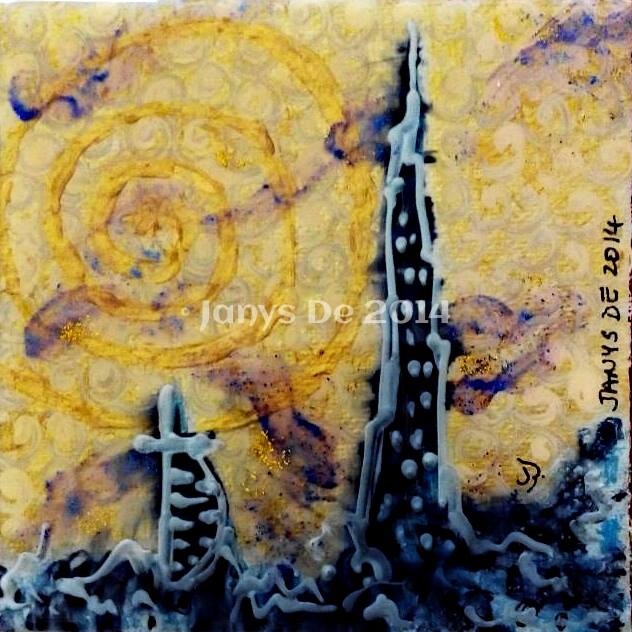 The Burj Khalifa
What do you hope viewers will learn about Taiwan from the paintings?
Through my paintings, I would like viewers to learn that Taiwan continues to do impressive work in the area of eco-tourism and agri-tourism. Maintaining the fragile balance in the ecological system while building on a modern economy is commendable.
With the preservation of their cultural roots and their aborigine tribes and their dialects, I want viewers to remember their cultural roots. We are creatures of community, creatures of depth, creatures of meaning. We were not created to be shallow or bland. We are to be as colourful and significant in our being and life is that journey to find that. Taiwan allows that inner journey to happen while we explore its scenic mountains, hiking routes and buzzing cities.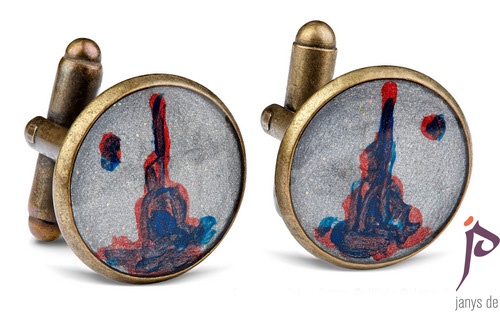 Cuff-links inspired by the Burj Khalifa
Let's talk about process. What steps did you take when making each piece?
There was a time when I would draw realistic pictures but as I didn't have the time, I resorted to taking many a macro photograph during my trip. These last few years have seen me painting in an abstract way and as a result, there is a lot of symbolism that goes into my paintings. Also, I tend to use various arts modalities such as spontaneous dance/body movements and singing as a way to channel the inspiration from a soul-centred place.
So, as you can imagine, dancing and painting becomes a messy affair, but one that is so part of my process. I also use other dimensions of mixed media through making wire jewelry and cufflinks that have travel inspired themes. For example, in the cufflinks, I have sculpted into the cufflinks landscapes of different seasons of the UK, during my stay there. The same goes for creating cufflinks with the Burj Khalifa, the Qasr Al Hosn fort in Abu Dhabi.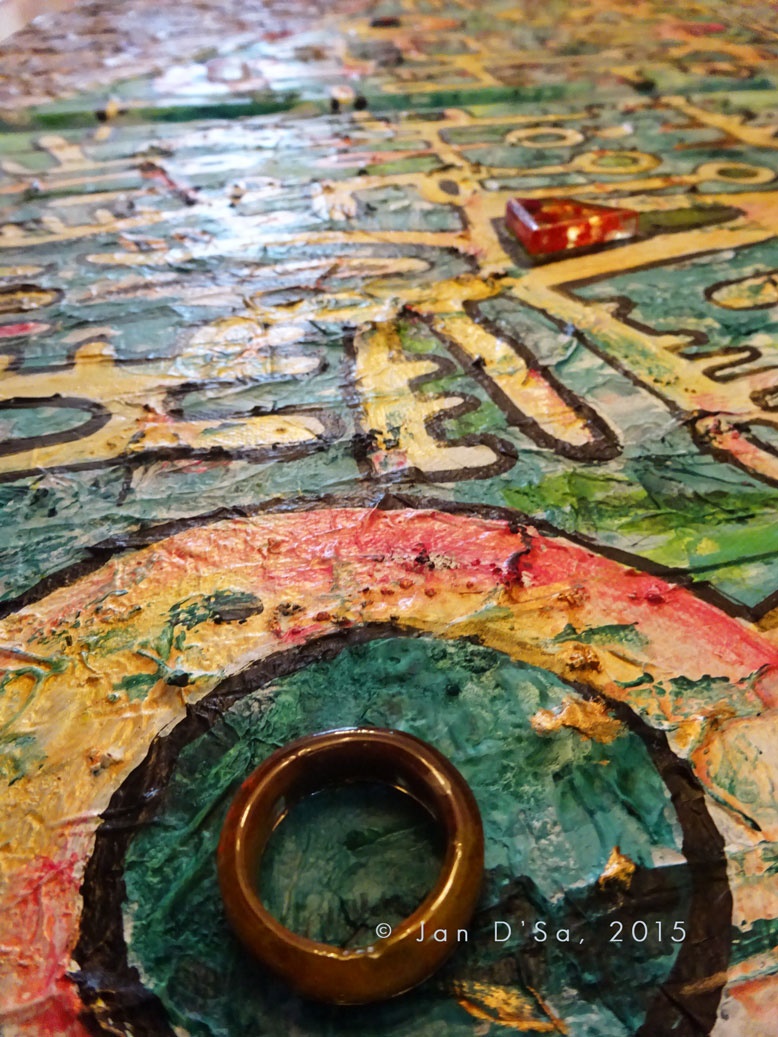 For the painting 'The Secret Passages to the Blue Jade Mountain,' I drew inspiration from the Hualein county on the east coast of Taiwan. This is where I experienced my epiphany. I used salt to stand for the salty air of the Pacific Ocean seen from my hotel room at FarGlory Resort. The painting is heavily textured to bring out the intensity of the overall experience of Hualein. Also, in bad weather, rocks fall off the Taroko Gorge and one needs to be careful (we were asked to wear helmets just in case). For the mountains, I used powdered egg shells in combination with Taiwan dried tea leaves, in fond remembrance of the Assam tea eggs that I had for breakfast on many an occasion in Taiwan (the eggs are boiled in Assam tea and are named so).
After the tribal overlay in gold and bronze, I felt the need to make resin rings and inclusions. This was a reminder of the rings and marbled streets and doors of Hualein. Which is why, when you look closely into my painting, you will see so many doors and passages to reflect the fact that you can safely lose yourself in Taiwan's immense beauty, but also find something about yourself that you never knew.
—
The only reason I started to paint the 'Making Katakata' painting was because I had a sudden creative block with the above painting after applying the colours. I just didn't know how to proceed. The more I forced myself, the more I got stuck, so I just left it.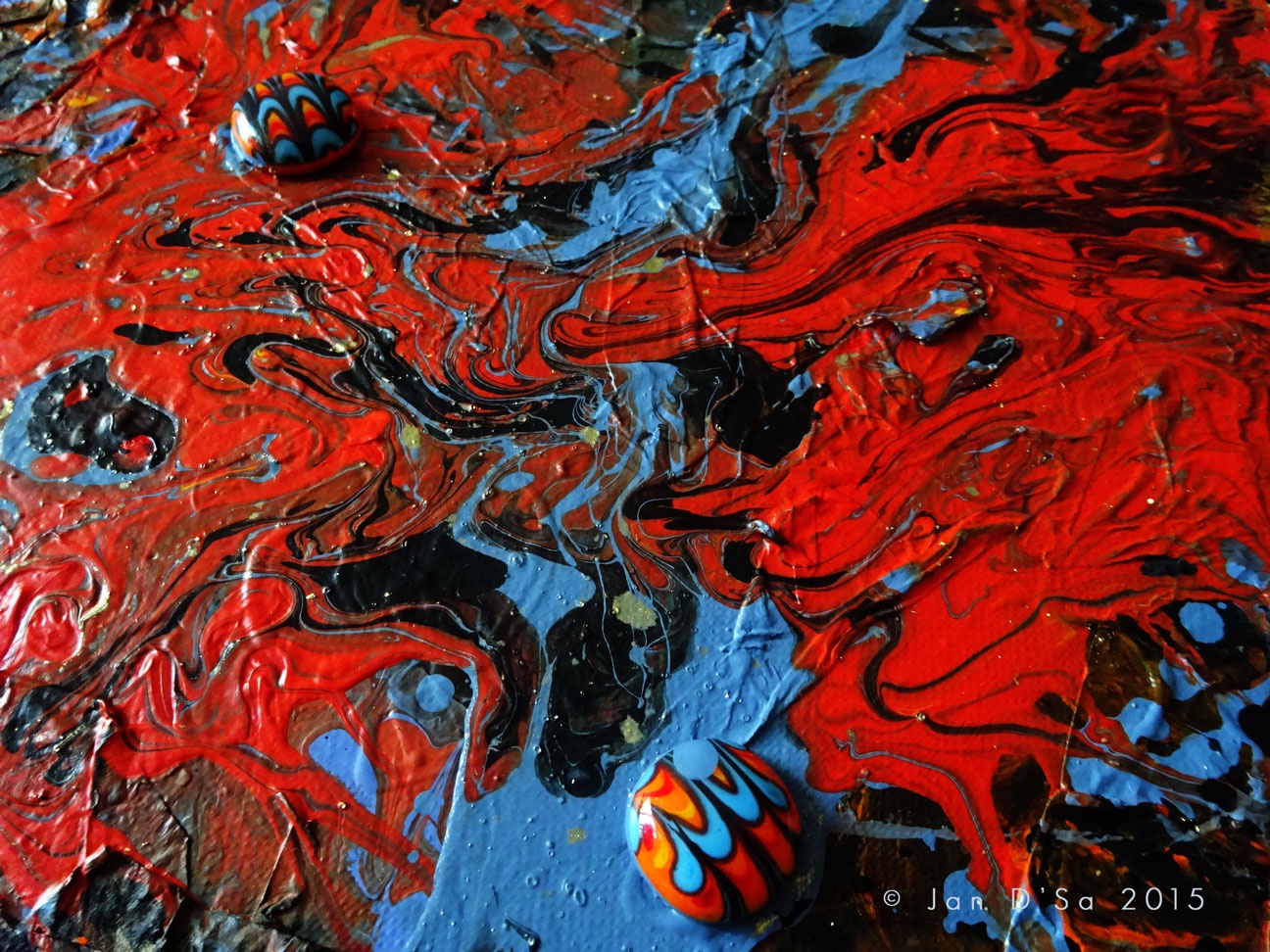 That's when I realised that I was meant to create another painting. I rarely paint in black and this is one painting was asking to be painted in black. I had bought some Katakata beads with me from the Paiwan tribe in Taiwan who make these glass beads. According to tradition, they are signify social status and each bead has a story. I tried to imagine that I was that bead, what was my story, how was I formed, what is my significance in the whole story of Life.
This painting, once again, has a lot of texture but this time I used recycled paper and papier-mâché. In the past, I've seen how the lampwork beads are made and there is a lot of fluidity before they fuse together. While I didn't get the chance to make Katakata beads, I had to use my imagination as to how the bead came to be formed when the artisan blended the orange and blues together. What did it feel like? Was it hot and cold fires that were used to form the bead? I then wire crocheted the necklace and the motif before attaching the last bead to give the painting a sort of ending.
There is much fluidity in this painting and those that make glass beads or sculptures may understand this. Which is why I pour resin randomly at the end, to give that fluid glass feel.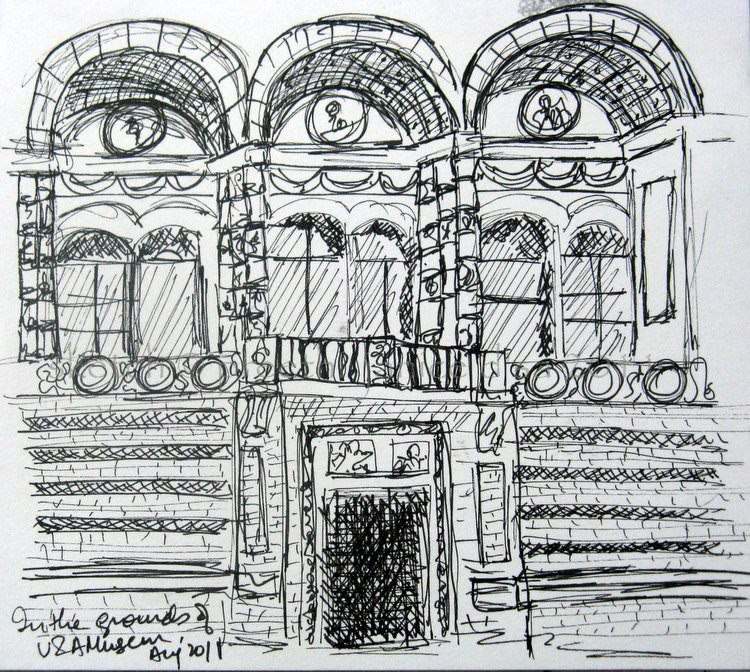 Sketch of the V&A, London
Finally, do you have any tips for readers who might be interested in visiting Taiwan?
Without wanting to sound cliché, there is something for everyone in Taiwan. Do you love culture and art? The National Palace Museum (having one of the largest collections of ancient Chinese artifacts in the world) and the Grand Hotel Taipei (where the late President Chiang-Kai Shek would accommodate foreign ambassadors on their visits to Taiwan).
Are you more adventurous? Try the hiking and the cycling routes. Taiwan's cycling routes are supposed to be one of the best in the world.
Are you like me, in love with insects and flowers and want to live in homestays on various eco-leisure farms so that you can go strawberry picking? Taiwan boasts of so many eco-leisure farms, and I've had the opportunity to visit a few and stay on one. The purple crow butterfly farms is a butterfly sanctuary on the outskirts of Kaohsiung that is worth visiting.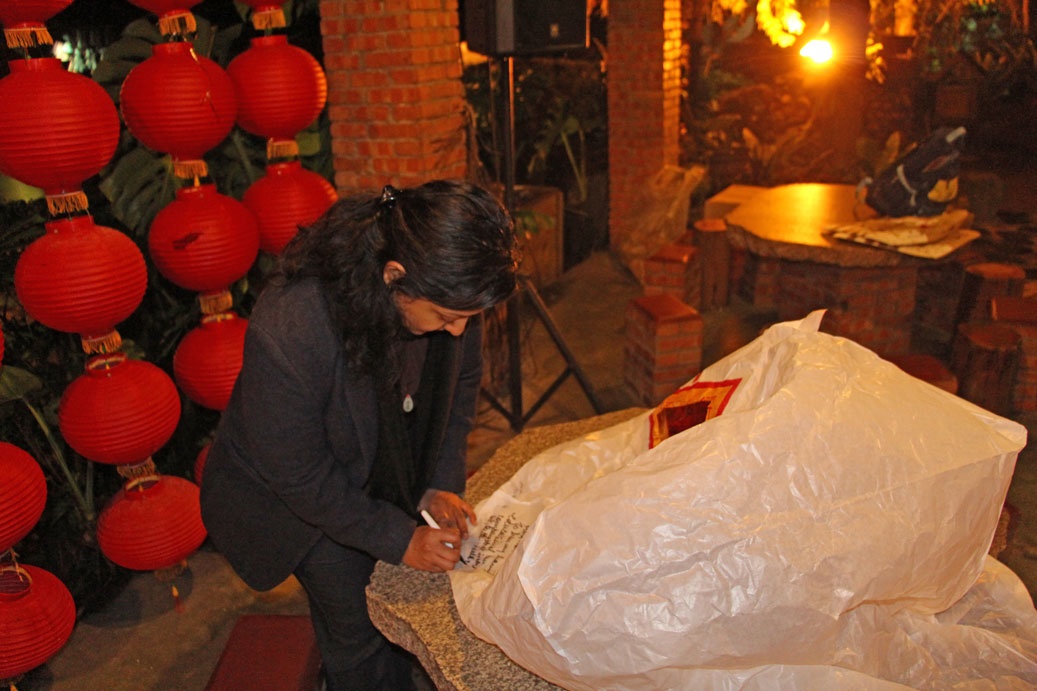 Photo courtesy of the Taiwan Tourism Board
Love tribal influences? Then visit the aboriginal tribes and take part in their Harvest Dances and learn to make some of their cultural handicrafts.
Are you newlyweds and want your photos taken in another country? Taiwan's scenic beauty, especially at Sun Moon Lake in Nantou County or even the Love River in Kaohsiung may be the right place for you. Taiwan's known for its wedding photographers too.
Street Markets, street food, street crafts in the cities are a dream for many tourists. Go ahead and try them. Shilin market in Taipei is worth visiting.
Last but not least, the people in Taiwan are humble, genuine. My experience is that they are very good listeners and are always interested to know about other cultures.
—
Jan D'Sa is a molecular biologist, travel blogger, mixed media artist, poet and arts for wellness enthusiast at www.travelartslife.com. Her alter ego, Janys De, creates cufflinks inspired by various countries and themes.