Today I'm excited to bring you the work of Kia Marie Hunt, a travel writer and illustrator who's currently studying abroad in South America. Her sketches of the indigenous wildlife on the continent are absolutely beautiful!
---
Can you tell us a bit about your time in Uruguay?
As part of my Hispanic Studies degree, it is compulsory to take a year abroad; one semester in a Spanish-speaking country and another in a Portuguese-speaking country. Although I love Spain and it's culture, I had always dreamed about visiting Latin America, so once I realised I had the opportunity to spend a year there I just had to do it! I would love to explore the entire continent eventually, and truly get to know the South-American culture, but I decided that Uruguay would be a good place to start as people say that it is the city where travellers experience culture-shock the least. (But I still did!)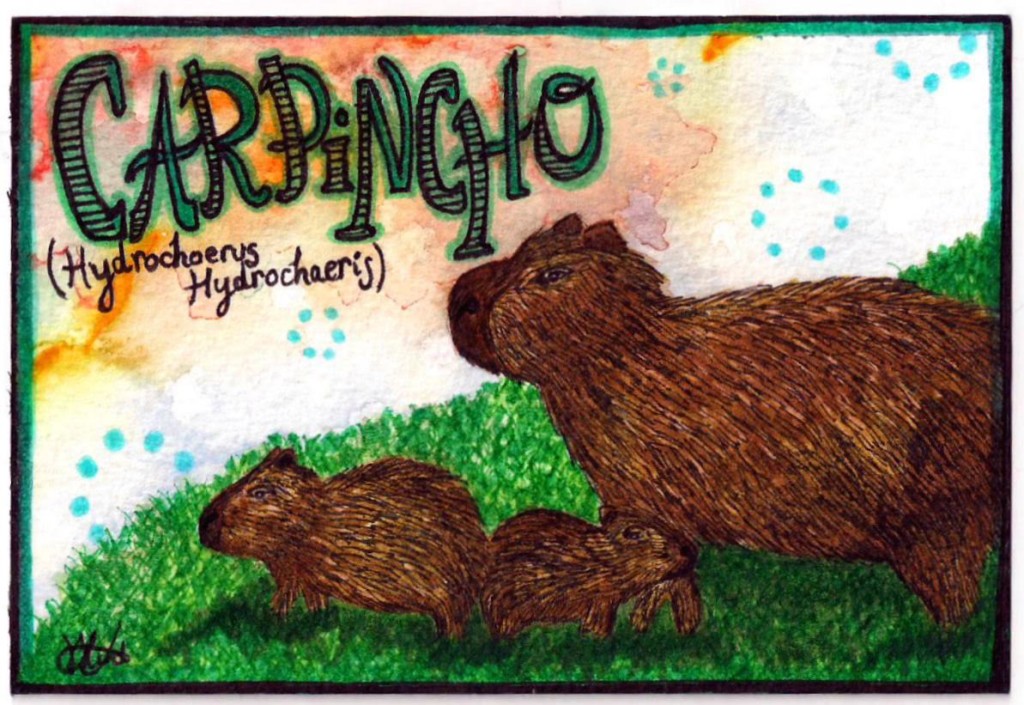 What prompted you to focus on the flora and fauna in Uruguay?
Due to the fact that my modules at the Universidad de Montevideo were very few, I had plenty of free time to enjoy, and although I loved exploring the city, I am definitely at my happiest when I am surrounded by nature. So I decided to use my free days to volunteer at Indígena, a private nature reserve just outside of the city, established with the objective of preserving and protecting the country's native flora and fauna. Spending time at the reserve really was the highlight of my time in Uruguay; it felt so peaceful to get away from everything for a while and simply spend time immersed in cultivating wildlife.
It wasn't long before I became enchanted by the unique characters of the different animals and inspired to capture them by creating a collection of illustrations.
Your illustrations have a lovely, unique style to them. How did this develop?
Without a doubt my style is influenced by the illustrations within the story books read to me as a child. Some of my earliest memories are of being mesmerized by how the vibrant and detailed images would almost come to life while the story was being told, some of my favourite illustrators were: Helen Craig, Lynley Dodd, Maurice Sendak, Emma Chichester Clark, and, of course, the classics Quentin Blake and Beatrix Potter. I would sit and marvel at the book's pictures for hours, and ever since then I think I have tried to portray that same vividness and detail in all areas of my artwork.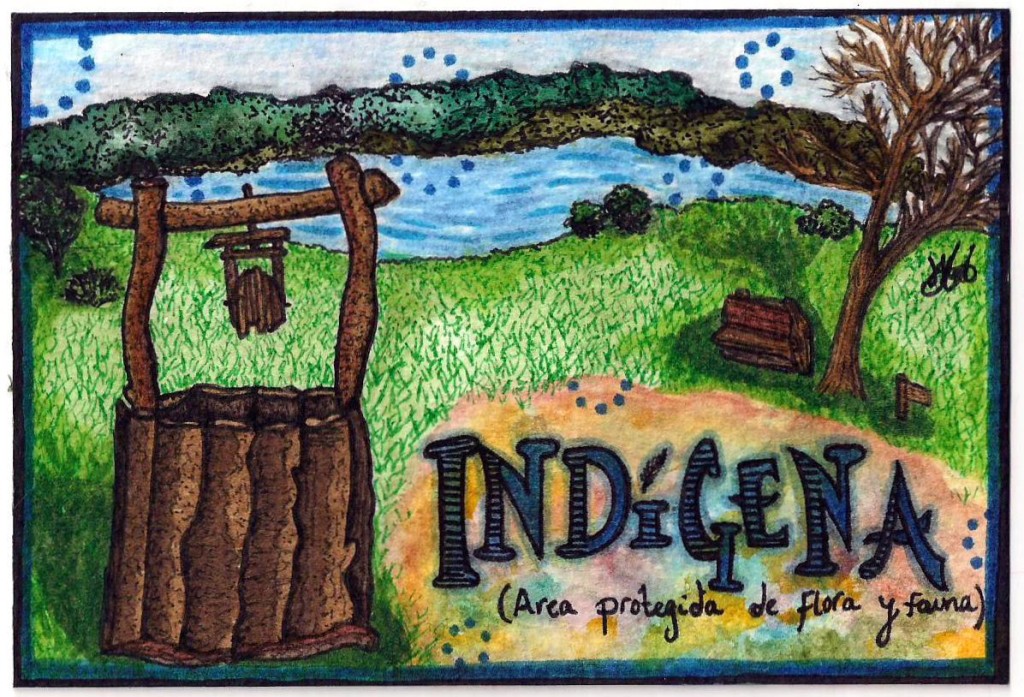 I think my style still is still developing, and perhaps it always will be, because I am always finding new inspiration to try a completely different style or experiment with another media, but I like to think that, whatever I create, the thing that all of my work has in common is that it's quirkiness can capture the imagination in a very particular way. Someone once told me "your drawings look like illustrations from a book that I would really love to read" and that was definitely the best compliment I've ever had!
Can you talk us through the process you take to make each piece from start to finish?
Well, I would start each piece with a light pencil sketch of the creature in question, around this I filled in the areas of grass and sky with a light water colour wash, then every animal would have two or three more layers of water colour detail. I used Winsor & Newton's "Sketcher's Pocket Box" Water Colors on Daler-Rowney A6 Watercolour Postcards. Perhaps my favourite part of the process was creating the bright splashes of colour where the names of the animals are, this bit was very free, I would just keep adding watery blobs of random, bright colours I liked until it reached a point where I was happy with it.
Once everything had dried I first used my Faber Castell Brush-tip pens (my absolute favourites, thanks Mum!) to build up more colour, write the names of the animals (in Uruguayan Spanish), and outline the postcards. Then for finer details like fur, feathers, and an infinite number of blades of grass, I used my trusty Stabilo fine liners, before finally outlining everything in black. Then I added the little dotty-circle patterns you can see, I add these to a lot of my drawings for some reason, I think it's because if I see a lot of blank space I just have the urge to doodle in it.
What do you hope your illustrations tell viewers about Uruguay and its flora and fauna?
Indígena's aim was to make people more aware of the beauty and importance of the country's indigenous wildlife, they would hold little workshops for local school children to teach them about the plants and animals in the hope of inspiring some of them to want to help to preserve nature when they get older.
I think my aim was similar; just to show off these lovely parts of our world, let people know that they do exist and that preserving our nature is important, not just in Uruguay but wildlife everywhere. Of course, it was also for me to have some fun too, wholesome moral aim or not, these animals where just too cute for me to ignore, I had to illustrate them!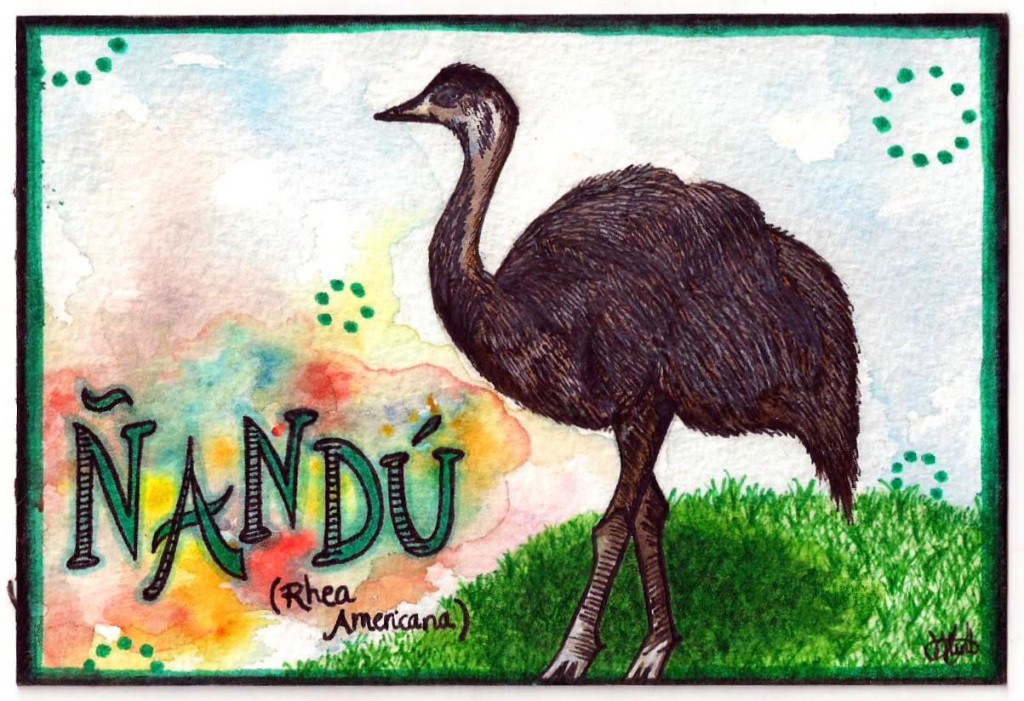 What has been your favourite subject to illustrate and why?
This is a difficult question because I enjoyed illustrating different subjects for different reasons. For example, the Capybara or 'Carpincho' was my favourite animal at the reserve, to me it is the perfect mix between a dog, pig, guinea-pig, and hippo, and I really liked trying to capture its grumpy cuteness.
I also love the charisma of the Southern-lapwing ('Teru-Teru') and trying to illustrate the way its little feathers bounced on its head while it strutted around. Illustrating the Armadillo ('Mulita') was the most enjoyable of all as I took a lot of time filling in the detail of its shell and it became quite therapeutic.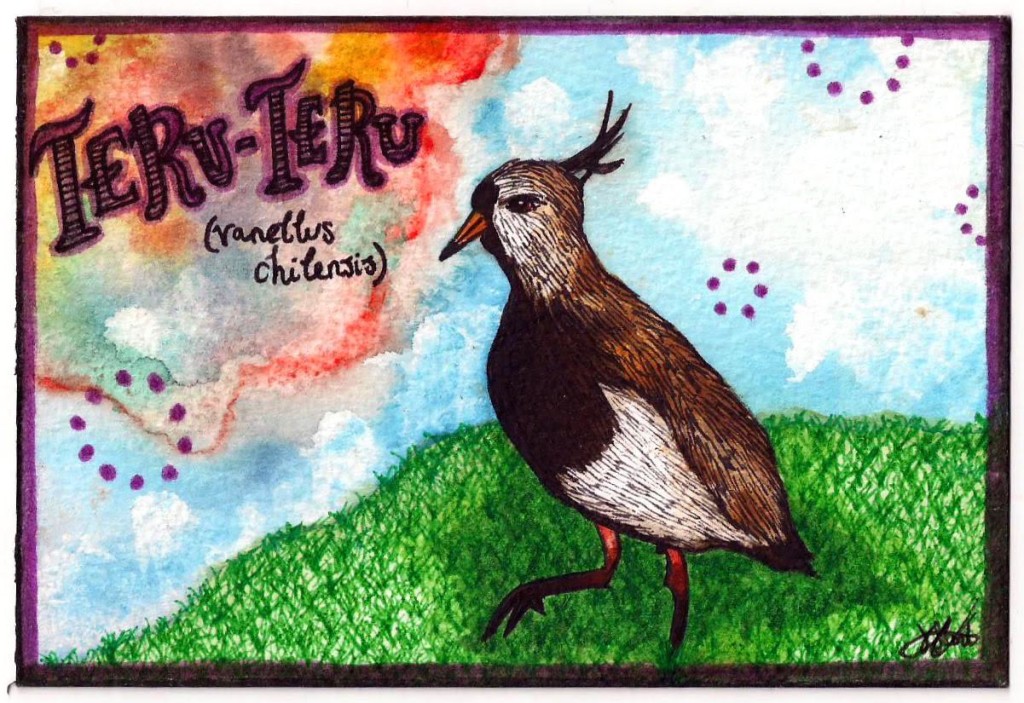 Finally, do you have any tips for readers who might be interested in sketching while they travel?
I think the best tips I can give are:
If you think you don't have time to sketch whilst travelling, you are probably wrong. Sometimes it's just about priorities. Pay attention to how much time you spend doing things like being on Instagram or Facebook or watching TV, maybe you could be using that time to do something creative.
That said; don't sacrifice time relaxing to force yourself to sketch if you don't want to. With trends that encourage 'a sketch a day' sometimes you might feel like you have to just choose something to draw even though you don't fancy it, but really, you should only be creating art if you're inspired to do so and you will enjoy it.
Sketching on site is always fun, try to take a few pens or a little paint set and a sketchbook wherever you go just in case you find yourself with time to spare. For example, if you're waiting around at a bus or train station it could be the perfect time to draw what you've seen that day.
And finally, if to you're out and about sightseeing in an exciting place but it would be inconvenient to make any art there, make sure to take a lot of photos or videos (especially handy when trying to illustrate animals that move fast!) and keep a little list of the things that interested you. Then when you're feeling arty, you can look at your list and have instant inspiration!
(Plus, if you like to collage, I found a good thing to do while making my art journal was to collect maps, leaflets, free magazines, and any other things you can get your hands on and keep them in a folder for when you have time to do some cutting and sticking!)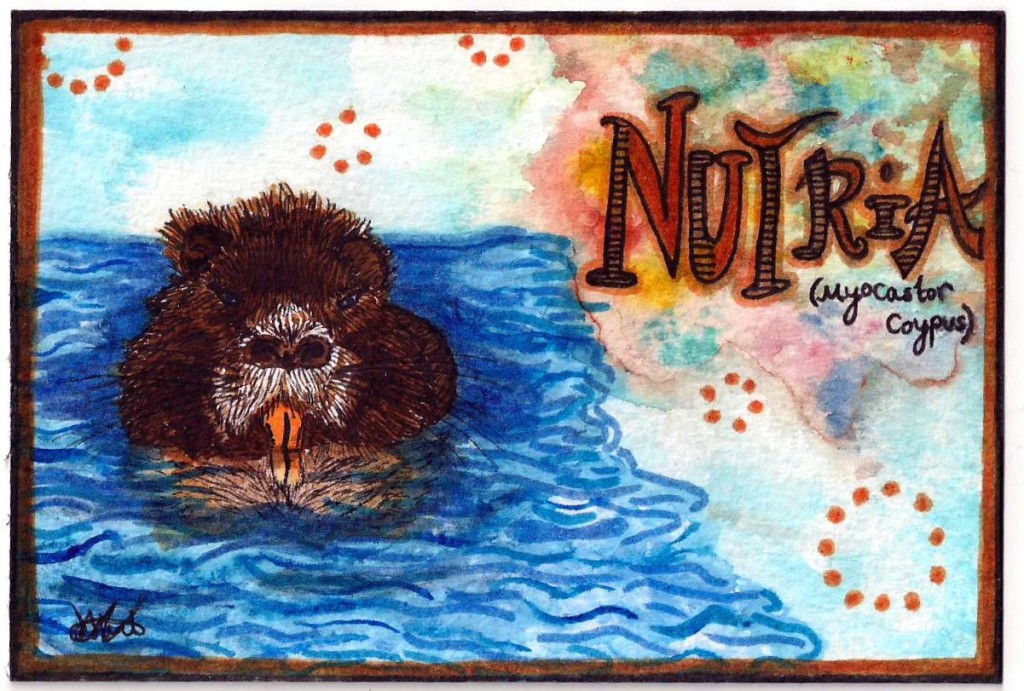 Check out Kia:
Kia's blog, where she writes about travel and culture. She's studying abroad in Brazil at the moment, so there's lots of good stuff there!
Kia's Facebook page is full of her travel writing and art.
This Instagram account is packed full of her art and illustrations, including works-in-progress, while this Instagram account is Kia's personal one, which showcases her daily life and travels.
What do you like about Kia's work? Have you seen any of these animals on your travels?