If you love cute animals and European cities (my two favourite things in life!), then you'll love today's post. Rabbit Guides are the brainchild of Sarah Sucha and Sara Mihalik, who hope to feature destinations all over the world through the eyes of Misha and Kooba, two incredibly cute bunnies. This is definitely an arty post with a difference, but I think you'll all fall in love with the idea just like I have! 
Can you briefly tell us about the Rabbit Guides?
Rabbit Guides are travel books for children of all ages. Although the images are geared more towards children, we feel that adults can also appreciate/enjoy these travel guides. Travel lovers can learn about intriguing cities all the while following around the two main characters, Misha and Kooba – lop-eared rabbits with an appetite for traveling and exploring different cultures.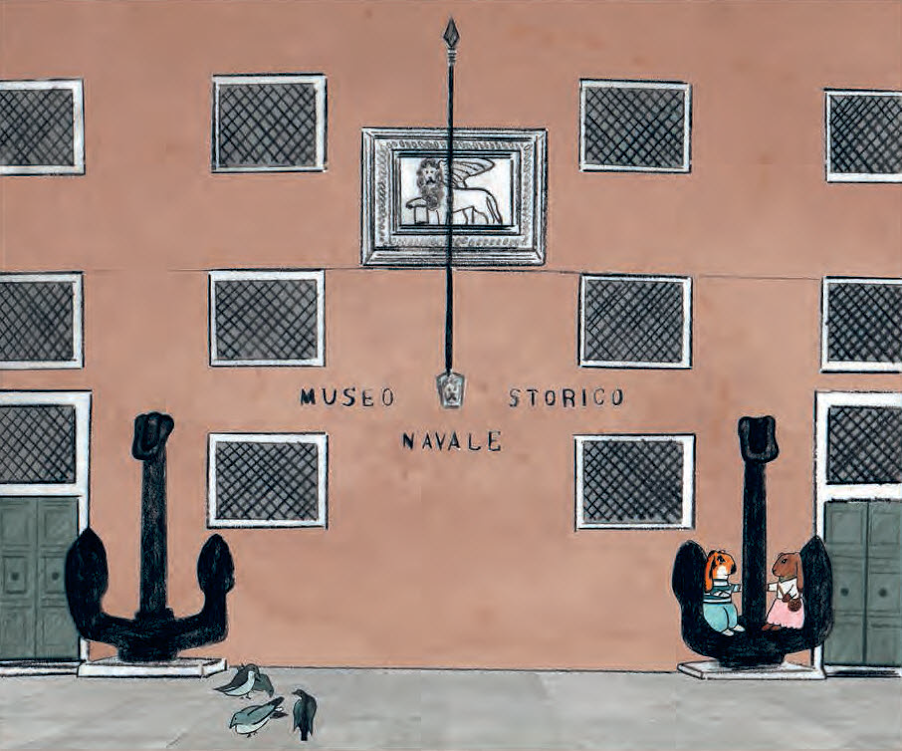 Venice – Museo Storico Navale
How did the idea come about?
We both love traveling and exploring… and rabbits – so we decided to combine our love of all these things into a book series.
What was the research process like?
The research process is the best part! We travel somewhere, see as much as possible… take in as much local culture as possible, take as many photos of buildings and "scenes" as possible (of every little detail – surfaces, colors, patterns, etc.) and then we brainstorm and create a sort of storyboard. We try to include in each book as many sights/details/culture as possible in order for our readers to get a good idea of what a city is really about.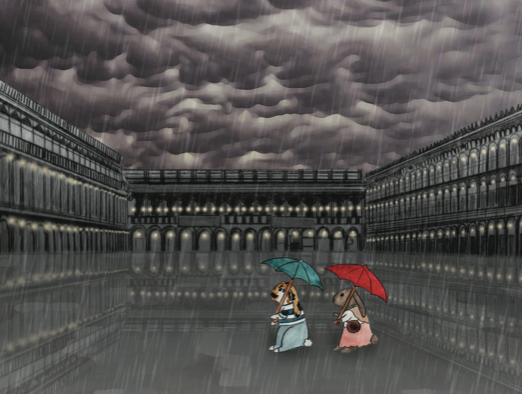 Venice – St. Mark's Square
Let's talk about the practical process. What's steps did you take to create each illustration?
We choose the subjects based on what we think needs to be presented in our travel guide – specifically what's important to that city. The illustration process begins with us picking photographs for each scene. The buildings are then completed by tracing and drawing, and then are scanned. They are then finished and "painted" in Photoshop; details are then collaged in (surfaces, sculptures, statues, paintings, etc.). After a scene is done, the animals are then drawn, painted with watercolors (we use watercolor paints for their fur to get a nice texture), and then we have a complete image to work with. It's complex and takes a while, so we are still working on streamlining our process.
Why did you choose Venice and Prague to start with?
We choose Venice to start with because it is a place that we both hold very dear. It's a city unlike any other and we really wanted to do a book about somewhere close to our hearts. Venice is intriguing… many people make the mistake of going there for only one day – we want our readers to be inspired to go there for several days and to really get to know the city. It's an amazing place.
Prague was our second choice because we both have personal connections to the Czech Republic. It is where we met as creative partners and it is one of the places we call home. It also doesn't hurt that the city itself it's absolutely stunning – it is literally a textbook of architecture.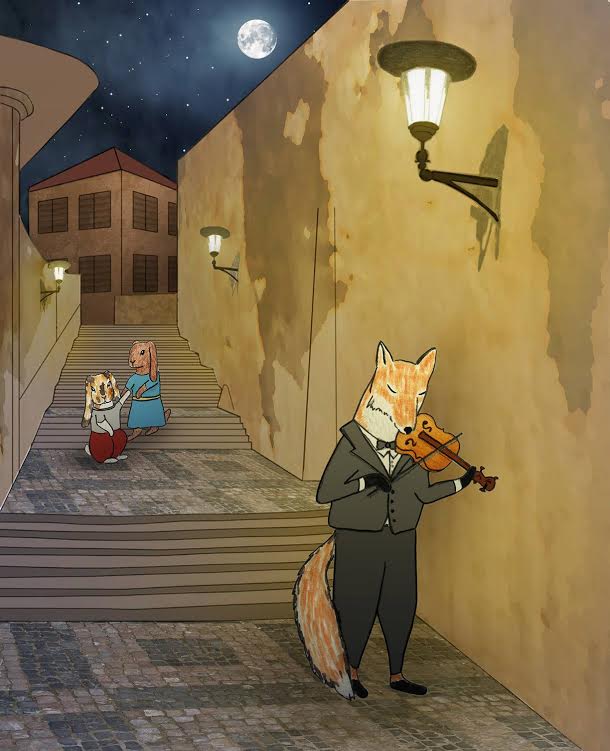 Prague Castle Steps
What do you hope the Rabbit's Guides will teach readers about each destination?
We hope to inform our readers about a variety of intriguing aspects about each destination and not just cover the main sights. We want to instill a desire to travel – and travel smartly – and to seek out different cultures.
What are the future plans for Rabbit's Guides?
We love what we do and not a day goes by that we don't have a million ideas flying around in our heads about where to take the bunnies to next! Not only do we wish to see the Rabbits travel the world, but we want for them to make the world a better place. The next book after Prague is definitely going to be a bit more exotic…
Find out more about the Rabbit Guides here, and keep up-to-date with the developments on the Facebook page.
Have you been to Venice or Prague? What do you think of these alternative guides to the cities?