Today I'm excited to introduce the work of Robert Tan (a.k.a Rob Sketcherman) to you. Rob is a travelling sketch artist with a difference. Instead of using traditional media to create gorgeous images of places, Rob uses his iPad. It's a technique that is becoming increasingly popular due to the compactness of an iPad and it's ease to carry around compared to bags full of equipment. So, I caught up with Rob to find out more about how he got into sketching on his iPad and where he hopes to go from here. Enjoy! 
I haven't come across many sketchers that use an iPad as a canvas. How did you decide upon this technique and what are the benefits?
The short answer is: it's a lot lighter, faster to set up and put away, offers almost all the artistic media I could ever want, and I don't have to scan anything anymore to share what I've done! (And I now save so much not having to constantly replenish supplies – or be tempted by new equipment.)
Pre-iPad, I used to lug around a backpack loaded with sketching gear, consisting of at least a couple of sketchbooks (one large, one small), watercolors, pens, pencils, brushes, various water receptacles…you know what it's like. The weight sometimes gave me a back ache (I injured my back years ago and it acts up on occasion.) on the days that I didn't take my gear with me, I'd often wish I had and end up kicking myself. Well, that doesn't happen anymore!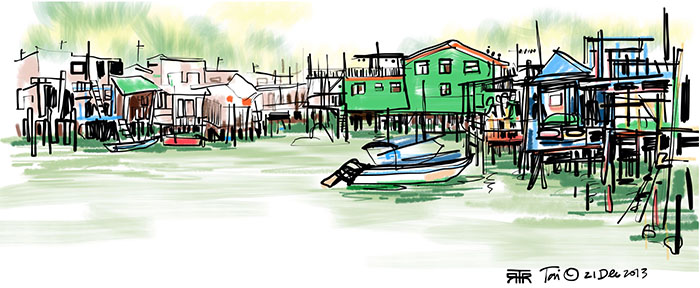 When Steve Jobs held up the first iPad during his keynote 4 years ago, I was watching live and new it was gonna be HUGE. I drooled at the possibilities and itched to get my hands on one, and when I eventually did, it was love at first sight. Apps like Sketchbook Pro and Brushes allowed me to experiment with sketching digitally anywhere. I also picked up a variety of dumb stylii along the way, as drawing with my finger didn't feel natural (sorry Steve Jobs – that didn't work for me). At the time however, drawing on the iPad felt more of a novelty. It was cool and some features inspiring, but lots of times, the process was still clunky; user interfaces required many steps to access tools, or the iPad was too slow to keep up with really fast strokes. And of course, we didn't have pressure sensitivity.
I usually skip a generation when upgrading my devices, and when the iPad 3 came along, I loved it. The Pogo Connect, one of the first pressure-sensitive styluses on the market, joined my kit, and that combination really got me to leave traditional media behind more and more.
Fast forward to the present and with my most recent upgrade, I have found my dream machine! The iPad Air is so much faster, and apps have matured to a level that makes the creative process smooth, stable and truly delightful. Like many creatives who use the iPad professionally, I've settled on Procreate as my go-to app. For me, it is, in many ways, better than Photoshop because I have the most important functionality available anywhere! The UI has achieved that balance of being there when you need it and getting out of the way when you don't.The last piece of the puzzle is my Wacom Intuos Creative Stylus. Its pressure sensitivity is unsurpassed. Together, they make me feel like a sketching superhero!
For in-depth reading, and gear information I have a few blog posts that may answer your questions on Sketching with an iPad as well as the Wacom Intuos Creative Stylus.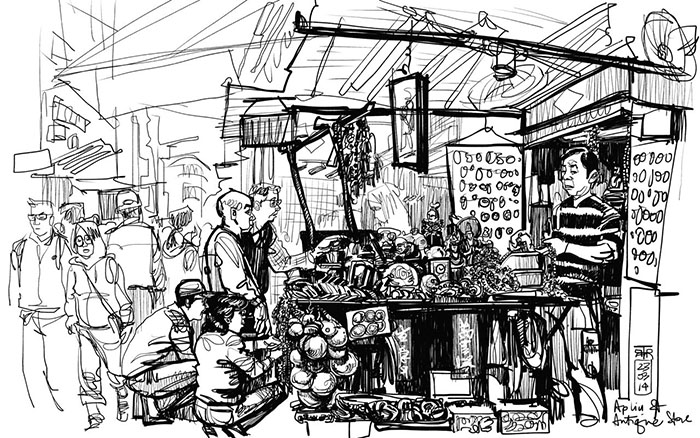 Let's talk about process. What steps do you take when creating a piece?
I do a lot of sketching on location and from life. In my book, it's absolutely essential to be out there, eyes open, observing and absorbing details. When urban sketching, I walk around and look for interesting focal points, which could be anything really – architectural details, an animated group of people, a store selling funny objects. I try to find a story of some kind so the viewer gets a better feel of the scene and what's happening in it.
In training to work faster, I try not use guidelines, preferring to jump in with both feet with 'ink' once I've visually absorbed the essential proportions in my chosen scene. For instance, if I like the way a couple is sitting and interacting, I start with them first, working quickly to capture them before they decide to leave. Then I let my sketch grow around them, matching proportions of surrounding objects and people in relation to them. It also helps that working in Procreate, I can select and tweak sizes and positions where needed, but I only use this and the Undo button when absolutely necessary.
Procreate also allows me to work in layers, so I always start with an ink/outline layer, then create another below for color. This way, I can tweak if necessary and experiment with color or style later, without messing up my base drawing.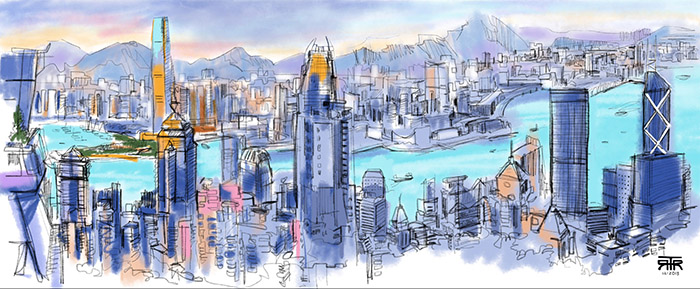 It's clear that people and places inspire you. What has been the most inspiring place for you to sketch and why?
Hmmm…that's a tad complicated. While I've travelled quite a bit, I only started urban sketching seriously about 3 months ago, and during that time, have only really sketched around Hong Kong. While there are many places around the world that I'd love to draw, Hong Kong still has so much to offer, and therefore, defaults as my current favorite.
The city is fascinating; full of color, culture and life in 3D. Everywhere you look, there are details that pop out, so it's easy to be inspired. Due to the incredible population density, Hong Kong is life stacked upon life. Every time I take the tram on the island, I wish I could plant myself atop the tram stops and sketch the bustling narrow markets between the buildings off the main streets, or the glimpses of activity visible through every window of the multi-storey buildings that tower over the streets. Kickboxing studios sit above cafes, which are bunched elbow to elbow with private homes, nail salons and retail stores of every description. And the streets teem with activity!
All this is literally at my doorstep, and yet, less than an hour away, I can escape the cosmopolitan city center and sit by an idyllic stream, sketching a fishing village on stilts. I'm fascinated by how people live, work and play, and all over Hong Kong, I can easily find subjects to focus on in every direction.
Sketching travelogues are what I'd like to eventually get into, which would allow me to marry my interests in travel, writing and sketching. I'm sure I'll have many, many favorites spots from around the world to talk about then, but to start with, few could ask for a better beginning than Hong Kong.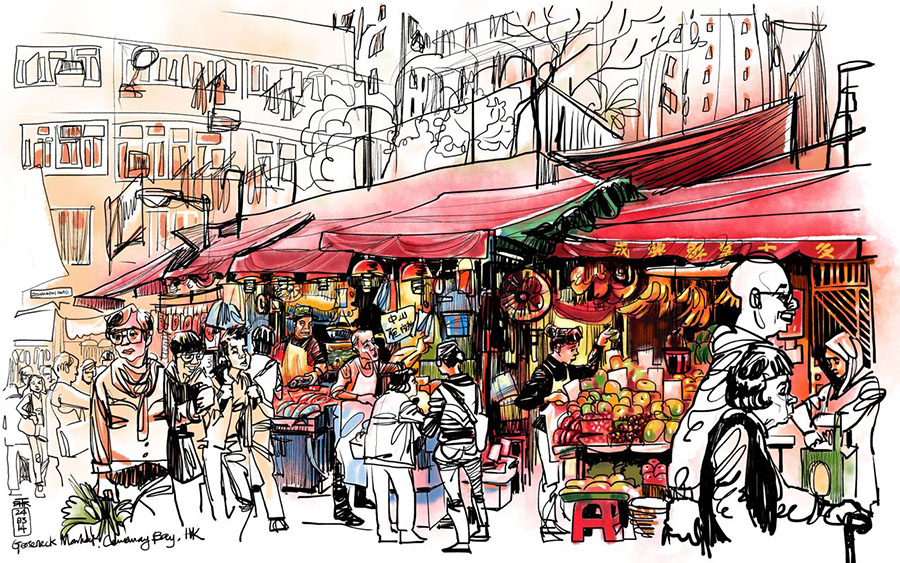 Can you tell us a bit more about trips you have taken? 
Both work and play have taken me to the US, Europe, Australia and many corners of Asia, including studying tabla (a pair of Indian drums played with fingers) in rural central India for 6 months because I was fascinated by the rhythms of the instrument. I've also spent time living in Kuala Lumpur, Sydney, and Los Angeles. I wish I did more travel/urban sketching then!
Every venue had me oohing and aahing, as I'm extremely visual and absolutely love the process of discovery. A few sketches punctuated my travels then, but most were done on a whim, largely to pass a bit of time. I regret not being more focused about it. In the last 3 months of being part of the international urban sketcher community, I've seen stunning examples of people documenting their lives and travels through their sketches. That's beautiful!
An architect friend of mine fills a sketchbook every time he goes on a vacation, filing pages as he waits for his kids to finish various activities . He even draws plan views of every hotel room he's ever stayed in! What a great idea! I never remember where I stay or what the room looked like, and this is a clever way to pass a bit of time while waiting for my other half to…er…get ready before we head out.
I used to be a trigger-happy point-and-shooter, but admit that I seldom look back at the thousands of trip shots accumulated through time. There's something about sketches that bring a greater depth of joy when flicking through old works however. When well done, they capture not only the scene, but also the essence of emotion and personality of the sketcher and his surroundings at a specific moment in time. The result is unique, magical and memorable, which is why people are happy to look through my sketchbooks, but only smile politely at the prospect of viewing another trip photo slideshow.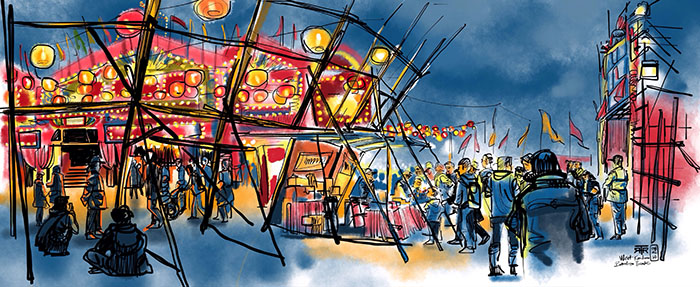 What do you hope your pieces convey about the people and places to the viewer?
I began by just enjoying the process of accurately rendering what I saw before me, but now find myself much more drawn to telling the story behind the scene through my sketches.
In my Happy Caturday blog post for example, I sketched the home of a friend who had 12 cats and 5 dogs in his 700 sq foot flat. Those figures will turn heads, and I sought to give the viewer a snapshot of life of this pet lover while answering questions anyone would ask: What's it like to live with so many animals? Do the animals fight? How does he keep them clean?
As mentioned earlier, I'd like to dig deeper in future, travel more, writing and sketching along the way. I've found that putting pen to paper – or stylus to screen as it were – has opened up doors of all kinds. This simple act has compelled complete strangers to come up to me and chat, or befriend me over cyberspace. Happily, sketching has shown me that the world is a lot smaller, and in the best way possible!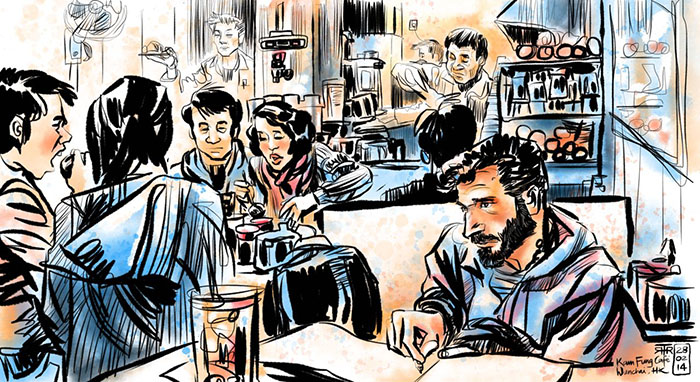 A little empathy can make a world of a difference. It is my hope that my little drawings will help people understand the lives of others elsewhere in the world. Sketch by sketch, I hope this brings people to see that there is much more holding them together than keeping them apart.
It's also awesome to be part of a movement that inspires people to stop staring at their little mobile screens all the time; to look up and around, really interact with their surroundings and soak in the everyday beauty that usually passes them by unnoticed.
If you could sketch anywhere in the world, where would it be and why?
I have many ideas for all sorts of locations, but one of my epic dreams is to do a cross-continental sketching road trip across the US. Across mountains and deserts, cities and plains, through little towns in the heartland, stopping anywhere I felt like in between…that would be amazing! I love variety and a trip like that would give me different subjects to draw every day. And the stories! Being able to sit in a local coffee shop, chat with the locals and learn first-hand about how people live in different places…sure beats the heck out of a packaged tour, right?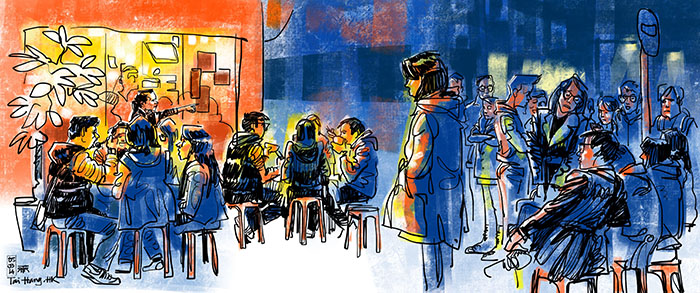 Finally, do you have any tips for readers who might want to dabble with sketching on their iPad?
If you already have an iPad, it's a no-brainer to start. Procreate costs all of $5.99 and is absolutely 5-stars amazing. There's an excellent, friendly user community too, and the developers are improving it all the time. That being said, any other app you like will do. I enjoyed Sketchclub for a while, and Sketchbook Pro has improved quite a lot too.
A pressure sensitive stylus will be an amazing addition to your kit, but not absolutely necessary if cost is prohibitive. Try one in a store or take a friend's for a spin and see what you think.
Gear aside, just start! Sketching on an iPad is forgiving because of the undo button, and the possibilities for experimentation in different styles and media is a lot cheaper and easier than buying sets of oils, markers, pastels and pencils etc when you don't know which you love best yet.
The only thing I miss sometimes is the ability to do real watercolor on the iPad. Technology hasn't caught up with the magical chemistry of water and paint mingling spontaneously on paper…yet. I'm sure it's only a matter of time.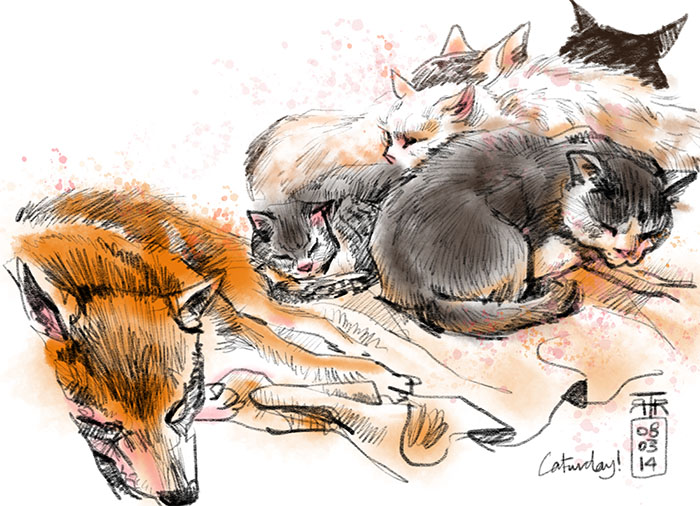 The other advantage of iPad sketching is that sharing is so much easier. Snap a screenshot in a second and be the envy of those who need to deal with scanners! I also highly recommend connecting with sketch-type groups on social media, where you'll find like-minded people, be inspired by their work and so, find it easier to fuel your next piece.
Joining a sketching group (iPad users or not) is also worth checking out. If you like to go it alone, that's great! If not, there are urban sketcher communities around the world who are inspirational and supportive, organizing periodic sketchwalks and sketchcrawls, which are also a great way to discover new places. Join one or make one. The added social element makes it really fun.
Most of all, enjoy the process. Just start and have fun with it!
You can see more of Rob's work on his website.
Have you ever tried sketching on your iPad whilst travelling? If not, is it something you'd like to try?