I featured some of Rene Wojcik's sketches of Hawaii a few months ago, so when he got back in touch to share some of his sketches from Utah national parks with me, I jumped at the chance to showcase them here. I'm yet to explore rural Northern America, but it's an area of the world I think I'd enjoy a lot – especially if it's anything like Rene's sketches!
Tell us a little about your trip.
My wife and I decided to take this trip to southern Utah (USA) that was sponsored by Road Scholar and Dixie State University. This tour was called "Stair Case to the Past" and covered five National Parks, State Parks and National Monuments.
The tour, in a large tour bus, started in St. George. Utah and lasted 10 whirlwind days. There were 39 elderly passengers, a geologist guide, a trip coordinator and the bus driver. Each day included different stops which included short day hikes in several national parks, state parks along with geological discussions along the way. Meals, lodging, and travel costs were taken care of by the trip coordinator. Each participant paid for trip ahead of time. There where two afternoons and evenings where the participants had free free time to dine and explore on their own in Moab, Utah.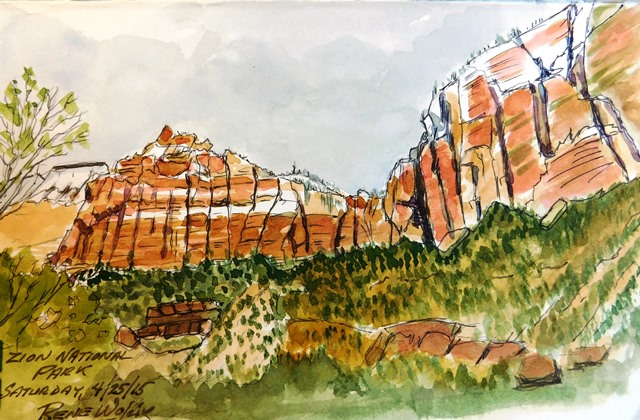 How did you choose the subjects for your sketches?
I attempted to sketch something each day that captured the essence of that day. Unfortunately I had altitude sickness for most of three days so I had little desire to do anything.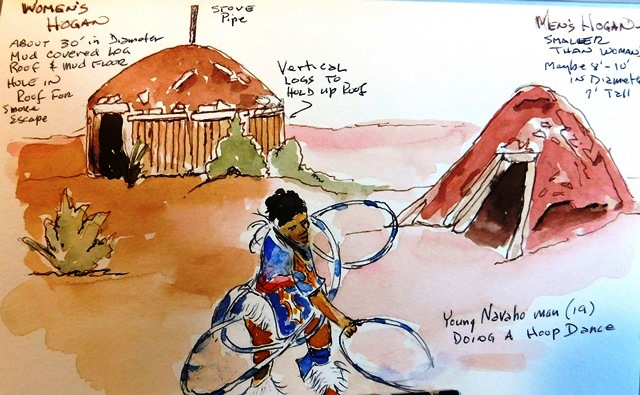 What do you hope your sketches tell viewers about Southern Utah?
I had hoped to capture the vastness and beauty of the natural wonders of southern Utah. I don't think I accomplished that task as I had hoped. Perhaps if I made sketches on a panorama-type sketchbook I would have been more successful.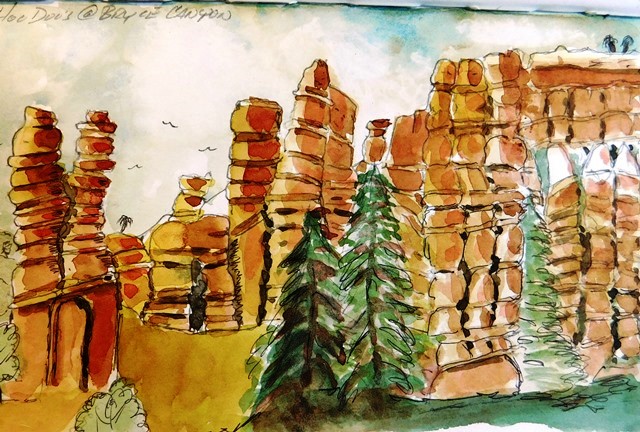 Do you have any tips for readers who are thinking of visiting Southern Utah?
Make this trip either in the Spring or Fall. Wear comfortable hiking shoes and clothes. Be prepared to drive great distances by bus or SUV. Bring plenty of water bottles. The climate is very dry. And energy bars or fruit. A small backpack and hiking stick are nice to have.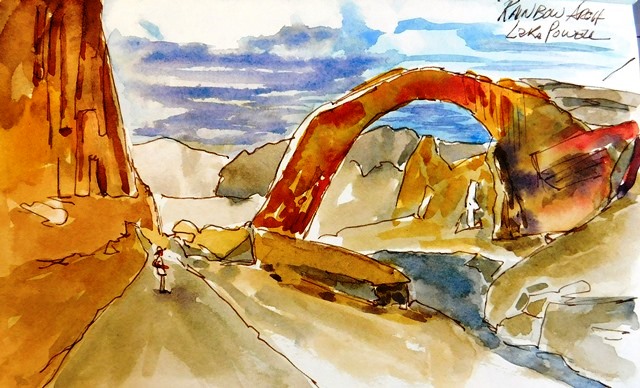 What inspired your pieces from Southern Utah?
Because I had not been to this part of the United States before I had to make creative decisions quickly. I sketched every moment I had. I sketched in the moving tour bus, or stopping along hiking trails. We usually had little free time because we were on the move all of the time.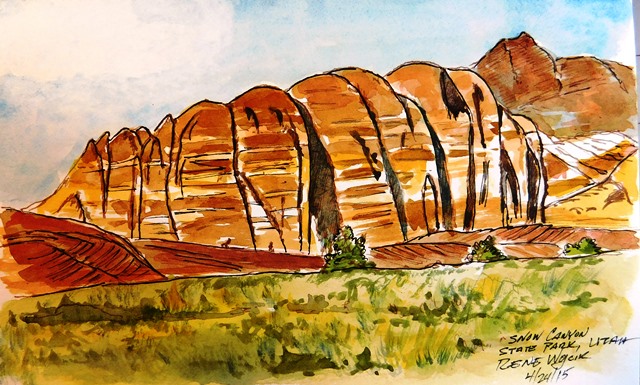 Finally, can you tell us a bit about your sketching process whilst in Utah?
I did not finish each sketch at any particular time of day. Except for a few sketches done while on a boat on Lake Powell most the added watercolor was done in the evening. I took a lot of digital photos to help me with color. I had a Lucas watercolor tin, small travel brushes, a mechanical lead pencil and a Strathmore travel Journal. These I carried in my backpack.