This post is part of the ArtSmart Roundtable, a group of travel and art bloggers bringing you themed posts every month. This month's post theme is "concept", so I've decided to tap into what Wanderarti does best – talk about travel in art. Scroll to the bottom to see more of this month's awesome posts!
---
For as long as the timeline of art spans back there are paintings of places; depictions of destinations rendered carefully and thoughtfully by both famous artists and lesser-known explorers.
Landscape painting is perhaps the most prominent and most recognisable form of travel art.
Thick brushstrokes bring to life far-flung places; bold colours pinpoint fascinating scenes; realistic portraits showcase lesser-known destinations that would otherwise go undocumented.
Travel in Art in the 17th Century
Back in the 17th century, European landscape art was on the rise. It was a dominant genre during this time thanks to the unprecedented growth of global travel and tourism.
But there's a conundrum here: it's the chicken vs the egg debate when it comes to travel and art. Did the explorer set out to paint or did the artist set out to explore?
Through the 17th century and the following 200 years, travel was no longer a means from moving one group of people to another place (a form of travel that, for the most part, has been imbued into human life since the very beginning). It wasn't just kings, queens, and traders who traversed landscapes far and wide.
Geographical exploration was on the rise, and colonial expansion was well and truly underway. This meant big things for the art world.
Without photographs or social media, explorers used the mediums of sketching and painting to document places. They combined skill and an expert eye for detail to produce scenes they had witnessed on their travels – to bring back and show family, friends, and those who were less able to travel.
William Hodges via Wiki Commons
Trips during this time were lengthy and, usually, with purpose. It was impossible to pop to Cairo for a weekend, or explore the South American jungle in a couple of weeks.
Journeys lasted for months on end, with explorers turning to art to create stories about the places they visited – to immortalise languages, scenery, and customs that were otherwise unfamiliar to them.
But, despite efforts to portray countries, cities, and destinations in an objective light, this is art we're talking about. Even in the most skilfully executed landscape piece, there will always been a hint of political, social, and cultural significance depending on the person creating the painting.
Subjective observations creep into well-rendered pieces, offering viewers not just a glimpse into places from the past, but also an insight into the mind-set of explorers.
Even though just one explorer might have been producing the artwork, it was more of a collective experience. There was a vested interest in creating realistic depictions of other places because it hadn't been done before.
Take the imagery created by 19th century explorers who ventured around the Pacific. Work produced by men aboard Captain James Cook's ships in the 18th century immortalised places that had never been seen by the western world before. There was a vested interest from the west to learn more about these places – for trading and other political reasons.
Travel in Art in the Mid-19th Century
Jump forward to the mid-19th century. After teaching Queen Victoria how to wield a paintbrush, Edward Lear set out to explore distant lands, painting their oddities as he went.
Lear was different to the men who had been aboard Cook's ship and those that came before him because he was, first and foremost, an artist. He wasn't a trader, a soldier, or a voyager. His livelihood was made from painting.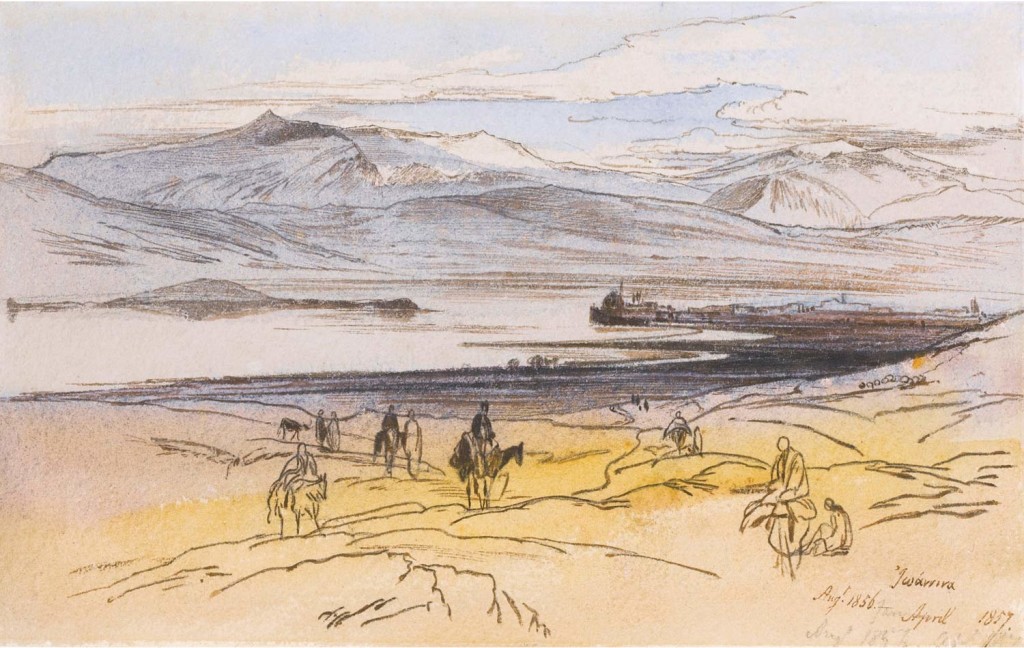 Greece by Edward Lear
At a time when barely anyone had the opportunity to travel (remember the long distances and difficulties in getting from one place to the next), Lear opened a gateway to the world for those less able than him.
From Italy, Albania, Greece, Egypt, and India, he immersed himself in the local culture and drew pictures that he felt reflected the place in its rawest form. There were seemingly no political backdrops to his work and underhand motivations. He simply wanted to bring the world to the world.
This was the start of something beautiful in the art world. Landscape paintings and depictions of "exotic" destinations were no longer driven by an ulterior motive. They were simply representations of the beautiful and the "other".
Travel in Art in the 20th Century
Skip forward a century and this is even more evident to see. World-famous artists like Matisse, Derain and Picasso were creating piece after piece that showcased destinations around Europe.
These weren't realistic renditions, though. In fact, they were a far cry from the beige swathes of sketches created by early voyagers and even Lear himself.
They were bold and bright, injected with a heavy dose of the artists' recognisable style. Matisse's paintings from Couillere were, at first glance, just splodges of paint in a wheel of surreal colours. Derain's depictions of London were psychedelic, using the Pointillism technique to create abstract versions of scenes.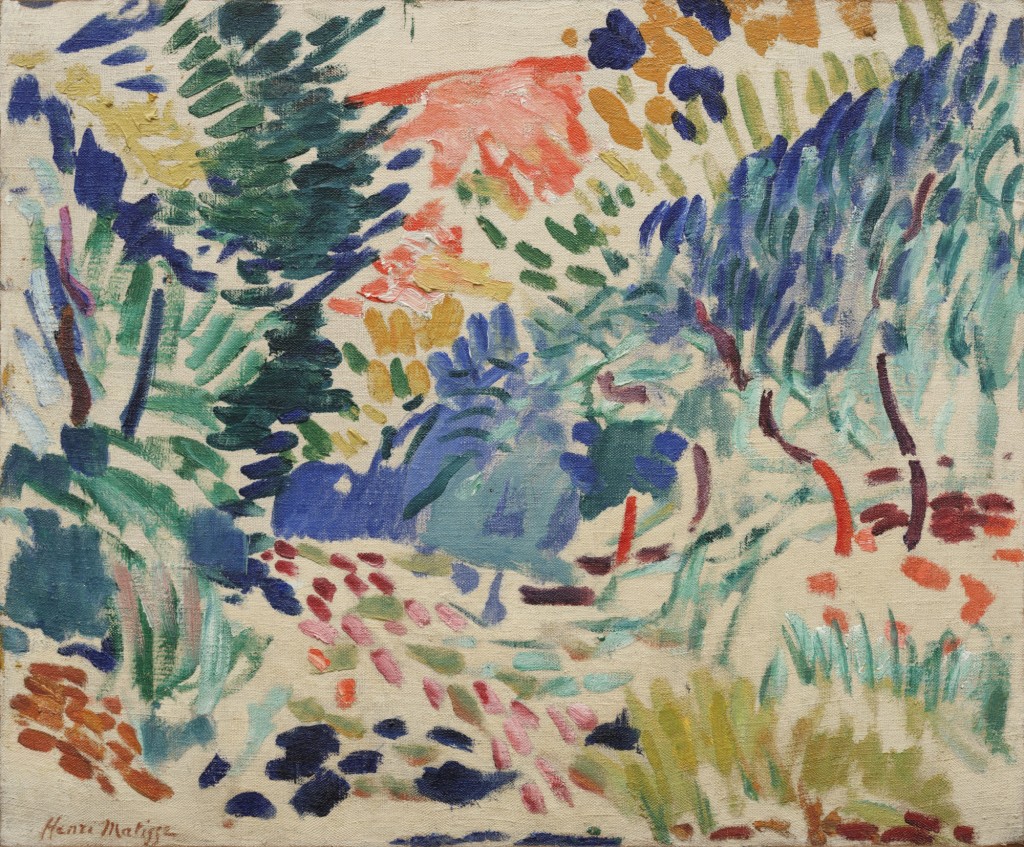 Gift and bequest of Louise Reinhardt Smith © 2015 Succession H. Matisse / Artists Rights Society (ARS), New York
At this point, art was no longer a vessel to share objective scenes and stories from around the world. It was a portal into the minds and souls of creative greats. There were already hundreds, if not thousands, of depictions of places around the world – what good would even more do?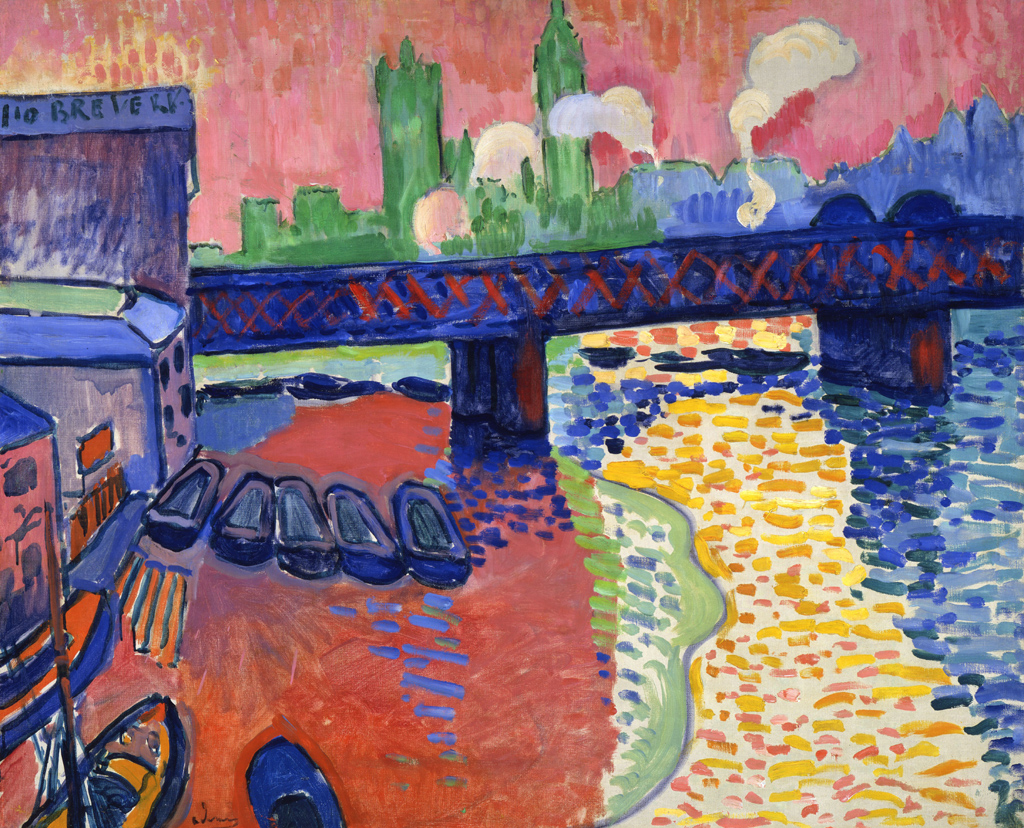 André Derain, 1906, Charing Cross Bridge, London, National Gallery of Art, Washington, D.C.
Instead, artists used the backdrop of places to express their feelings and thoughts about them. Matisse's pieces from Couillere may not have shown visitors exactly what to expect in terms of scenery, but the brash use of colour and thick brush strokes might just give an insight into how he felt about the French town.
This notion of art being a personal endeavour rather than collective continues into the present day.
Sure, artistic versions of places hint at architectural styles, local life, and customs, but more than that they delve into personal journeys, highlighting individual thoughts and feelings rather than a collective vision of the world.
Since documents began, art has served as an important inspiration for imagination. It's served as a portal through which people can remember places, cultures, and journeys, as well as depict the motivations behind travel – from the Grand Tour, through the years of globalisation, right up until the present day.
Today travel art is so much more than simply a depiction of a place. They say a painting speaks a thousand words – especially in an age where photographs are a dime a dozen. They not only act as a portal through which we can see another view of a place, but they also act as a personal reminder that's much more intimate than a photo could ever be.
More posts in this month's ArtSmart Roundtable: