Marrakech is a city imbued with culture and history with incredible visuals to go with it – colourful tiles cling to walls, and ornate domes sit high and mighty atop spectacular examples of architecture. It's safe to say it is an art-lovers paradise. So, I've compiled a list of the best museums and galleries in the city, with some well-known and some lesser-known entries. Let me know if I've missed any!
Musée de Marrakech
The Musée de Marrakech is located in an old palace that is imbued with years of history. Today, you can discover traditional Moroccan art forms inside the its elaborate walls, from typical embroidery from Rabat to Fassi pottery. As one of the most popular museums in Marrakech, it provides a great way to get to know the country through its visual culture.
Opening Times: 9am-6.30pm every day
Price: 30 DHS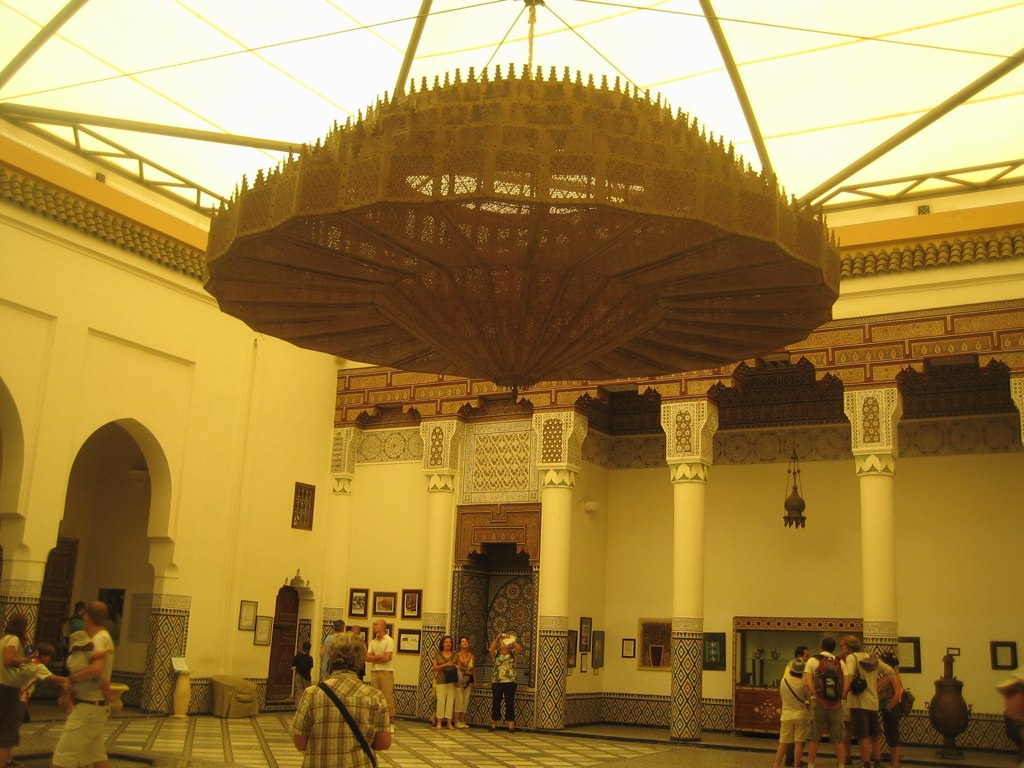 ---
Galerie Rê
Galerie Rê is home to a vibrant, new-world display of contemporary Moroccan in-house artists. Exhibits you can expect to see include poetry illustrations, eye-catching minimalist pieces, and installations that make you think. Visit Galerie Rê for an insight into modern Morocco and the lives of its next-generation creatives.
Opening Times: 10-am-1pm and 3pm-8pm Monday – Saturday
Price: I can't seem to find a price anywhere – let me know if you can!
---
Maison de la Photographie
Patrick Menac'h and Hamid Mergani opened the Maison de la Photographie as a space to showcase their vast collections of vintage Moroccan photography. Spread out over three floors, the gallerie exhibits all manner of film photographs as well as some vintage documentaries about the country.
Opening Times: 930am-7pm every day
Price: 40 DHS (children go free)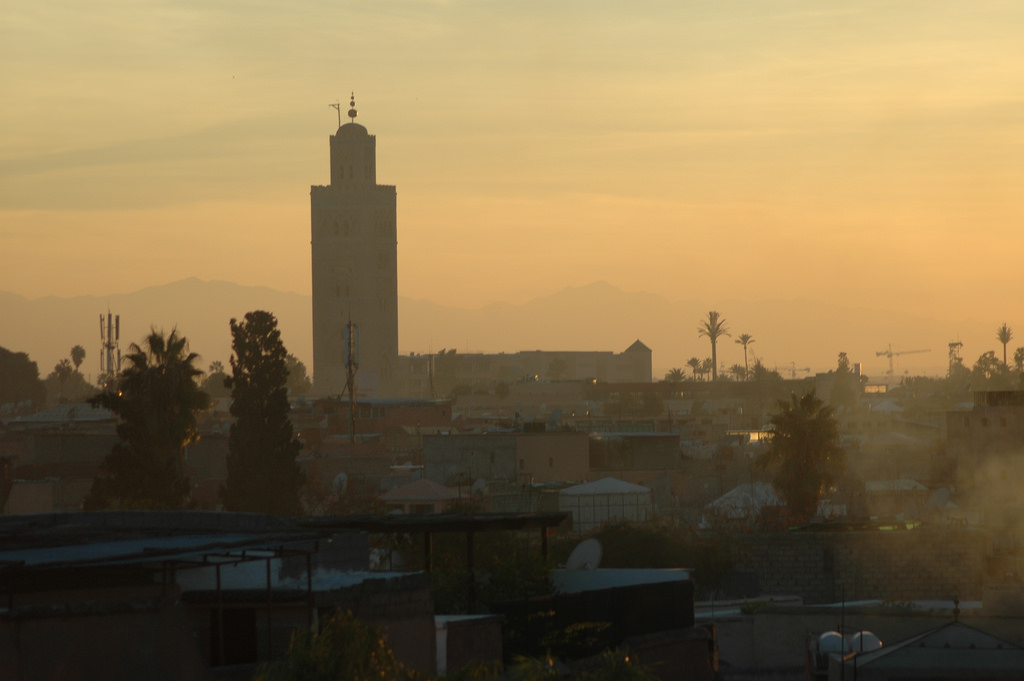 ---
Maison Tiskiwin
Dutch Anthropologist Bert Flint travelled through the Sahara to Marrakech, collecting a diverse array of artefacts as he went. Today, you can see these objects exhibited in the Maid Tiskiwin, from camel saddles to carpets and textiles, all of which provide a nod back to the city's trading post past.
Opening times: 9.30am-12.30pm and 2.30pm-6pm every day
Price: Adults – 20 DH, Children – 10 DH
---
Galerie Noir Sur Blanc
A contemporary art gallery, the Galeri Noir Sur Blanc showcases a range of popular and famous paintings from some of Morocco's most talented modern artists.
Opening times: 3pm-7pm Monday – Friday, 10am-1pm and 3pm-7pm Saturday
Price: I can't find a price on the website – let me know if you can!
---
Jardin Majorelle
Jardin Majorelle was Yves Saint Laurent's gift to the city of Marrakech (his ashes are now scattered over the gardens), and today you can wander around the stunning gardens or visit the villa-house which showcases Yves Saint Laurent's vast collection of Moroccan decorative arts and beautiful landscape paintings. The museum also features regularly changing temporary exhibitions of contemporary Moroccan artists.
Opening times: 8am-6pm in Summer, 8am-5.30pm in Winter
Price: Finally! Garden – 30 DH, Museum – 15 DH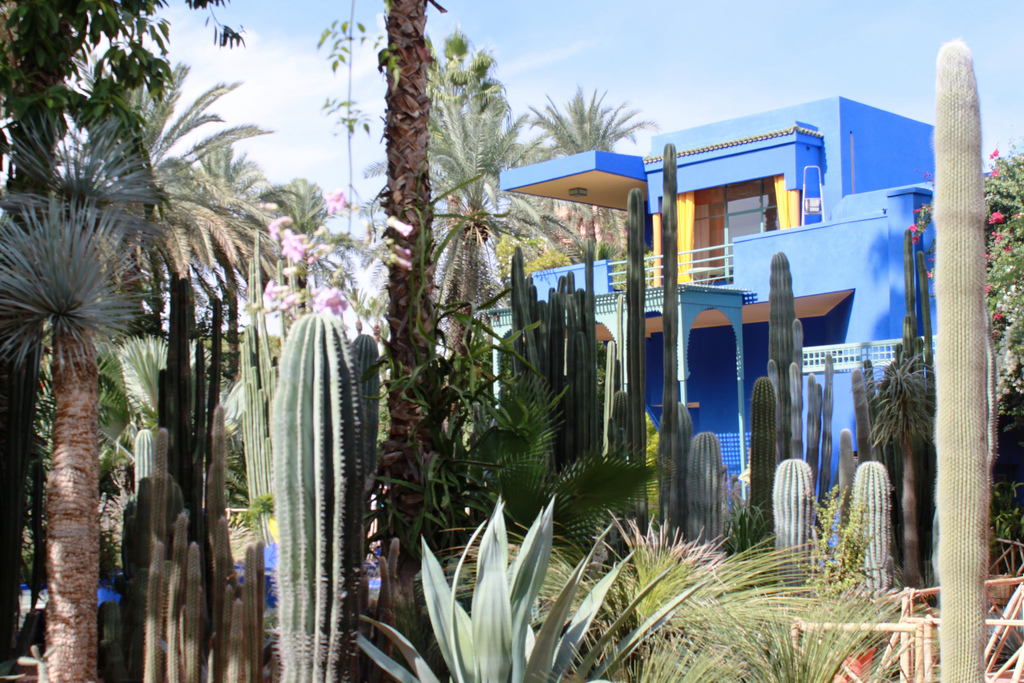 ---
Gallery 127
An all-rounder gallery with regular temporary exhibitions showcasing anything from beautiful travel photography to minimalist installations and painting shows. The vast majority of work on display is created by Mediterranean artists.
Opening times: 11am-7pm Tuesday – Saturday
Price: Again, I can't find a price on the site
---
Matisse Art Gallery
Not a gallery dedicated to famous painter Henri Matisse as you may think, the Matisse Art Gallery in fact showcases the unusual works of Mahi Binebine (arguably Marrakech's most famous artist) and Farid Belkahia. The former creates sculptures made from beeswax and natural pigments, whilst the latter produces intricate henna paintings depicting sacred Berber blessings. Alongside this, you can find works by famous Moroccon artists, both past and present.
Opening times: 9.30am-12pm and 3pm-7.30pm Monday – Saturday
Price: What is it with these Moroccan galleries and their lack of prices?!
---
Dar Si Said
The beautiful building of the Dar Si Said is an amazing show of true Moroccan craftmanship typical of Marrakech, with elaborate domes, rustic woodwork, and sweeping staircases. The objects dotted around the museum vary from traditional Moroccan attire from days-gone-by to the oldest artefact in the city: a chest from 1002-1007 AD.
Opening times: 9am-4.30pm Wednesday – Monday
Price: 30 DH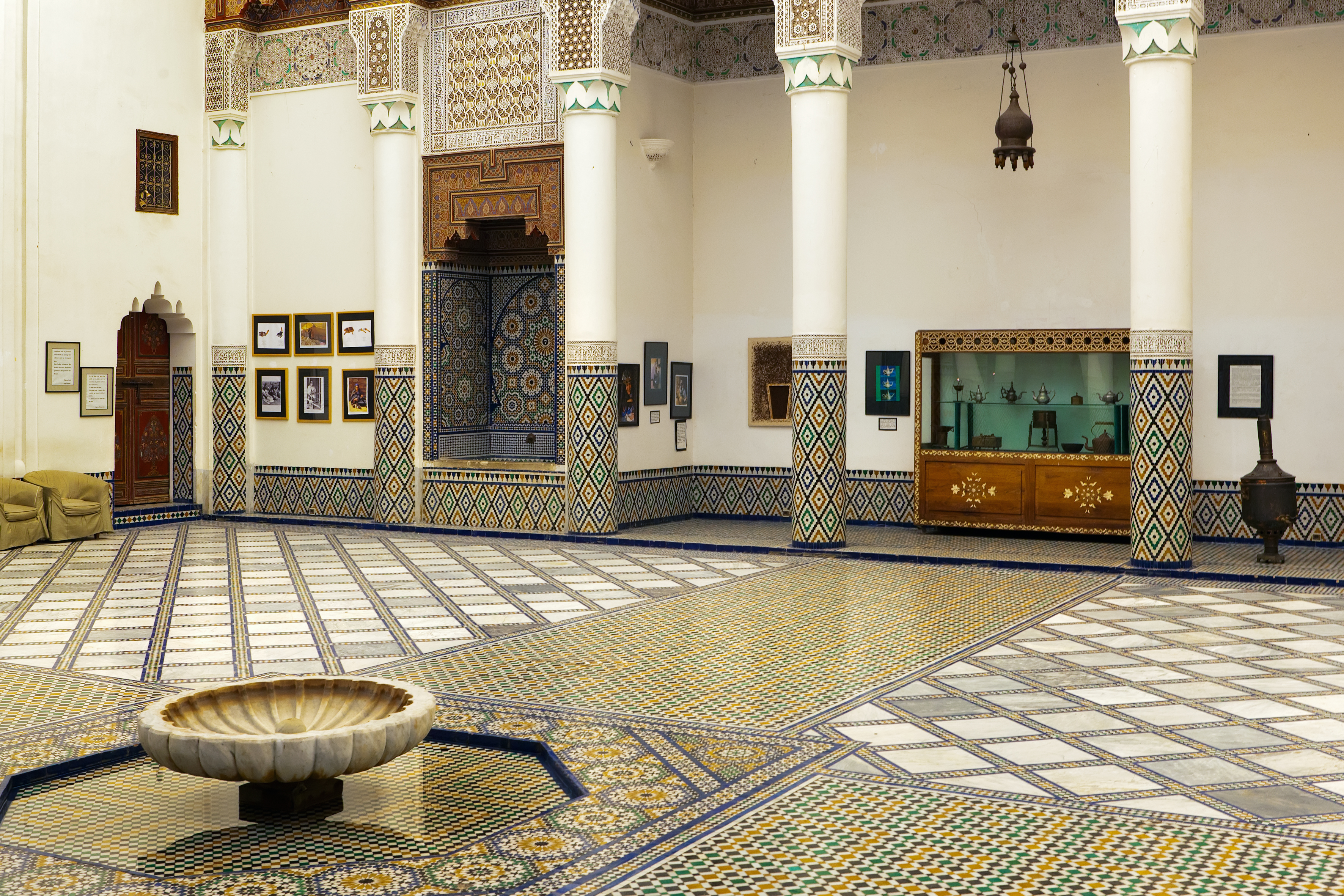 ---
Dar Bellarj
As Marrakech's premier arts centre, the Dar Bellarj features a range of exhibitions and shows throughout the year, focusing on mediums such as film, photography, and textiles. Alongside the exhibitions, there is a programme of art workshops and meet-ups.
Opening times: 9.30am-12.30pm and 2pm-5.30pm Monday to Saturday for exhibitions
Price: Free!
---
Riad Yima
Hassan Hajjaj, a Moroccan artist, designer, and photographer started Riad Yima as a space for visitors to relax and enjoy creativity. Essentially it's a tea room, but there are regularly changing exhibitions from some of Morocco's best contemporary artists and photographers. The design of the tea room is a feast for the eyes, too, with traditional, colourful textiles covering all the furnishings.
Opening times: 9am-6pm
Price: It's a tea room, so the price of a tea!
---
Dar Cherifa
A well-restored building, the Dar Cherifa is first and foremost a restaurant, but it also houses a bright and airy exhibition space for contemporary artists, both Moroccan and from elsewhere around the world. The setting provides the perfect backdrop for visual works.
Opening times: 9am-7pm every day
---
Ministero del Gusto
Bright and eccentric, the Ministero del Gusto exhibits work by and collected by Alessandra Lippini and Fabrizio Bizzarri, with a series of temporary exhibitions running throughout the year featuring pieces by contemporary artists.
Opening times: 9am-12pm and 4pm-7pm Monday – Saturday
Price: Free!
---
Light Gallery
The Light Gallery is one of the newest additions to Marrakech's art scene. Opened in 2007, it is a bright, airy space showcasing contemporary works, from experimental photography to modern painting.
Opening times: 11am-7pm Tuesday – Sunday
Price: Free!
---
Les Atlassides
With two exhibitions taking place at any one time, you can expect to see a diverse range of work at Les Atlassides. Downstairs holds regularly changing temporary displays of contemporary works, whilst upstairs features a rotating collection of works from some of Morocco's most well known artists.
Opening times: 8am-12.30pm and 3pm-8pm Monday – Saturday
Price: Free!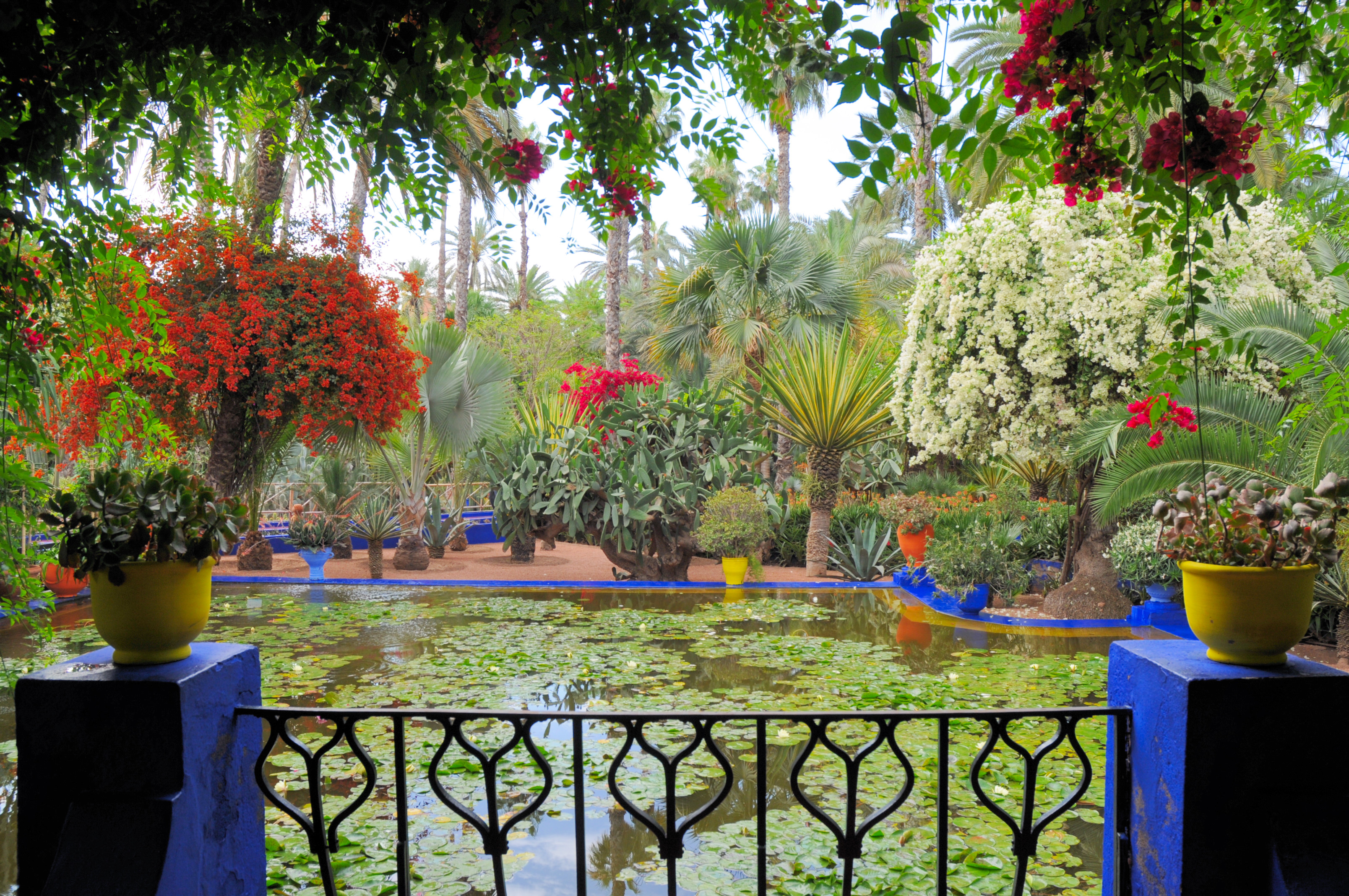 (Another of the Jardin Marjorelle because I like it so much! Image source)
---
La Qoubba Galerie D'Art
Covering two floors of space, La Qoubba Galerie D'Art features the work of well-known local artists. Typically, the exhibitions are made up of paintings but sometimes other mediums are on display.
Opening times: 9am-1pm and 2.30pm-6.30pm every day
Price: Free!
---
La Galerie Bleue
Covering just a small, intimate space, La Galerie Bleue features regularly changing exhibitions of work by contemporary French and Moroccan artists. Expect to see mainly painting
Opening times: 10am-1pm and 4pm-8pm Tuesday – Sunday
Price: Free!
---
Have you been to Marrakech? What's your favourite museum or gallery there? Do you have any more to add to this list? Let us know in the comments!