I'm excited to bring the work of Laura Frankstone to your attention today. I love Laura's sketchy style and fantastic use of colour, as well as the range of things she sketches on her travels – from statues in Texas, to lazy hippos in Berlin Zoo. Enjoy!
Your sketches have a unique, distinct style about them. How did this develop?
Well, I think style is really in an artist's DNA. At least the rudiments of it are. Surely your temperament, your energy level, the way you move your body, the colors you see, all play a big part in creating your style. That is IF you are doing your own work and not copying someone else. If you are dedicated to leading an authentic life, then you are on a continuous process of self-discovery. If you are doing it right, then your artwork, your style, are outward manifestations of this lifelong quest.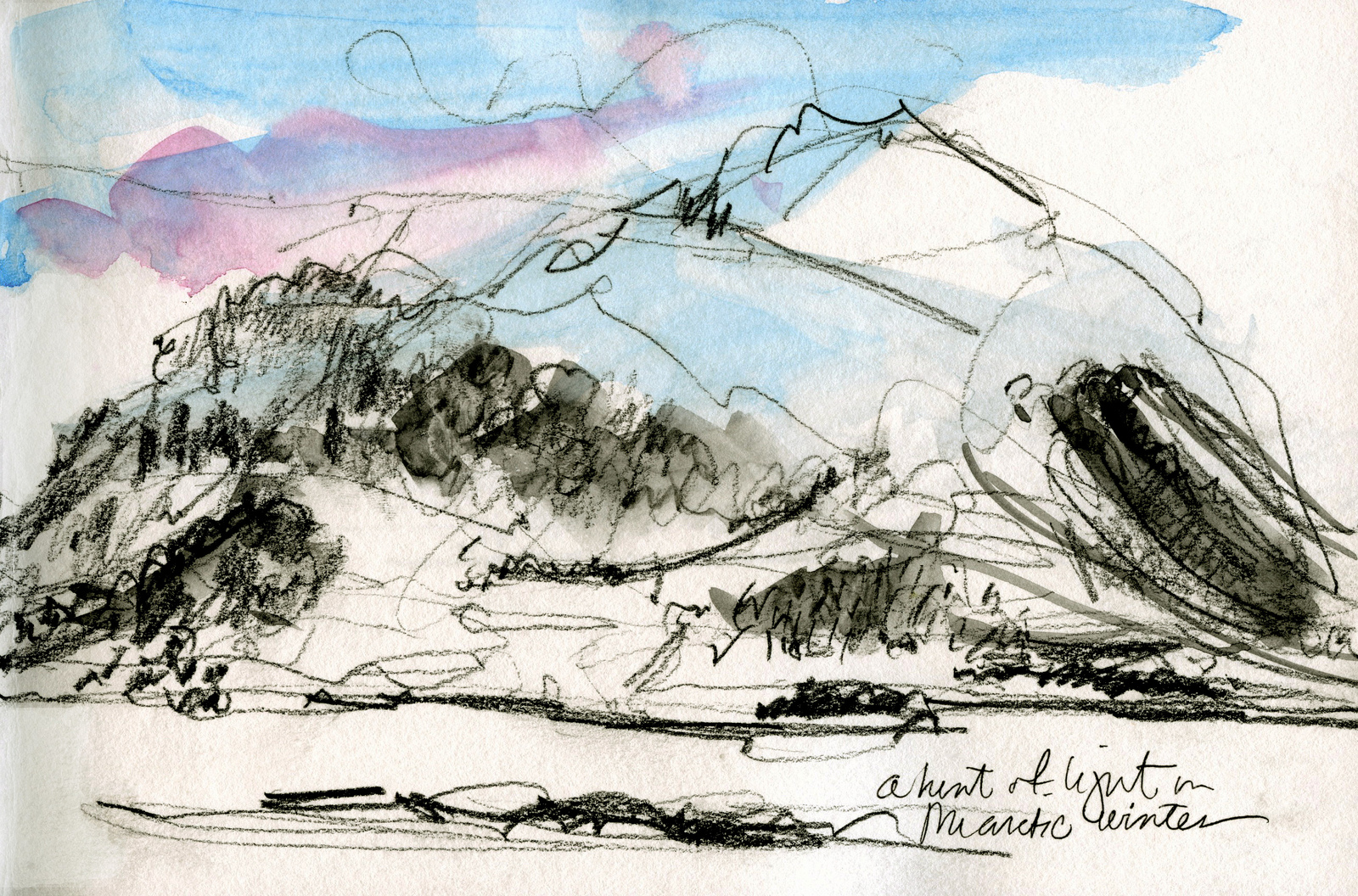 Actually, I don't normally think a lot about my own style. And that's a good thing, I think— to be unselfconscious about it, to let the flow just happen. Now, with illustrating, you do have to think more about these things, about being fairly consistent and recognizable, so that people who want to hire you will know, in general, what they will be getting from you. As a person trained in fine art and not in illustration, but as someone who has done a fair amount of it in the past few years, I'm in the process of trying to work this illustration style thing out for myself. My illustration style derives, of course, from the same DNA as my sketching and painting. Unfortunately for my efforts to be consistent, I seem to love to try lots of different things! That restlessness is – well, you guessed it – part of my DNA.
Let's talk about process. What are the steps you take to create each piece?
Here you are asking about sketches and not about illustrations or paintings, I assume. The process in each is slightly different.
With sketching, I look for a scene, a moment, a gesture that speaks to me, that expresses the energy I sense is present in all things. (In Taoism, it's called the ch'i. Dylan Thomas called it, 'the force that through the green fuse drives the flower.' ) I try to get the gestalt down first, with pen or pencil (mostly pen) and then I work from there. I'm editing in my mind as I go, constantly deciding which details to seize on, which to jettison. Sketching is as much about what you leave out as about what you include.
I have moved away from doing a lot of watercolor painting on site, so I often add color later. Unlike many sketchers, I don't like using water brushes, though I once did. With these, I find I just can't get the vibrancy and sweep that are at the heart of watercolor for me. I'd rather skip the use of watercolors entirely than to have to make do with muddy hues and tones.
I'm not a plein air painter, either, so I don't drag round lots of equipment. I am constantly thinking about how to pare down my sketching tools so I can travel light, but still make it happen in my sketches!
I don't succeed all that well in paring down, I hasten to say, because I LOVE materials: pens, pencils, markers, sketchbooks, etc. and am always adding to my collection when I travel.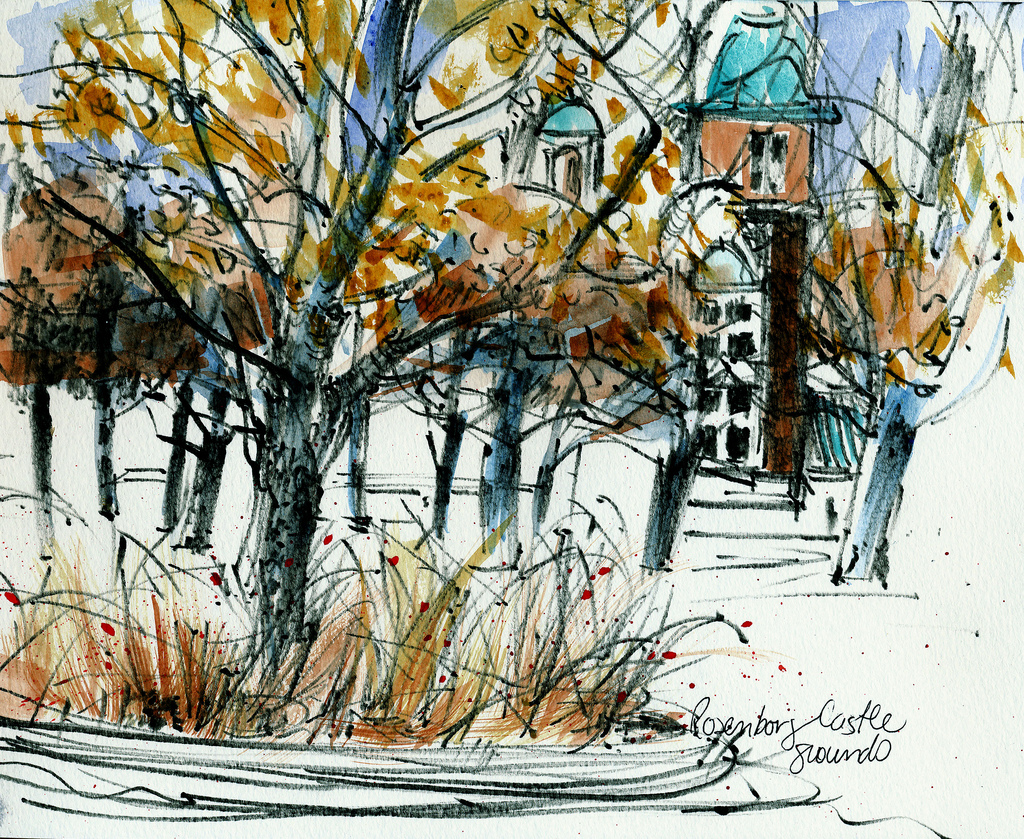 Why do you sketch when you travel?
I travel TO sketch! Well, really, I travel to places that appeal to my eye and my heart, that give me deep happiness and a sense of transcendence. Art, travel… these, in addition to my family and my closest friends, are the great loves of my life. Under those conditions, how could I not sketch when I'm traveling?
And then there's this: when you paint or draw a place you love, you have that place with you forever. And in rendering it, in responding to it in such a personal way, you give IT something, too.
What do you hope your sketches tell the viewer about the place?
What the places meant to me, this one person, on her own journey for the finite period that is a lifetime. I love it when my sketches engender a response in someone else. I have found a lot of kindred spirits through the years this way.
It's obvious you have travelled a lot, where has been your favourite place to sketch and why?
Most recently, Norway and Iceland, especially in winter. Iceland is the youngest land mass on the planet and because it is volcanic in origin, it is full to the brim with that energy I mentioned earlier.. the life force that is inherent in all things.
Norway is the opposite. The land forms, some of them, may look similar to Iceland's, and the climates are similar, but I sense a depth and stillness in Norway that is the opposite of brash Iceland's eruptive personality. Norway is primal in a different and majestic way.
I love both countries in winter, because the universal drama of light against darkness is at its most stark and powerful when the sun doesn't rise above the horizon for months, as is true of arctic Norway. Iceland is just below the Arctic Circle, but it is plenty dark in winter!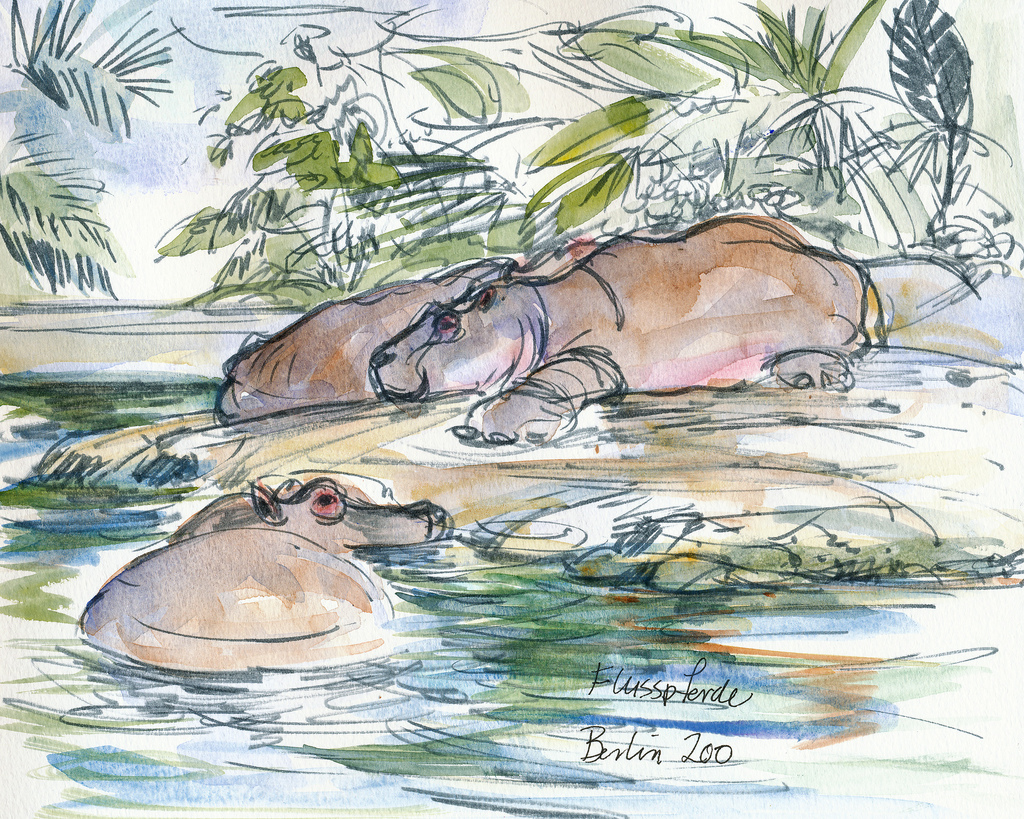 Aside from travel, what inspires your sketches?
Flowers and trees and animals, the movement of water, skies, people… all things that hold and express the life force.
If you could sketch anywhere in the world, where would it be and why?
I long to go to the North Pole, though that desire may be more about my wanting the sheer experience of being there, than for the inherent sketchability of the place! And Glacier National Park in Montana. I love big, dramatic skies, so wherever these are, there would I like to go . And more, more, more of northern Scandinavia and Iceland—-all for the reasons mentioned above.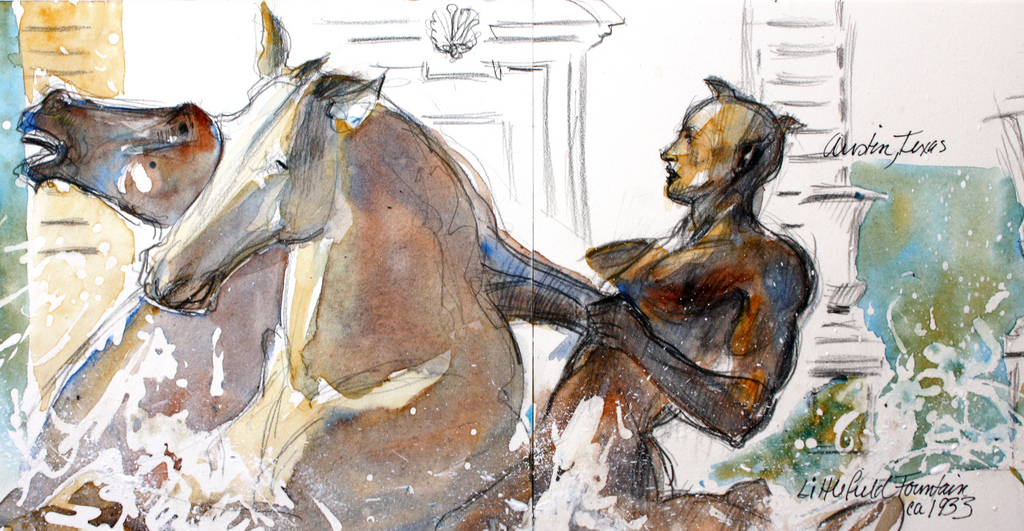 Finally, do you have any tips for readers who might be interested in sketching whilst they travel?
If they are new to sketching, they might check out some of the many, many delightful books on sketching and drawing that are available right now. By seeing what others do and have done, by reading about their materials and techniques, they can decide what approaches will suit them best.
Cathy Johnson, Albany Wiseman, and Sarah Simblett are some of my favorite writers on sketching and drawing techniques. Gabi Campanario's 'The Art of Urban Sketching,' Whitney Sherman's ' Playing with Sketches', Cathy Johnson's 'Artist's Journal Workshop' and the books by Danny Gregory are all rich with inspiration and the work of many artists.
Also, there are many books out featuring the work of brilliant artists and sketchers. Two of my favorites in this category are David Gentleman and Fabrice Moireau.
And there are SO many websites to discover and learn from! Katherine Tyrell's blog Making a Mark  is a great place to start. For art topics, it is almost encyclopedic in scope. Urban Sketchers is another fabulous source for inspiration and technical tips.
You can see more of Laura's work on her website.
What do you like about Laura's work? Leave your comments below!