Venice mesmerised me the moment I stepped onto its shores – there's something magical about the light there and the whimsical scenes are straight out of a fairytale. When I came across Dai Wynn's paintings of the city, I was transported back to my time there a few years ago through the colours and textures of his pieces, and I'm sure you will be too!
Your paintings of Venice have a very eye-catching, unique style to them. How did this develop?
I have painted many scenes of Venice since 2006. Some have been executed in oils on stretched canvas; some are in oils on canvas panels; but most are in ink and pencil watercolours. The phrase "eye-catching" is rather subjective but I do tend to exaggerate colours. I hope that all my artwork is unique and that it can be clearly differentiated from the work of other artists.
As a reformed communications engineer with a PhD in electrical engineering, I do not have a Fine Arts degree. This implies that I do not have formal techniques for drawing and painting, nor do I have a vocabulary for describing what it is that I do. For me, painting is a continual process of discovery.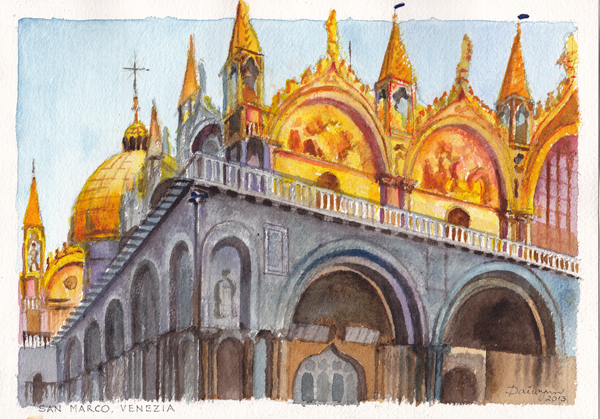 I subscribe to 'blogs of international watercolourists and read how they use different papers, a range of washes, special paint palettes, an arsenal of brushes and a lifetime of learned techniques to complete a watercolour in under one hour. This is not my modus operandi – I draw and paint until the artwork looks good. If not, I leave it to mature until I revisit it a day or so later. The trouble is that there seems to be a universal expectation that watercolours are thrown together on an easel in an exotic location, complete with drips and runs and smudges. eBay keeps reminding me that watercolours sell well at $10. Another slap in the face for someone who may have spent the best part of half a day painting.
Let's talk about process. What steps do you take when creating each piece?
I was introduced to Venice, and in particular the island(s) of Venezia, in November 2006. We were on a tour of Italy and spent three glorious, warm, sunny days there. I took lots of photographs with my pocket digital camera. In September 2014, we stayed in Castelfranco Veneto and took a train into Venezia on three separate days. Same sunshine, same blue skies, a light sea breeze, and warmth. This time I had my DSLR camera with huge storage and decent lenses.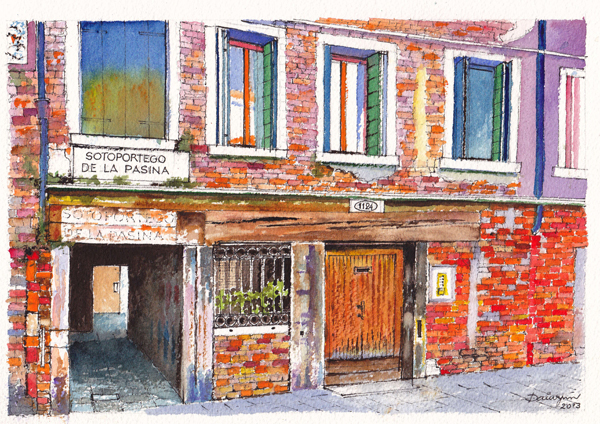 Admittedly, I am still stuck in the film mode of carefully weighing up a composition before committing to a photograph, even though I have storage for several thousand high-quality images. If I think about it carefully, the mere act of taking a photograph is an act of composing in a classical sense. Limit the amount of flat uninteresting surfaces; no contre-jour; tall structures to one side; try and include a diagonal; water reflections are good; exclude crowds of people. So, I don't just point-and-shoot and hope for the best. And, golly gosh, no iPad selfies.
While I might be accused of cheating, I use lots of image processing using iPhoto and Adobe Photoshop to enhance a small number of suitable images. I argue that, by the time the image passes through my camera lens, is stored in iPhoto and displayed on my computer's LCD screen, it is in need of some extra colour saturation, shadow reduction, contrast and exposure. Of course, the format of the image is ideal for painting on an A4 sheet of 300 gsm Arches cotton paper. I use smooth, medium and rough surface papers depending on how grainy I want the painting to be. If I want detail, I will use an ink sketch using 0.1 mm and 0.2 mm pen nibs on smooth Arches paper.
If there is one thing to watch about paintings of Venice, it is perspective. Given that there are so many verticals (?) and horizontals, perspective lines and a vanishing point are absolutely essential. I question the word "vertical" because so many buildings and towers have noticeable leans. Then my paintings also remove the lean introduced by the camera lens, although with a decent f-stop on my DSLR, the problem is not as great as with the f28 lens of my pocket digital camera.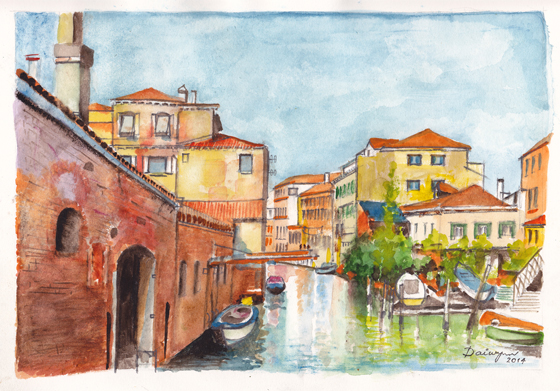 What inspired your Venice pieces?
Venice is an original if one ignores the contemporary buildings. The patina of age on historic buildings is magic. Venice was always wealthy and the façades of the palazzi along numerous canals show how beautifully ornate they were, and hopefully still are inside. The decay of building fabric and the amateur attempts at repair have left a rich texture of surfaces, hues, materials and patterns on walls and rooves. Painting Venice is almost as unstructured as painting a nature scene, and yet, the amount of detail – actual or implied – required by a composition in order to look real, is huge. I have found that an ink drawing aids in conveying a sense of overwhelming detail.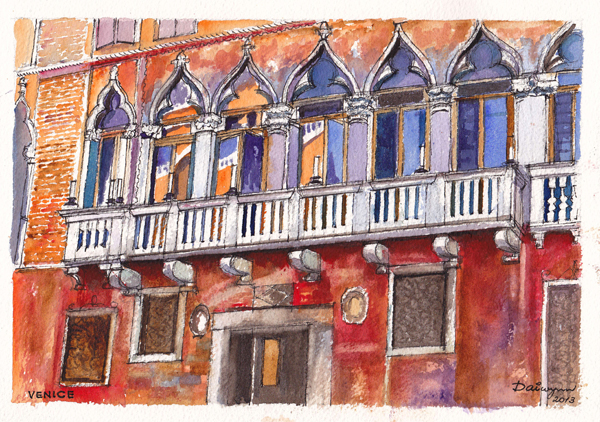 What do you hope your paintings tell viewers about Venice (if anything)?
Venice is a proud living museum in which its residents are careful to retain the scars of time and tide. One might argue that contemporary Venetian society cannot afford to repair buildings, but a brand new opera house was recently built after a disastrous fire. A superficial view of Venezia is "shabby chic" where everything is a little dog-eared. Given its history and political prowess over the centuries, a few scars are absolutely to be proudly preserved. Of course Venice is a cultural hot-spot with the Peggy Guggenheim art collection in a magnificent palazzo on the Grand Canal, and numerous churches and basilicas around every corner. But, it's the location on canals alive with every type of marine craft and the absence of cars, trucks and buses that makes Venice unique.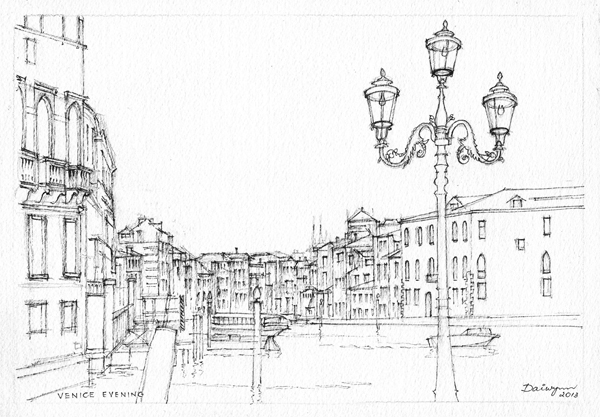 What was your favourite place or thing to paint in Venice and why?
Venezia is filled with wonderful things to paint and I cannot think of a favourite. I try not to include people in my paintings, except for the occasional gondolier. While impractical when one is visiting during the late morning and early afternoon, my preferred time to capture a paintable image is early morning or late afternoon when the sun is low in the sky. This sentiment is echoed by thousands of artists and applies to just about any landscape. I would go a little further and say that the true role of a photographer or painter is to capture ephemera – that fleeting sunrise or sunset, that magnificent cloud formation, that play of light on water, that breaking wave.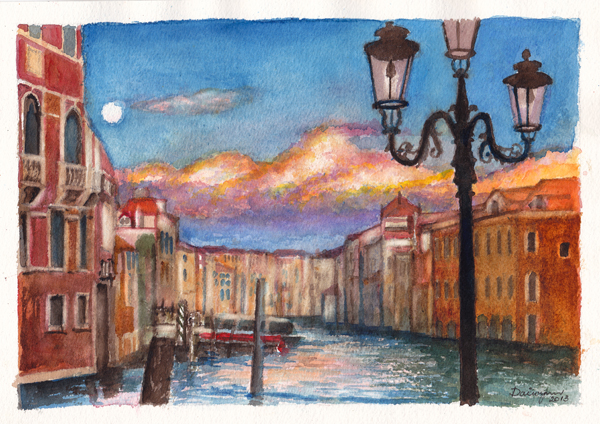 If you could travel to anywhere in the world to paint any place or thing, what or where would it be and why?
Well, since our first visit to Venice in November 2006, it has taken almost 8 years to organise our second visit. Venice would have to be up there as a favourite destination. Interestingly, when art websites provide statistics on the number of views each of my images enjoys, my paintings of Venice far exceed those of other places and subjects by a very large margin. So, while I am not peddling my artworks to tourists in Piazza San Marco with several dozen sun-wizzened "artists", I am generally mindful of the saleability of paintings of Venice.
You can see more of Dai's work on his website.
Have you been to Venice? What visions were your favourite there?
Finally… Musement, a site offering museum tickets, art tours, and cultural activities has kindly let Wanderarti readers get €5 off purchases. Just use the code WANDERARTI and you can get discounted offers all over Europe!